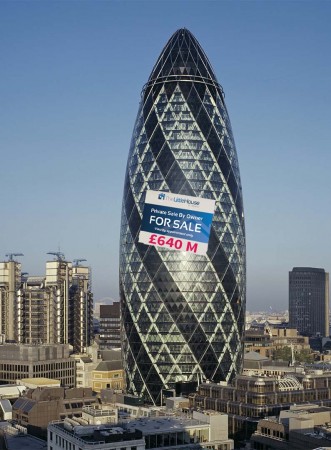 The House Shop is proud to present the property of the month on www.thehouseshop.com
The Gherkin – £640 million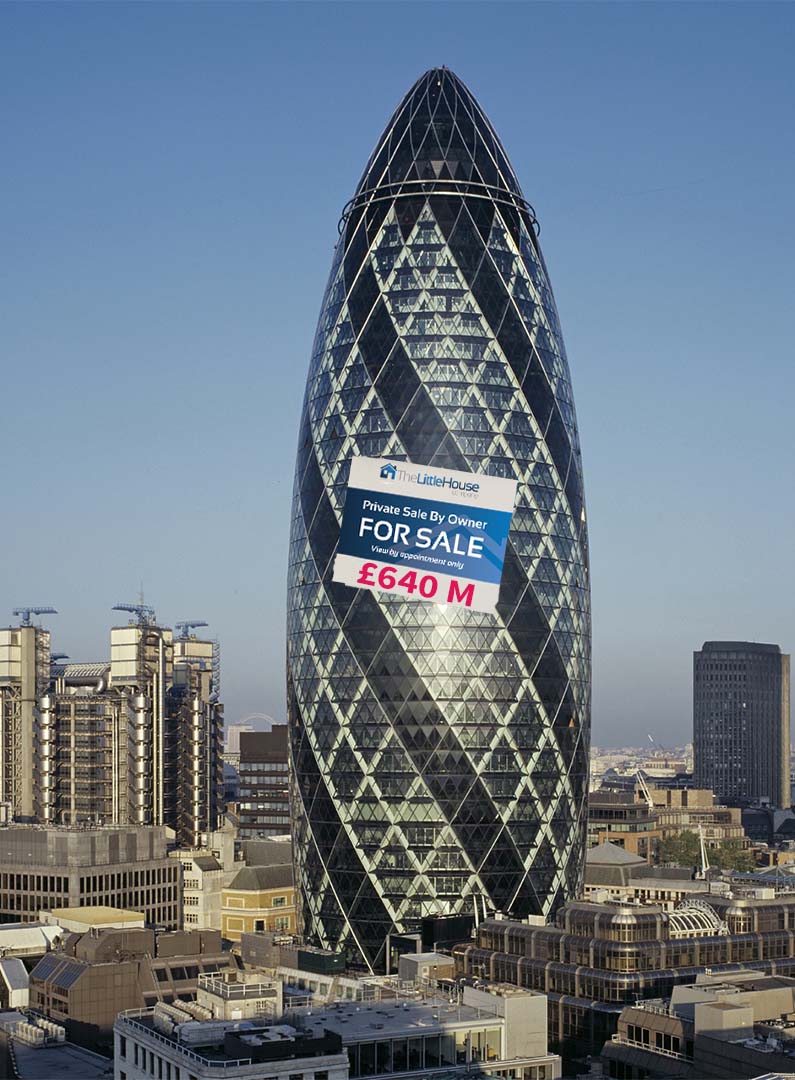 This eye-catching and unique building offers unparalleled views across the city and has become synonymous with the London skyline. Presented to the market in excellent condition, this not-so-humble abode would make an ideal family home for larger families looking for a lot of space.
…Although potential buyers should be aware that at £640m they will be the proud owners of the worlds most expensive pickled cucumber.
All jokes aside, this iconic building was designed by architect Lord Foster and was officially opened in 2004. However the troubled office building collapsed into receivership earlier this year prompting the sale.
Deloitte is one of the big 4 professional services firms, along with the likes of Price Waterhouse Cooper and Ernst & Young, and have been appointed as the receiver for the Gherkin in April this year. Deloitte have now been instructed to put the landmark property on the market with a hefty price tag of £640 million.
The receivership was fuelled by lenders loss of patience with the Gherkin's owners, Evans Randall and IVG, whose mounting pile of debt was becoming an insurmountable burden. IVG and Randall originally bought the Gherkin from insurance firm Swiss Re back in 2007 for £600 million – a deal that broke records in the city. The main source of finance for the purchase was a £500m loan from a consortium of banks. This loan was first defaulted just 2 years after the purchase in 2009.
Along with Deloitte, Savills have been appointed to help market and sell the world famous landmark, with head of central London investment, Stephen Down saying:
"This is a prestigious appointment on what is a globally recognised landmark building, which sits in the heart of London's business core. The Central London commercial property market has benefited from improving market conditions over the course of the last few years,"
The sale is expected to draw interest from across the globe. Stephen Down has claimed that there was already serious interest from investors in the US, Asia and the Middle East when the building first went into receivership, and he now expects big players from the Middle and Far East especially to take on the instantly recognisable property.
With 76,500 sq ft of space the Gherkin will be a daunting investment for anyone, but with the London property market back on its feet and attracting foreign investment in droves, I am sure it will not be long before it finds a new home.
Find out more about saving money on estate agents fees when selling your property here