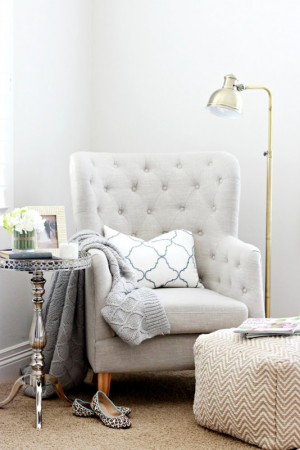 As the prospect of winter draws closer, now is the time to think about preparing your home for the colder weather. Luckily, there are many ways to winter-proof your home without compromising on style!
Perhaps the easiest way to create a sense of cosiness in any room is by introducing a selection of soft furnishings and textiles such as rugs and throws. Don't be afraid to mix and match clashing colours and textures to create a modern look that still feels lived-in and inviting. If you're likely to change your colour scheme by next season then there are hundreds of budget options available, however a good-quality throw such as those by Avoca or Johnstons of Elgin will see you through many winters to come.
Place different colours and prints against clear white-painted walls or exposed wooden floors and furniture for a relaxed Scandinavian-style feel. Choosing traditional fabrics such as tartan and Fair Isle in bold colours or quirky designs is a great way to inject a little contemporary style and humour into any room, as well as adding some-much needed colour to grey winter days.
For winter evenings, lamps and candles are key for both practical and aesthetic purposes – why not try updating plain shades with something a little more modern? To keep surfaces clutter-free, which can be especially important in smaller homes – standing lamps can be a great option. These can also be conveniently placed around your room depending on where you want the light to fall; ideal for creating an atmosphere of warmth and cosiness.
Try out different ways to display ornaments, candles and photos to brighten up your mood on the dreariest of days. What's more, for those chilly evenings what could be more inviting than a cosy place to curl up with a good book? There is lots of inspiration out there; a little creativity is all you need to make your own space work for you.
On the other hand, don't shut winter out completely! Instead take inspiration from the season with icy blues and greys, or even motifs such as a stars and snowflakes.