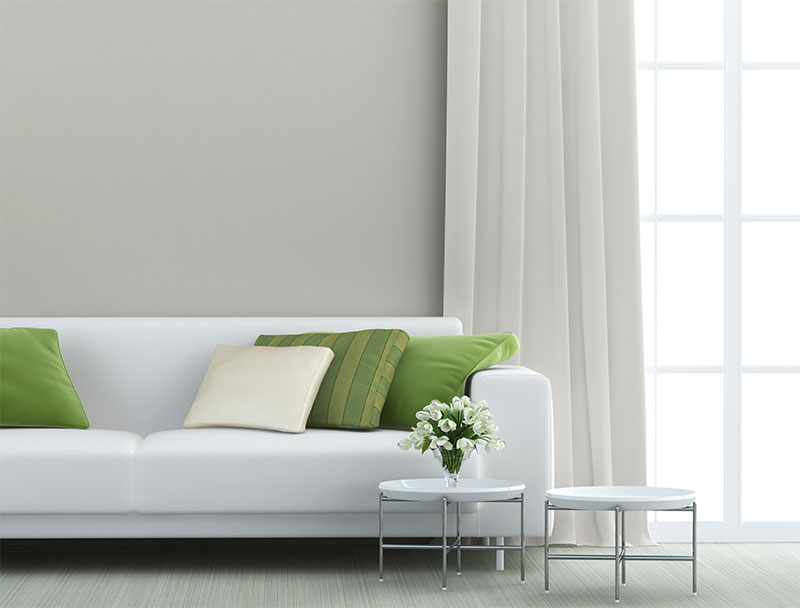 How do you feel when you walk into your home? Calm? Happy? Overwhelmed by your to-do list? With an ever-increasing busy schedule, most individuals spend more time on the road or in their offices than they do in their homes. The hustles and bustles of daily life are so stressful; one needs to find a haven free of anything that could amount to stress. The home should be the ideal option.
Your home should nurture you, not leave you dead-beat. A messy home, full of clutter and disorder cannot be tranquil. Keeping your home neat and tidy would make it a relaxing and peaceful space, and this would certainly add to your productivity at work. With these simple tips, you can make the most of your downtime by making your home more relaxing:
Add Flowers
Flowers are incredibly soothing both aromatically and aesthetically. They add nature to your home, which helps to oxygenate and clean the indoor air. You should, as a result, add a touch of green to your living space.
Install a Programmable Thermostat
With an old thermostat, you're limited in your choices. You can turn up the heat on cold days, turn it off when the weather is just right, and turn up the air conditioning on very hot summer days.
A programmable thermostat, on the other hand, will do much more. It adjusts automatically to your family's schedule, so you'll never have to wait for the house to cool after you come inside on a sweltering day. It will already have your return time pre-programmed into its memory. When you return to your home after work, your first sensation will be the cool breeze of air coming from your home comfort system, thanks to your programmable thermostat.

Replace broken or tired pipework with Seamless Guttering
An easy and cheap way to improve the interior or exterior look of your home is to replace any broken or tired looking pipework. Often you'll find rusty 110mm soil pipes or 110mm underground pipes and replacing them can be a quick and easy way to improve the appearance of your home. Same goes for any plastic guttering and fascias. Think about installing a more robust and longer lasting gutter systems such as aluminium seamless gutters from bespokeguttering.co.uk. You can pick your rainwater system which matches your style of property.
Adding Simple Comforts and Warmth
A simple way to add a cozy touch to your house is to redo your floors with fitted carpets. This creates a more cushioned and soft setting. Adding wool blankets or fleece as well as a set of throw cushions on couches makes a room look inviting and warm. Soothing paint colors and warm lights, merged with the amber hues of wood, can create a more relaxing atmosphere. Candles might be unsafe when lit, so a safe consideration for anybody who wants a sweet fragrance in their home is to keep candles in safe glass containers in a secure area.
Patio Offset Umbrella Makes the Outdoors a Pleasure
The outdoor offset umbrella is an interesting twist on the conventional deck table or patio and umbrella set up. While most styles have the umbrella set up in the middle of a table, the offset style sits to the side and has an arm to reach over and provide shade. This is another addition to so many of the newer contemporary outdoor furniture and accessories that are becoming so common today.
What makes an offset umbrella interesting is that the arm is adjustable and can rotate in any direction you want. This is a wonderful option for spacious decks or patios where there is more than one sitting area. This is not only a valuable option, but also a nice novelty and even conversational piece when you have company.
An Outdoor Offset Patio Umbrella can make sitting outdoors a joy again. It offers shade when no trees are around. Patio umbrellas enable you to relax in the open air when the sun is at its peak, without the need to worry that your skin will be getting burned.
Polished Concrete Flooring
Clutter is distracting and imparts a sense of disorderliness and chaos. Hire a concrete polishing service would enable to give the feeling of contemporary airy space.  This can be created by first installing a liquid floor screed. Find a supplier who is accredited, We would recommend London Flow Screed. This screeding will assist making flooring  easier to clean amongst a whole multitude of advantages. You can vary the final level of sheen finish, high gloss to give ample reflective qualities and allow more light into the property. Polished concrete is fast becoming the number one type of flooring trend in London and the United Kingdom.
Be mindful of colour
Colour can have a big impact on your experience of a space, but that doesn't mean a room has to be neutral to be relaxing. Colour is personal, so spend time getting to know how colour (or a lack of it) affects you, and intentionally pick your home's colour to create a calm feeling. For some, an all-white space would be the best in calm and relaxation, while somebody else might get that similar cool, calm feeling in a rich green room.

Keep a good stock of treats
Some frozen pizzas, a couple of beers, a bottle of wine, and chocolates are good to have in your freezer and fridge. Comfort food makes you feel good, helping you to unwind.
Install New Window Treatments and Regular Window Cleaning
Different form conventional blinds, cellular shades have a distinctive honeycomb shape that is perfect for blocking out light and insulation. From black-out shades to transparent options, cellular shades are available in a range of materials and fabrics. Select from and get the best discounts on top down bottom up shades, sheers, designer fabrics and other window covering features to correct the insulation in your home while increasing visual appeal.
Energy efficiency is enhanced with cellular shades, originating from the small pockets of air formed in the honeycomb design. Reduced heating and cooling expenses are a given, but you will also enjoy more sound absorption – and a more peaceful, relaxing home. There are many designs and colors as well as an endless selection of shapes, from hexagons to arches, to pick from.
The Cardiff Window Cleaning Company recommend 'having your windows regularly cleaned to a high finish will not only allow light into the property but ensure your blinds look their best from the exterior and interior of your property'. To Find a local window cleaner, simply type in google search "domestic window cleaning company near me" or window cleaners Cardiff area (or whatever your town name is). Check their reviews and testimonials along with checking they have the appropriate insurance.
Have your carpets professionally cleaned
Believe it or not carpets attract all kinds of dirt and allergens simply from the air. Hiring a professional carpet cleaning service such as the highly rated Cardiff Carpet Cleaning Company you can be rest assured the deepest of cleans. Your home will instantly have that 'clean crisp' feeling both visually and smell wise.
Improve Your Home's Lighting
When it comes to setting up a relaxing atmosphere, lighting can make a whole lot of difference. Of course, you should not go for artificial lighting, except night time. Natural sunlight is hugely more beneficial and far more effective. Open up your curtains and allow the natural sunlight to flow through freely. Even when it is foggy and raining outside, the sun's light will still be able to seep through. Consequently, you should keep your draperies open to some degree at all times. By following these tips, you will be able to significantly improve your abode's comfort level, while at the same time making yourself happier at home!
Gardening
Yes, gardening can take a considerable amount of your time, but it is worth it. Not only can gardening bring so much fun in your life, but it is also a way to healthier living. Whether you have limited space or have a lot of free space outside your house, start cultivating a garden and you can start slowly – one step at a time. Later you will experience how a garden brings so much fun and relaxation in your life.
If you follow some of the free and useful tips mentioned above, then you'll be able to create a better and more relaxed atmosphere throughout your entire home without the need to spend an absolute fortune.