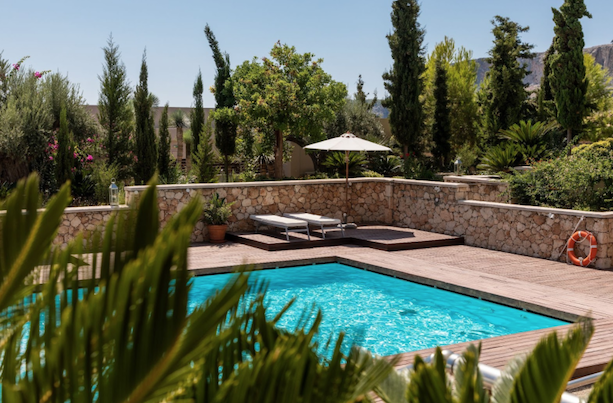 With summer just around the corner, a backyard pool seems like just the best project to tackle this year. Having your own swimming pool comes with a lot of advantages, especially this year.
A public or shared swimming pool will put you and your family at risk of catching the COVID virus, which makes it all that useful to have a swimming pool of your own. With that said, there are countless designs to choose from when constructing a backyard pool, so you have to settle on a design style before getting through with any swimming pool design work. Read on to find out what are some of the most incredible backyard pool designs in 2021.
Decorative Patio
A patio around your pool can say a lot about your eye for detail. Having a deck that complements your backyard pool can dress up your small swimming pool to look like a luxurious oasis. If you have thought that I need to sell my house in the near future, a decorative patio will help you do so. It not only adds great ambiance to your property but can also increase its value. There are so many options for paving your pool area, such as:
Stamped concrete

Cool Deck tiles

Colored concrete

Flagstone

Wooden deck
You can add a shaded seating area around the pool to make it pop and look more inviting as well.
Underwater LED Lights
If you're going for a modern yet refreshing look, you can set the mood of your pool in line with your spirit. Line up the interior of your backyard pool with some underwater LED string lights to create a painted swimming pool that will glow and catch everyone's attention. 
Underwater LED lights are rather energy-efficient and provide sufficient lumens for even a deep pool area to be painted. You can fine-tune how many colors you want in your pool and how bright it lights up by installing a logic controller. LED Lights provide a fun swimming atmosphere for kids. If your kids enjoy playing pool games at night, additional lights can help keep them from bumping into the pool walls and injuring themselves.
Mosaic Tiles that Glow at Night
Imagine swimming in a galaxy of stars. Glow in the dark tiles can take your backyard swimming pool to the next dimension. You get to decide the pattern you want for the glow-in-the-dark tiles to match your aesthetic. 
During the day, these mosaic tiles will absorb sunlight and then glow during the night to reveal a majestic pattern of tiny lights. Paired up with a well-lit backyard, you can get to enjoy the most relaxing night swim in your backyard pool. These eco-friendly tiles provide a scenic ambiance for your backyard once the sunsets. If you are limited on outlets and other lighting options around your pool, consider using these tiles to add light to your property.
Poolside Firepit
Another feature that can improve the overall design of your backyard pool is a fire feature. You can opt to go for a full firepit that can be used for barbecues and bonfires or just a tiny gas-lit fire in the middle of your circular pool. This adds a different aspect of lighting to your pool and depicts a warm and welcoming environment. A gas-lit fire pit is not expensive to build. With just a metallic bowl, some pebbles, a mesh, and some fire gel, you can add this fantastic feature to your backyard pool and make it stand out.
Firepits can serve as a purely aesthetic addition to your pool, or a more practical one. If you live in an area that gets colder at night, you can still spend time outside next to the fire as you sit by your pool. Firepits typically do a good job of keeping bugs away too. Gas-lit fireplaces are normally less maintenance and easier to use.
Conclusion
Lastly, building a backyard pool can be somewhat expensive, but a beautiful swimming pool is worth the struggle. These design ideas will help enhance the overall look of your backyard pool at a small cost. You should also research the various materials you can use to construct your pool to see which ones align with these design ideas. Nothing can compare to a relaxing hot summer afternoon spent in your backyard pool with family and friends.
Ref number: THSI-2338