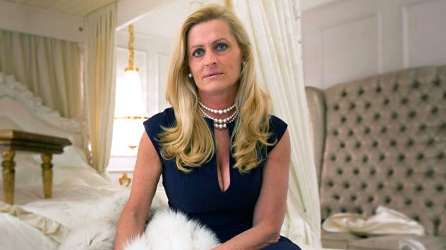 Channel 4's Millionaires' Mansions
Welcome to the world of dystopia: where your TV set brainwashes you with endless hours of reality shows giving you an insight into how the rich and famous live. Whether it be Keeping Up With the Kardashians, Made in Chelsea, or The Real Housewives of New York, the entertainment industry is constantly feeding us #goals so that we can model our own lives on the upper echelons of society. Channel 4's new show, Millionaires' Mansions, focuses less on what small dog is currently in fashion (and what handbag to carry it around in), and more on how the super rich go about decorating and furnishing their super expensive houses.
Episode One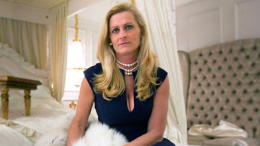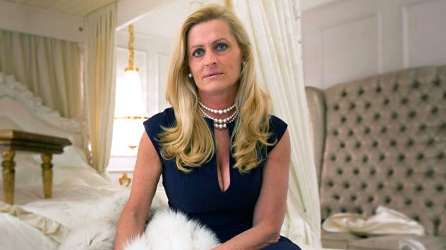 In the first instalment of the three-part series, we are introduced to interior designers Joanna Wood, Juliette Thomas and  Brian Wade. It is clear from the outset that each designer has an extremely different approach to creating lavish interiors; Wood is by far the most traditional designer, who's clientele ranges from rock stars to royalty, and who's style can be described as nothing but regal. The experienced and sought after designer takes us on a tour around one of London's most lavish private houses, which includes twenty-two carat gold ceilings, an enamel fireplace and not one, but two state dining rooms– because that is what every home should include, obviously.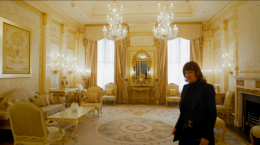 Juliette Thomas, who owns Juliette's Interiors on Chelsea's Kings Road is the least experienced interior designer featured on the show. The single-mother-of-four decided to start her own company after splitting from her husband, and with only £1,200 left in her account, decided to sell furniture on http://www.ebay.co.uk. Juliette's style is certainly the most conventional, even if it is extremely blingy and glitzy. With LED, Swarovski crystal embellished wallpaper and raunchy photoshoots used to sell items of furniture, it is no wonder that Thomas' clientele include international DJs and premier league footballers. Expect to see similar decor on The Only Way is Essex very soon. Juliette also prides herself on five-star customer service, with a different playlist for the nationality of each customer, glasses of Bollinger and even vacuuming the pavement outside, every customer can be expected to be treated like royalty. However, the interiors entrepreneur experiences a bit of difficulty when dealing with a client's ex-military Polish house-keeper, who spots the smallest imperfections, such as a slightly chipped crystal on the newly installed three-storey chandelier. And who knew putting up a light could ever be so stressful?
Brian Wade is by far the most radical out of the three designers, and gets his inspiration from nature, explaining that the texture of a tree "can easily translate into a wonderful wallpaper." Brian also explains that his clients aren't interested in "Swarovski crystals, chandeliers and gold taps", and instead his work focuses more on "bringing together the rarest of materials to create a sanctuary, and their palace". I feel that the "rarest of materials" is a bit of an understatement; on the show, Wade is working on a house which features a gold-dipped leaf light piece, a pink rabbit fur, cashmere lined throw, a pressed guinea fowl feather coffee table and stingray-skin wallpaper and tables- lets just hope the luxury property doesn't end up smelling of rotting fish!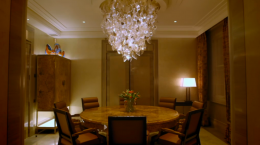 To catch up on Millionaires' Mansions, do so here.