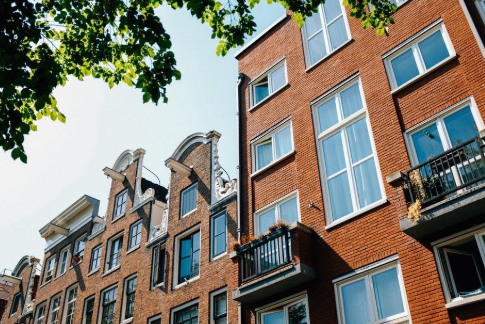 You know you want to invest in real estate, but you're wondering if buying an apartment complex is worth it. We weigh the pros and cons here.
What's the best way to build wealth? 
The answer: Invest in real estate. 
Over the last 200 years, 90% of the world's millionaires grew their fortunes by investing in real estate. 
Owning an apartment complex is one way to get started.
Is buying an apartment complex the right real estate investment for you? Keep reading as we weigh the pros and cons. 
The Pros and Cons of Buying Apartment Complexes 
Buying an apartment complex might sound intimidating, but it's easier than you think. Once you know how to buy an apartment building, you'll see that it's not all that different from owning other rental properties. Let's look at the pros and cons and how to own an apartment complex. 
The Pros:
You have rent coming in from multiple units and not just one source. 
If there is a vacancy, it's not as detrimental as a single-family home being vacant. The income coming in from the other units keeps you afloat. 
You can offer services and amenities for additional sources of income. 
There are many tax benefits like deductions for insurance premiums, property taxes, cost of repairs, and mortgage interest, to name a few. 
It may be easier to obtain a loan because lenders look at the profitability of the building more than the investor's finances. 
You can build equity faster by paying down the loan with the money from your multiple income streams. 
Do you need a property management company? We have no hidden fees and you only pay us after you have results. 
The Cons:
There's a lot of turnover in apartment complexes. Tenants tend to stay longer in a single-family home. 
Buying an entire apartment complex is often a lot more expensive than buying a single-family home. 
Tenants don't take care of apartments very well. They don't think of the apartment as their own like they would a house. 
Maintenance issues are costly because it's multiplied by the number of units in the building. 
If you choose to manage the building yourself, it is very time-consuming. 
You may have to deal with more than one or two unreliable tenants. 
Is It Worth Your Investment? 
There are some indications that this type of investment will be worth it if you want to grow your income.
The majority of millennials are not buying houses. New apartment complexes are few and far between because they're expensive to build. Millions of baby boomers will be retiring and looking to downsize. 
Buying an Apartment Complex
Now that you know the good, the bad, and the ugly about buying an apartment complex, is it right for you? Once you know how to buy an apartment complex, you can be on your way to building a real estate empire. 
Be sure to bookmark our site for easy access to all of our services. Whether you're a homeowner, real estate agent, or landlord, we are here for you.