Spring is springing outside, and what better way to invite it in than to bring a bit of sunshine into our homes? It's time to brighten our bedrooms, lighten our living rooms, and I have a handful of perfect ways to do so.
If getting your home geared up for spring is not exciting enough for you, then make sure to check out our Garden Ideas Pinterest board to give your garden a new look for spring.
First of all, evidently, it isn't practical to change the whole of our decor and furnishings each season, but there are so many small changes you can make to adapt, according to the month. Like swapping over the cushions and throw blankets, on your sofa.
This white cushion with the green, floral print is from Debenhams, as is the boldly printed throw. Such a simple way to brighten up your room!
Secondly, how about putting a twist on your regular bouquet of flowers and plants? Gone are the days when we use vases and plant pots – we're here to welcome the jar. Oh, how versatile you are! It is an adorable way to add a quirk to your bunch of daffodils or peonies. Also, planting in a jar adds a beautiful rustic feel – there's something about seeing the soil and the roots, as well as the blossoming flower! But why stop at flowers? You could put tea lights in them and create your own little lanterns (which would also look good in your garden). Maybe have them lined up on your kitchen counter and put your tea, coffee and sugar in them. Or you could even get some battery powered fairy lights to put inside; a little light to put on your bedside table.
Now let's talk about the bedding: it's all about the white bed. Fresh, white sheets make your room look so clean and new, and it it brightens up your space instantly. If pure white isn't exactly ideal (maybe you have pets or husbands) then why not try a pretty design on a white or pale coloured background? Obviously, spring is the time for embrace the florals, the leaf patterns and even the birds – get them on your bedding! This goes for your curtains too. It is as simple as it sounds; the lighter your bedding and curtains, the lighter your room will be!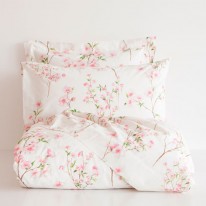 This beautiful set is from Zara Home, which ranges between £39.99-£69.99 for the bedding itself, and £19.99 for the pillow case. The whites will brighten up your room, whilst the pink flowers are a lovely touch to take the edge off.
Finally, we have candles. If you're thinking candles are just for Autumn/Winter, you're wrong. There is a skill to finding the perfect scent. There are plenty of candles which scream 'Springtime'; like 'Green Tomato Leaf' by Jo Malone, for example. This is perfect for your kitchen as it's so fresh and earthy. What I adore about Jo Malone candles is after you have burned them, the scent still fills the room for hours.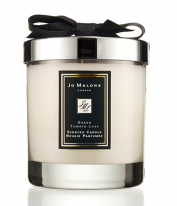 When finding the scent, I would stay away from vanillas and ambers – they are much more wintery scents, I feel. In spring, we need citrus, floral and zesty scents; notes of grapefruit, lemon and peony are perfect! This leads on to how we present our candles. Most candles come in attractive packaging, but can we talk about jars again? Yes, we can. Jars, jars, jars. They add a charming, unique spin on everything! When in doubt, put it in a jar.
Happy Springing!