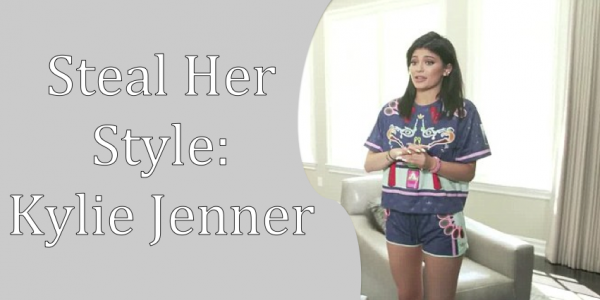 I must admit, I am a huge Kardashian/Jenner fan. Don't ask me why but there is something about them I just find so interesting and entertaining. I often find myself spending days watching their various TV shows and not regretting it one bit!
One of the things I follow most when it comes to the Kardashian/Jenner's is their home décor. Whilst I have to say that Kourtney has my favourite interior design style, I think they all bring so much luxury and elegance to their homes. I love how they each have quite distinct styles but there are also key themes they all seem to incorporate (I'm thinking monochrome!).
I recently came across a video that Kylie Jenner posted to her app showing her bedroom area (which was practically the size of a small home) in her house. Now, usually videos like this frustrate me (and it's not just from the lack of charisma whilst on film, sorry Kylie!). I do find myself getting a bit jealous and thinking what they are presenting is unobtainable on a normal budget.
However, whilst I was watching this video I realised that there were actually a lot of features that could easily be replicated in you own room to create a luxury space; even on a budget.
Take a look at some of my top finds that enable you to have Kylie Jenner's style for less! Take a look at the video here:
The glitter wallpaper Kylie has in her sitting room almost looks like brick wallpaper to me. I think that adding white brick wallpaper is an easy way to incorporate this look into your own home. The white makes it simple and elegant and would work better in smaller spaces as it will open up the area, whilst almost giving it a New York loft type of vibe.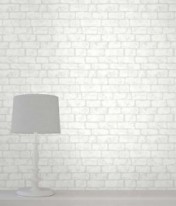 Source: eBay
Armchairs
Whilst not everyone will have the space to include armchairs into their bedroom, I do like the style of the ones Kylie has in hers. However, I think the set up of the room makes it look like a hotel room (which could be a positive or a negative depending on the look you are going for). Personally, as I don't have room for extra seating in my bedroom, I would copy these armchairs but use them in my sitting room. I chose the style below as I think they look more comfy than Kylie's and I think they are perfect for sinking into after a long day at work.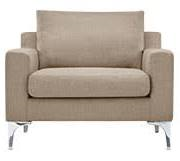 Source: Made.com
Fur Cushions
To make the seating 'pop' Kylie has opted for fur cushions in both her sitting room and her bedroom. I particularly like the darker ones she has on the seating area in her bedroom as they look very chic. As above, these cushions can either be used in the bedroom like Kylie (perhaps on the bed if chairs aren't an option) or they could be placed on the seating in your sitting room to spread the feeling of luxury across your whole house.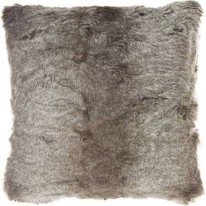 Source: House of Fraser
Headboard
A headboard is something so easy that can totally transform your room. It is also a great idea as it's so easy to change if you decide to redecorate. Kylie has opted for a classic grey that gives that hint of opulence. I love the style of the headboard and think it would look great in a lot of other colours too; especially cream if opting for a lighter and more airy bedroom style.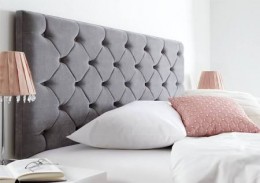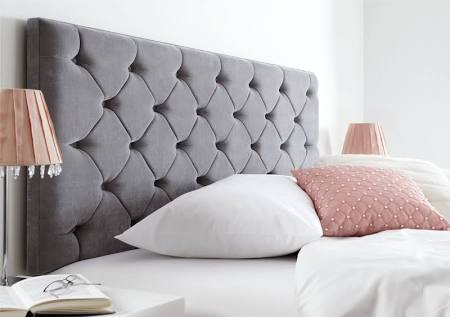 Source: Time4Sleep
Fur Throw
A throw is one of the easiest things to add to a room to change it's look. This fur throw from John Lewis is a pretty close replica to Kylie's but I bet it's a fraction of the price she paid! I like the idea of this throw, especially in the winter, as it offers a cosy, luxurious feel along with the addition of a warm and soft texture.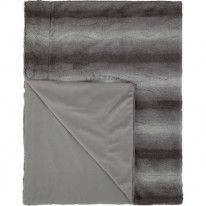 Source: John Lewis
Bedside Drawers
Whilst these drawers aren't an exact replica of Kylies, the colour and style will give you the same effect. Kylie has used one set of drawers either side of her bed but if you are tight for space, you could place these drawers anywhere in the room. They are great as they allow for extra useful storage whilst tying in with the simple colour scheme. They would also look good in lighter colours in smaller rooms. Place a skull lamp and some classic photo frames (see below) on these to give them a personal edge.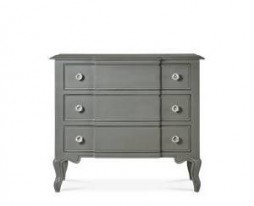 Source: Swoon
Skull Lamp
Skulls give an edgy look to a room and this lamp definitely offers edge but in a subtle way. This lamp could be used anywhere in the house but I think it suits best in the bedroom like Kylie has chosen. The simple design of this lamp means that you get a slightly gothic and edgy look without overpowering the entire room.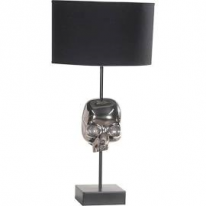 Source: Shropshire Design
Photo Frames
As Kylie's room has quite a lot of different styles and textures in it, keeping the ornaments and features simple is  key. She has chosen to keep things such as photo frames plain and simple meaning they don't conflict with the rest of the room. This means that the room doesn't look too busy and also means that the photos themselves are the main focus. You can get simple photo frames in most home departments and using a mixture of sizes gives you more of an interesting visual feature.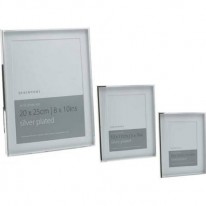 Source: Debenhams
Skull Ornament
Whilst Kylie has chosen to go for two darker skull ornaments, an alternative is to have one, more elaborate piece. That is why I have chosen a diamante skull for decoration. I believe that with the colour tones used, you can get away with something with a bit of sparkle. I also think that smaller rooms may be likely to be less busy (for example, without the chairs and table) so the room can handle slightly more decorative features.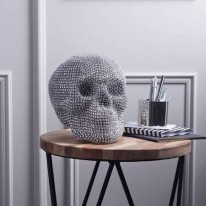 Source: Notonthehighstreet
Nude curtains
Kylie has used a curtain style fabric next to the head of her bed which gives a truly lavish look to the room. This is something I had never thought of before and I really love how it looks. To get the look you could use them in the same way as her and hang them next to the head of your bed. If that isn't an option, you can choose to hang them as normal curtains to get the same luxury look but in a more practical way.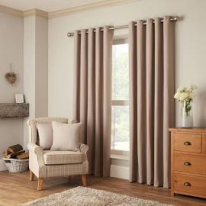 Source: Dunelm
As you can see, there are many items you can find to replicate Kylie's amazing bedroom. I believe that the key to achieving this style is to stick to a simple colour palette mixed with multiple textures. Kylie Jenner definitely knows how to create a luxury space and whether you choose to replicate the entire room or just choose certain elements, you can include a little bit of the Jenner style in your own home.
Source: thecelebrityauction