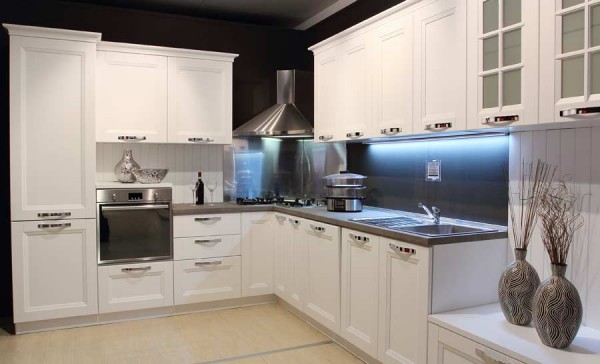 With 2016 well underway, new home builders are starting to recognize definite patterns in new home construction. Homebuyers choosing to build a new home right now have some very specific preferences when it comes to design and layout, color, materials, and technology. Read on to learn about the top home design trends for 2016.
Design and Layout
Today's homebuyers are looking for a contemporary style which features clean design, modern colors and a focus on functional space. Homebuyers are saying goodbye to busy spaces and focusing on clean lines and simple décor instead. Residential home builders are getting requests to optimize the space, including fewer hallways and tiny rooms that take up space without adding to the function of the house.
Most homebuyers who build a new home today are requesting an open concept layout. In this layout, the main floor is not separated by walls and instead rooms like the kitchen, dining room, and living room are allowed to flow together. Homeowners say this layout is perfect for entertaining and spending time with the family.
There is also an emphasis in new home construction on personalizing and customizing the house. When you build a home, you can create a space that fits perfectly with your lifestyle. Homeowners are taking risks with bold patterns, colors and materials that make a statement.
Colors
The contemporary design style puts a heavy emphasis on basic neutrals. Colors are the top concern in the kitchen, with homeowners having to decide what colors they want for their walls, cabinets, counter-tops, and back-splash. Here are two popular color trends in the kitchen right now.
White on white kitchens that make the kitchen an open, bright and inviting space. Some homeowners are decking their entire kitchen out in white, including the cabinets, back-splash, and counter-tops.
Gray kitchens are the top choice for homeowners who don't favor the white trend but still want something contemporary and modern. Residential home builders such as Legend Homes in Houston say gray cabinets are a very popular request among home buyers right now.
Materials
In terms of materials, home builders are noticing several trends. For one, homeowners are split on their choice of countertops in the kitchen and the bathroom. Granite is still very popular, but those who believe the granite trend has been overdone are turning to engineered stones like quartz, Silestone, and Caesarstone. Another popular material is the use of glass mosaic tiles. These tiles add function and style to kitchens, but homeowners who build a new home today also want to use glass tile to create a stunning shower in their master bathroom. Other materials trends include the following.
The use of mixed materials, where natural, industrial, contemporary, modern and classic materials are mixed to create an interesting look. Some examples are mixing glass and metal and combining iron and steel.
Reclaimed lumber as an eco-friendly option for flooring.
For flooring, the use of engineered materials like engineered wood. Porcelain tiles that are made to look like wood are also popular.
Brass fixtures are back – not the polished brass look but a more worn look reminiscent of the 1880s.
Technology
Technology is a huge trend in new home construction as well. As the number of technological gadgets and solutions grows, homebuyers are looking to deck their houses out in the latest innovations. One popular request that new home builders get is to pre-wire the home with cables so that Wi-Fi routers can cover every corner of the new home. Other popular home technology trends include the following.
Energy efficient appliances and other eco-friendly options like low flow faucets.
Sensor technology – for example, faucets that are motion controlled and lights that come on when you walk into the room.
Smart technology that can be controlled from your mobile device, including lights, thermostats, smoke detectors, video surveillance, entryway locks, and appliances.
2016 is shaping up to be an interesting year in new home construction. More and more buyers are choosing to build a new home versus purchasing a used home on the market because of the importance of customization. In 2016, residential home builders have the power to make your every wish come true in order to create a home that is a perfect fit for your family and lifestyle.