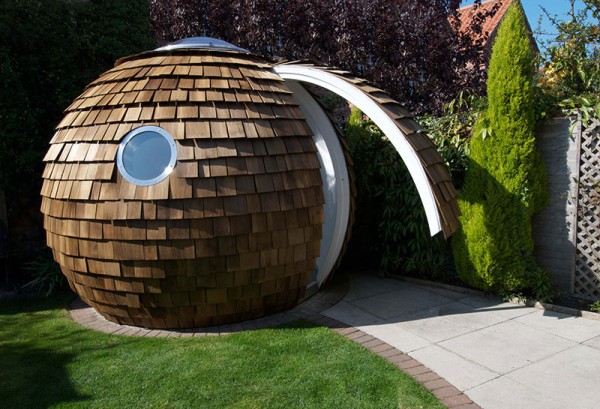 In case you missed the boat the first time around, 'shedworking' was a popular trend a few years back where every Tom, Dick and Harry with a decent sized garden, a Mac Book and a spare £10,000 started building mini home offices in their back gardens. The trend was affectionately named 'shedworking' as many people simply converted existing old sheds or bought cheap DIY sheds from their local B&Q and did them up themselves. However as the trend grew in popularity, more and more specialist companies sprang up offering bespoke garden offices/studios that made even a rather snazzy old-school shed seem liked a tatty cardboard box at the end of the garden. In fact, if you type "garden offices" into Google, it will return over 400 companies offering their services.
These stylish and compact workspaces are set to make a comeback in 2016, with some innovative new models entering the market and the success of small start-up businesses changing the traditional needs of the workspace. While the idea of a garden office may seem a bit out there, they offer a cheap, chic and eco-friendly work solution, and best of all there's only a 2 minute commute to the end of the garden! Recent research in the United States, where most people drive to work, showed that 98% of employees' Carbon footprint was caused by their daily commute – meaning your little garden office could have a big positive impact on the environment. Another point to consider is that our gardens are generally neglected during the Winter months, but by creating a space that combines outside and inside, you can get the most out of your garden all year round.
So should you join the likes of famous Shedworkers like Roal Dahl (who wrote all his world famous books in a tiny little shed at the bottom of his garden)? At the very least, you should certainly take a closer look!
There are essentially 4 main options for creating your garden office:
Re-furbish an existing shed yourself
Build your own from scratch
Buy a pre-fab model
Hire an architect or specialist company to design and build one for you
Refurbishing An Existing Shed
This is by far the cheapest way to create yourself an office garden with little effort and minimum disruption. You may well find that a cosmetic interior makeover is enough for your garden workspace, but remember that without insulation, heating and proper electrics your garden office will effectively be a Summer-only affair. If you want to create a garden office that functions all year round, then you might as well invest in a new structure as by the time you've sorted out heating, insulation etc. your total costs will be roughly the same.
Build Your Own From Scratch
If you consider yourself a seasoned DIY-er and designer, then it is possible to design and build your own garden office from scratch. This method allows you to have total control over the finished product and is especially useful if you have very specific or niche needs for your workspace. However, you will need to have some serious construction experience to get through your build without any nasty surprises, and even for experienced builders, you will need to hire a professional for some aspects like any plumbing or electrical work.
Buy A Pre-Fab Model
You can find and buy a garden studio design from a DIY centre, then build and fit it yourself for as little as £500 (if you're clever about it), but again you will need some construction experience and may need to hire a professional for electrics/plumbing etc. It is also important to adjust your expectations accordingly if you opt for this method, as the end product will be pretty basic compared to anything you would get from an architect or specialist design company.
Hire An Architect or Specialist Company
This method is obviously the most expensive way to create your garden office, but if you are thinking about longevity, quality and comfort, then this is definitely the best way to go. Specialist garden office/studio companies offer a range of different models with basic workspaces starting at £3,000-£4,000, then going up to around £35,000-£45,000 for larger spaces with specialist features (like showers, mezzanine floors or kitchens). If however you want to get a truly bespoke garden office, then hiring an architect is the only way to go. Especially in urban centres where space is at a premium, more and more architects and designers are embracing the 'Tiny Homes' movement and creating clever and stylish spaces with very small footprints – perfect practice for a snazzy garden office design!
The shedworking trend has gained huge popularity in London where making the most of the little space you have is not just sensible, but essential. Finding an architect to design your garden office shouldn't be too tricky as there are a huge selection of London architects to choose from and while not all of them will offer garden offices in their portfolio, you may be surprised by how many will jump at the chance to design a garden structure that isn't your bog standard extension or conservatory!
Whether you've got £500 or £50,000 to finance your shedworking dream, we've picked out some of our favourite garden office designs for all budgets and any occasion:
Archipod Pods
These snazzy little spherical pods offer a simple, stylish and environmentally sound shedworking solution.
Size: 2.9m diameter, 2.5m height
Price: Typical price £15,000 + VAT
Muji Huts

Well-known Japanese brand Muji are making their first foray into the shedworking market with a small selection of pre-fab, modular huts.
Available: Early 2016 (Japan only)
Price: TBA
Henley's Classic Compact Mini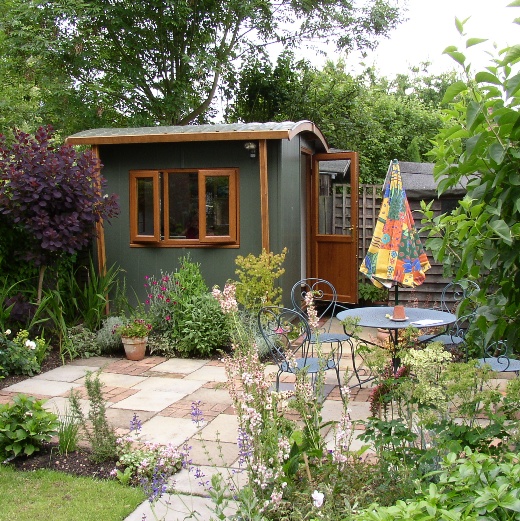 This pre-fab Compact Mini from Henley Offices is a flexible and practical option, even for small gardens. It can be installed by 2 fitters in 1 day, meaning you can have your shedworking haven up and running in no time at all!
Size: 2.5m height, 2.2m width, 2.2m deep
Price: £5475 + VAT