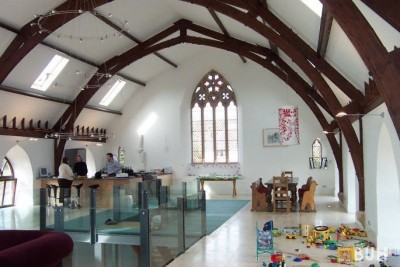 Architecturally, churches have always been beautiful, constructed with the intent of glorifying God. An abandoned church is a shame regardless of religious affiliation; leaving empty and unused something built with care and intricacy. More and more, however, abandoned churches are being hollowed out and converted into something with a new function.
It makes sense – why spend time and money building something that's only going to look half as good, when you could just use what's already there? It's a preservation of resources and it protects the environment, discouraging redundant construction in an age when its become increasingly important. But where exactly are these church conversions? And what are they being used for?
Take a look at this home in Denver, Colorado, priced at a staggering $2.3 million. The property is absolutely stunning, covering a massive 5,300 square feet and constructed from striking red bricks. They even left the stained glass windows in for good measure.
Book Stores
How about this book store in the Netherlands? Converted from a 700-year-old Dominican church, nothing highlights the importance of literature greater than housing it in a building previously used for worship.
Supermarkets
Tesco may seem like it's taking over the world, but it's got a long way to go if it wants to top religion. It's one thing to convert a church into a private home, it's another to couple it with one of the world's largest businesses. Tesco supermarkets typically have a fairly bland, uniform architecture – how strange must it be, then, to do the shopping here?
Restaurants
Situated on the Lisburn Road in Northern Ireland, Ulsterville Presbyterian Church was converted into restaurant Saphyre, offering gorgeous food and a spectacular view.
More Houses
St Matthew's Church, Littleport, Cambridgeshire.
The Future
To date, thousands of churches have been sold for renovation and conversion, and the trend shows no sign of slowing down. According to the Christian Research group, of the near 50,000 churches that are currently in use, around 10 per cent will be redundant by 2020, paving the way for many more intriguing architectural transitions.
 by Brian Wilson