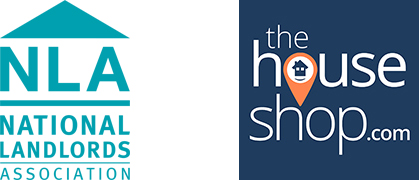 TheHouseShop.com Announce New Partnership with The National Landlords Association
TheHouseShop.com are proud to announce that they have been accepted as a Recognised Supplier to the National Landlords Association (NLA) and will offer a free tenant find service to the NLA's 70,000 plus members and associates. While the NLA has already partnered with online letting agents, this new partnership with TheHouseShop.com will be the first to offer a totally free advertising service for their landlords.
Having launched back in March 2015, TheHouseShop saw a gap in the market for a specialist property site that allowed private landlords to find tenants and manage their portfolio on a safe, secure and effective platform.
With a significant rise in online rental fraud in recent years, tenants have become wary of searching for private landlords on the large classified ad sites. However, TheHouseShop's unique Land Registry ownership verification process has seen them attract a dedicated audience of tenants looking for alternatives to the main "agent-only" portals – and NLA members will now be able to reach this huge alternative audience, totally free of charge.
Nick Marr, Co-founder of TheHouseShop.com, comments on the announcement:
"Being recognised by the National Landlords Association (NLA) has been a really proud moment for us and we can't wait to work with the NLA's 70,000 plus members and associates. Landlords are facing tough times at the moment, especially with the Buy To Let tax relief changes that recently came into effect. Profits are being squeezed from all sides, and that's why we believe that our free tenant find service is more attractive now than ever before."

"To be able to provide a safe, effective and free platform for private landlords is a real achievement and a lot of hard work and effort has gone in to get us to this point. We have spent the past 2 years perfecting our services and offering for landlords, and we're really excited to share the results."

"The NLA is the leading landlord organisation in the UK, and we are delighted to position TheHouseShop alongside such a prominent and established brand. 2017 is shaping up to be a big year for TheHouseShop.com and this new partnership will allow us to reach thousands more landlords and help them save money on every aspect of the lettings process."
TheHouseShop will also be working as an intermediary to introduce their new and existing landlords to the NLA, and offer a reduced membership fee* as an added incentive. Members of the NLA who use TheHouseShop.com to advertise their properties will also receive exclusive free featured listings and will have the NLA logo displayed on their property adverts.
Tenants searching for property on TheHouseShop will be able to identify NLA member landlords from their branded profiles and can feel confident that they are dealing with professional and experienced landlords.
Jonathan Spence, Interim Head of Marketing at the NLA, said:
"TheHouseShop is a progressive, forward-thinking company that places great emphasis on safeguarding the security of the tenants and landlords who use their platform.

"Once we were shown the quality of their site and the measures they have in place to combat fraud, we knew that we wanted to work closely with them to promote their service to our ever-growing network of landlords".
*Joining fee of £14 is waived
About TheHouseShop.com
TheHouseShop.com is the UK's no. 1 property marketplace, working with private sellers, private landlords, online agents, High Street agents and some of the UK's largest property developers to buy, sell, rent and let property online.
TheHouseShop offer free property advertising for private landlords and have helped thousands of landlords find tenants for free and save money on essential services, such as tenant referencing, landlord insurance, rent guarantees and more.
Unlike other agent-only portals, TheHouseShop.com offers buyers and tenants a comprehensive selection of properties with both private and agency listings. With a host of additional products and services covering all parts of the property sector, TheHouseShop.com is emerging as the leading one-stop property marketplace for both professionals and consumers.
About the National Landlords Association
The National Landlords Association (NLA) is the UK's leading organisation for private-residential landlords. It works with almost 76,000 landlords, of which over 36,500 are paying members, ranging from full-time landlords with large property portfolios to those with just a single letting. NLA membership helps landlords make a success of their lettings business by providing a wide range of information, advice and services.
The NLA campaigns for the legitimate interests of landlords by seeking to influence decision-makers at all levels of government and by making landlords' collective voice heard in the media. It seeks to raise standards in the private-rented sector while aiming to ensure that landlords are aware of their statutory rights and responsibilities.
Based at its head office in Central London, the NLA currently employs over 30 full-time staff and has a network of more than 35 regional representatives and branches throughout the UK.