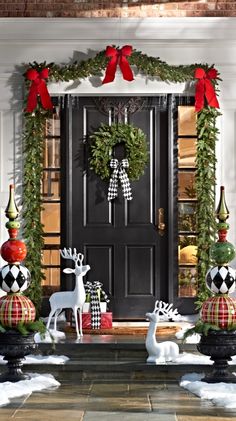 We have given you the 30 worst and crazy Christmas houses, but here are the best and new ways to decorate your home this yuletide. From tartan ribbons, Nordic style wreaths and pretty lights, we have got you covered with fresh decoration ideas this Christmas. So go on, ditch the tired tinsel and amaze yourself and your neighbours, by stepping out of your comfort zone and trying something new.
10) Highlight A Feature In Your Garden
Instead of covering your house with lights from the front door to the rafters, why not do something different with your front garden? By picking out one feature to bedazzle with the fairy lights, you can still make a statement without blinding your neighbours and with so many outdoor fairy lights available you won't be short of options.
9) Pretty Front Porch
Opt for one colour scheme with plain fairy lights, for a stylish yet festive entrance to your home. Instead of just the traditional wreath on the door, go all in with a colour co-ordinated seasonal display.
8) Wonderful Window Light Displays
You don't have to cover your entire home in bright Christmas lights to create a festive look, why not instead go minimalist with some decorative curtain lights and decorations on your windows? With the option to choose indoor or outdoor displays you can really let your imagination run riot  with this increasingly popular trend.
7) Gorgeous Garlands
With the crazy Christmas houses cluttering your streets and neighbourhoods this year, we wonder what their interiors are like! Why not show some different areas of your home some love this Christmas, by forgoing the fail-safe and often overused tinsel with some graceful garlands?
6) Fabulous Fireplaces
And for your mantelpiece above the fire, a focal point for your living room where you can congregate around the warmth of the fire after your filling Christmas dinner. Often overlooked this is a great opportunity to bring some festive cheer to your home.
5) Christmas Card Displays
Instead of cluttering up your mantelpiece with your Christmas cards, why not incorporate them into a stand alone feature in your home this year? Check out our favourite ideas below.
4) Christmas Bookcase Displays
Often an overlooked spot in the home when it comes to decorating during Christmas, why not make a festive feature of your book shelves?
3) Christmas Sconces
Make use of dead wall space with a fabulous Christmas themed sconce, the indoor version of a hanging basket, the sconce is a great way to do minimal work with maximum effect.
2) Dining Room Decorations
Try to make room around the turkey, roast potatoes and sprouts on your dining table this year, with these brilliant ideas for dressing up your dining room's available space.
1) Bathrooms – Yup You Read Right – Christmas Bathrooms
Most people have a downstairs toilet in their homes, so when the extended family are over and the guests pop round, why not treat the bathroom with the same adoration as the rest of the house when you decorate?
There you have it, our top 10 different ideas for decorating your home this Christmas, so now there is no excuse to get stuck in a rut when decorating your home this year!