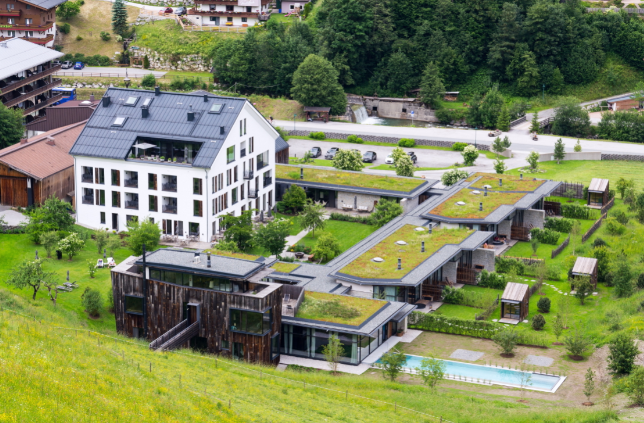 There have been some major innovations in the roofing industry over time. Manufacturers are always brainstorming and exploring new ideas to improve the current designs. As a homeowner, or if you're planning to build a house, it's important to be ahead of the game by knowing the current roofing trends.  
Accessing and selling property has been made easier thanks to thehouseshop.com. Visit the site and interact with homeowners, landlords, estate agents, and developers to buy, sell, rent, and let property online. 
Let's dive in and discover some roofing trends you should take advantage of. 
Asphalt shingles are the most common roofing materials and they're here to stay. Covering more than half of the roofs in the USA, they're the most used roofing material. They're popular because of their availability and affordability.  
They're available in more colors and designs now. They can withstand many weather conditions, and, with proper regular maintenance, they can last up to 20 years or more. 
For more information in home renovations, check out Nassau county roofers, experts in home improvements, supplying and installing windows, doors, siding, and roofing. 
Metal roofs have been in the market for a while now and they're steadily rising in popularity. They're available in different styles and colors, with added advantages of durability and longevity without need for regular maintenance.  
Metal roofs are great insulators, they're good at reflecting the sun's UV rays, and keep your house ventilated. They're saviors in cutting heating and cooling costs. An added advantage is that aluminum is recyclable. This curbs wastage of material. Even though metal roofing may be expensive to install, it'll be worth your money. 
Do you want an eco-friendly home? If yes, go for solar roofing. With advancements in technology, solar roofing has become a favorite option for many homes. Thanks to improved technology, costs are decreasing day by day and its slowly winning the hearts of many people.   
Solar roofs are ideal for people who prefer to produce their energy. Not to mention their efficiency in reducing energy costs. They're the best in many ways. Manufacturers are now producing sleek panels and shingles that are more appealing to homeowners than the traditional vast solar panels. 
Also known as living roofs, green roofs refer to lawns on top of a roof. They're covered with soil and some vegetation. They're common everywhere, in hotels, apartments, and office buildings. Just like many other modern trends, living roofs are eco-friendly roofs.  
They create a natural habitat for plants, help in improving air quality, and maintain stable temperatures. They not only save you energy and add insulation to your house, but they also give your house an amazing look. 
Green roofs work best in sloped roofs to allow draining of extra water. 
Light-colored roofs are gaining popularity among many homeowners. The dark-colored roofs are slowly getting out of style as many people are embracing more attractive and inviting colors as options for their roofs.  
An advantage is that you can mix many colors to come up with a more attractive design. 
Made from polymer, synthetic roofing is designed to create the illusion of cedar shakes. They can withstand many weather conditions, and they're long-lasting, lightweight, and durable.  
Reinforcements to your roof structure won't be necessary as they're light. They come in a range of colors and they've got a high level of impact resistance. 
Flat roofs offer many designing possibilities. They allow for creativity, like installing solar panels and creating green roofs. Flat roofs create a modern look and are easier to maintain than all other roofing types. 
Proper waterproofing must be done on these roofs and proper drainage systems should be created for draining extra water. 
Cool roofing is about reducing heat transfer from the roof to the house. This technique focuses on reflecting rays from the sun, keeping the house cool.  
The technique increases the roof's lifespan and applies to a variety of roofing styles and designs.  
Instead of removing the entire roof during renovation, you can opt for silicone coatings to cover your roof. 
You'll need two coats of the product to create an impermeable membrane that'll be resistant to sun rays. 
This doesn't refer to any style, material, or design. Designer roofs are built and customized with special qualities to withstand specific conditions like heavy rains and fires. 
Depending on the situation in hand, a designer roof can be developed to handle the situation. 
Need more information on roofing? Visit thespruce.com for detailed information on various roof topics.