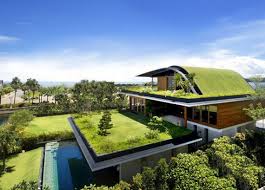 Green and sustainable architecture has been around for millennia, but it is only in recent years that it has risen to prominence. This rise can be attributed primarily to necessity, but it also comes from the multitude of creative and pioneering architects dreaming up environmentally sound and beautiful buildings that capture the imagination of the public. Let's take a look at some of their profiles.
The heavyweights of green architecture
Name: Frank Lloyd Wright
Known as: The father of organic architecture.
Known for: Fallingwater, Pennsylvania. Taliesin West, Arizona. The Guggenheim Museum, Manhattan.
Quote: "The building grows out of the landscape as naturally as any plant; its relationship to the site is so unique that it would be out of place elsewhere."
Famous green design:
Falling Water, Pennsylvania
Name: Richard Buckminster Fuller
Known as: Futurist, Humanitarian, Evolutionary.
Known for: Dymaxion Houses. Geodesic Domes.
Quote: "Don't fight forces, use them."
Famous green design:
A Dymaxion House, Henry Ford Museum
Name: Renzo Piano
Known as: One of the greatest architects of the modern age.
Known for: The Shard, the New York Times building, the Pompidou Centre.
Quote: "One of the most important things is to have happy buildings".
Famous green design:
The California Academy of Sciences, San Francisco
Name: Ken Yeang
Known as: One of the 50 people who could save the planet.
Known for: Bioclimatic skyscrapers, Fusionopolis in Singapore, Ecotower in London, Spire Edge Tower in India.
Quote: "I think buildings should imitate ecological systems."
Famous Green design:
Solaris Tower, Singapore
Name: Eric Corey Freed
Known as: The new Frank Lloyd Wright.
Known For: Founder of architecture firm 'organicARCHITECT', winner of 2005 'Best Green Architect' and 2007 "Best Visionary' by San Francisco Magazine.
Quote: "Nature is 3.8 billion years ahead of us in research and development."
Famous green design:
Green House Conversion, Palo Alto, California
You can find more information about Eric and his approach to green architecture in this video:
Eric devotes a lot of his time to teaching a new generation of both architects and lay-people on the value of green architecture, ensuring that the gospel is well and truly spread.
by Joe Baylis