5. Manchester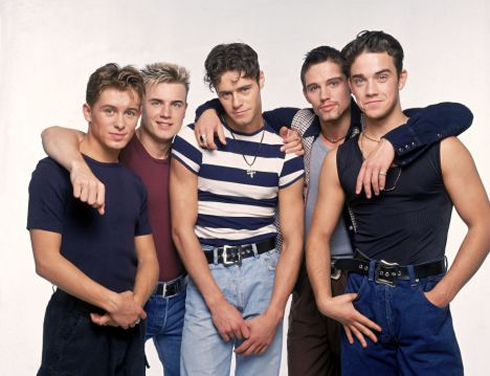 IMAGE SOURCE: http://www.ronaldo7.net/news/2012/601-robbie-williams-claims-cristiano-ronaldo-is-not-driven-by-money.html
With a backdrop of both traditional and contemporary architecture and a rich cultural and music scene, Manchester has an endless list of things to offer. Along with the standard museums and shopping centres, Manchester is not short of the odd secret bar or hidden gem. 1920s speakeasy styled bar The Fitzgerald has a vintage atmosphere and holds wine tasting courses and classic film nights. Although a private members club, membership is completely free!
The Portico library is the second oldest in the city and is home to a gallery area hosting many exhibitions and events. Living in a contemporary city means you can go late night ten-pin bowling. Newly opened Black Dog Ballroom is an ultra cool New York styled venue where you can enjoy a game of bowling while sipping on a delicious cocktail. Manchester offers a friendly campus with affordable living and, with it being in close proximity to the city centre, you can enjoy the perks of living in a major city on a student budget.
4. Brighton
IMAGE SOURCE: https://www.flickr.com/photos/pg23/7339120266/?rb=1
Oozing with creativity and culture, Brighton is much more than a seaside resort.  The famous, scenic Brighton Pier attracts tourists with its rides and entertainment- all on a preserved historical structure.Still standing, it has not been affected by bad weather or fires likeEastbourne Pier and the West Pier have.
For the best Brighton shopping experience, The North Laine is the place to go. Two minutes from Brighton station you will find over 400 independent businesses where you can buy everything from vintage treasures to a scone and a cup of cream tea. Whats most impressive however is Brighton's creative and cultural ethos. The Brighton Fringe for example is one of the largest fringe festivals in the world, educating and entertaining audiences from all over. For music fans, there are many places offering a huge selection of vinyls and there are live gigs being performed left right and centre.
Finally, the nightlife. Brighton's character filled pubs and eccentric bars will leave you wanting more, and The Haunt, an old cinema turned live music venue and nightclub, is one of the best. And with great transport links, Brighton's thriving university cannot be better placed in a cooler and more contemporary town.
3. Cambridge
IMAGE SOURCE: http://cambridge.tab.co.uk/2013/07/28/hit-and-punt-bump/ 
As Britain's second oldest University, Cambridge's entrenched academic tradition and rich history attracts many tourists who pack the streets over the summer months. The heart of the city is the market square which hosts a range of stalls selling everything from jewellery to garden plants, with Sunday dedicated to arts, crafts, and local produce. If you're feeling creative, then Cambridge is not short of an impressive range of galleries and theatres- both student and west end shows. With a world-renowned folk festival,a film festival and music festivals, you will definitely find something to do.
If all else fails, then there are many great pubs to choose from! The Mill is a traditional pub located centrally overlooking the River Cam. Speaking of the River Cam, a must-do in Cambridge is to take an afternoon off to go punting. With gorgeous views of the many sights of the city, including the infamous colleges, there is no better way to relax. Even though Cambridge is one of the most expensive cities to be a student most students rent rooms from their college costing them far less than the Cambridge average.
2. Newcastle
IMAGE SOURCE: http://www.visitnewcastle.com/newcastle-angel-north.php 
It is safe to say, there is never a dull moment when it comes to Newcastle, and its not all about the legendary nightlife! Newcastle has recently seen a wave of investment creating new cultural venues, parks and institutions. One of the most impressive new additions is the Baltic. As a major international centre for contemporary art, the exhibitions are constantly changing, so you can see something new each time you go. The centre is set in a landmark industrial building on the Southbank of the River Tyne and is a great way to discover new ideas.
The Quayside is another area to explore and is home to luxurious restaurants, cafes and homely pubs like Quay Ingredient. With a fantastic view of the River and the famous bridges, it ticks all the boxes for a perfect evening. 
Finally, Newcastle is famous for its football. The Strawberry pub, located next to the Newcastle United football stadium, has a great atmosphere and is ideal fora pre and post match pint. Low cost living and the ease of finding accommodation along with the seaside, the countryside and the Geordie hospitality, are just a few of the reasons why Newcastle is a very popular pick amongst students. Also, words of advice- don't be too confused when you start to hear words you've never heard before. The Geordies are known for their own dialect. Here are a few to get you going:
Howay man!-  a generic proclamation of exhortation or encouragement, can be both positive and negative e.g. Howay man, Morrisons is closing soon.
Gaan-  go e.g. Were gaan into town.
Yem- home e.g. Im gaan yem. 
1. York
IMAGE SOURCE: http://www.thousandwonders.net/York+Minster
York tops the list as the best university town and if you don't believe me, believe the World Travel Awards, which has named York Europe's leading destination two years in a row. Situated half way between London and Edinburgh, York offers stunning architecture, talented buskers and quality cafes where you can get the finest food around. The Brew and Brownies pancakes speak for themselves and Betty's care and attention towards their confectionery attracts over a million customers a year that queue to try and get a table. 
Strolling down the cobbled shambles makes you feel like your in Harry Potters Diagon Alley while the Chocolate Story museum takes you back to where the Kit Kat, Aero and Smarties brands originated from (and you get a free chocolate or two).  The main attraction is the York minster, a gothic structure with buckets of history and is free to enter for York students!
After strolling through the beautiful museum gardens or visiting the York Dungeon what better way to finish your day than choosing from the famous 365 pubs and bars that York has to offer. Evil Eye offers both traditional and adventurous cocktails and Hollywood star Johnny Depp has been spotted there having a drink! Affordable nights out, great transport links and a range of new things to see and do, make York perfect for student life.