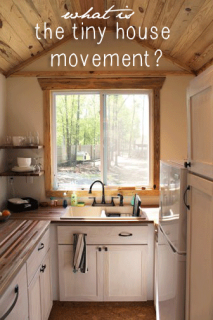 With the housing market in its current state and those big scary prices, it is quite impossible to own what we can call a "standard home". But, what about a tiny home? I know it can sound unappealing at first – all of us dream about having a big house; the bigger the better – but this new trend offers housing that is much more affordable and is ecologically friendly as well.
The price is obviously the best thing about this recently popular housing option. Of course, it depends on materials, area, size, etc. But they will always be cheaper than "standard houses". Their starting price is around £10,000 – although the average spent on one of these houses is around £20,000–£30,000. This is a great option to finally own your own place without having to ask for a huge mortgage loan and spending all your lifetime savings. It is a popular choice especially among young people who don't have the security of a permanent job and wage or who might need to move in a few years but do not want to "waste" their money renting a place.
One of the good things about the size of these houses is that it emphasizes and encourages a simpler lifestyle that usually results in the inhabitants being "greener" – we should all try to be environmentally friendly, it's not that hard! Many people choose ecological or recycled materials to build their tiny homes and integrate energy saving systems, all for a small cost.
Another of the advantages of choosing one of these little prefabricated houses is that you get to choose where you would like to place it. It could be in your parent's garden if you cannot afford anything else – you will still get a tiny bit more independence than if you lived in their house! –, buy a piece of land in the countryside, or in the city if you can afford it. Place your little house there and… voilà! Your tiny home is ready for you to move in!
These tiny homes usually have a small kitchen that is usually a living room as well, a separate bathroom and a sleeping area – usually on the second floor, which is not always a real second floor technically speaking. It all depends on how much you are willing to spend.
The first material that comes to our minds when we think about these houses is wood, but it is not the only material that can be used. As mentioned before, we can choose environmentally friendly materials or be more traditional and choose a brick house that fits into our tiny home movement as well. The latter are a bit more expensive, but usually slightly bigger and more resistant to the passage of time.
Everything is great regarding price and the fact that you get to choose where to live as well as perhaps becoming "greener". Nevertheless, one of the no so great things about this trend is their main characteristic, their reduced size. Space is scarce in these homes, so we will need to make the most of every centimetre. Buying things that are compact or have double use – or more if possible – is a good solution. Think for example about getting a folding bike or a sofa bed for unexpected visits. We also have to be careful when decorating these houses; we don't want the optical illusion that they are even tinier than they really are! Using light colours when decorating is a great idea as it will make your house look bigger and brighter. Forget about getting statues or giant vases that you don't need!
All in all, this trend is spreading all around the world little by little as it allows independence at a reasonable price and the freedom of choosing materials and placement. Will they become the norm instead of the exception? I guess we will have to wait and see.
by Sandra Martinez