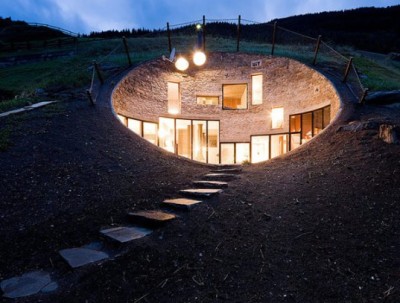 As space in highly desired districts dwindles, architects are looking for new ideas in ever more unlikely places. Some have looked towards the sky, some below the surface of the sea, and others turn their minds downwards and think subterranean. It's the latter we'll be goggling at today.
Underground houses are not just for Hobbits and Wombles – the concept has been around for millennia and is a popular choice for anyone who is especially environmentally inclined. Here are five examples to inspire your own imagination into plumbing new depths.
 1. Beneath The Meadows
Already a site of architectural significance, the area around Fallingwater – a famous organic design by Frank Lloyd Wright – will be the new location for a range of underground structures that are barely distinguishable from the rolling meadows around them.
Designed by Patkau Architects of Vancouver, the plan for these abodes is to provide housing for visiting students of the Fallingwater Institution's educational programs. What an inspirational experience for these pupils of architecture!
2. A Contemporary Cave Dweller
This cave is no home to bats or bears or mountain lions. It is in fact home to a gorgeously designed modern house and its owners. The quirky construction is set in the sandstone landscape of Festus, Missouri and takes up a remarkable 15,000 square feet, all underground. It is equipped to the brim with environmental considerations, including geothermal heating and recycled oak flooring. The naturally insulating property of the surrounding sandstone also means that central heating and air conditioning systems are not needed.
3. Your Very Own Winter Lair
If you've ever fancied yourself as a bit of a Bond villain with a hide-out in the Swiss Alps, then this is the place for you. Skiers and hikers will be completely oblivious to your whereabouts as they wander around on your roof in the town of Vals… until they fall onto your patio that is. Equipped with stunning views and subterranean insulation, you'll be helping to save the planet as well as trying to destroy it (given of course that you're a villain bent on the total annihilation of the world). Here's that view I was talking about:
4. Underground Eco-Home in… Bolton (yep, Bolton)
'Ex-best-right-back-in-the-world', 'current-best-commentator-on-TV' and now 'green activist', Gary Neville put forward this proposal in collaboration with Make Architects for the moorlands around Bolton. Entirely underground, it will be illuminated with natural light thanks to the petal-shaped depressions that form the driveway and gardens. It is one of the first zero-carbon homes to be designed in the UK, but it was almost forbidden thanks to the apparently 'offensive' wind turbine that has now unfortunately been scrapped. Instead, the home will probably use ground source heat pumps and solar panels for its energy needs. Despite being nicknamed the Teletubby house, the architects insist that their inspiration came from Skara Brae, an ancient settlement in the Orkney Isles.
5. Staying True to Our Roots, in Iran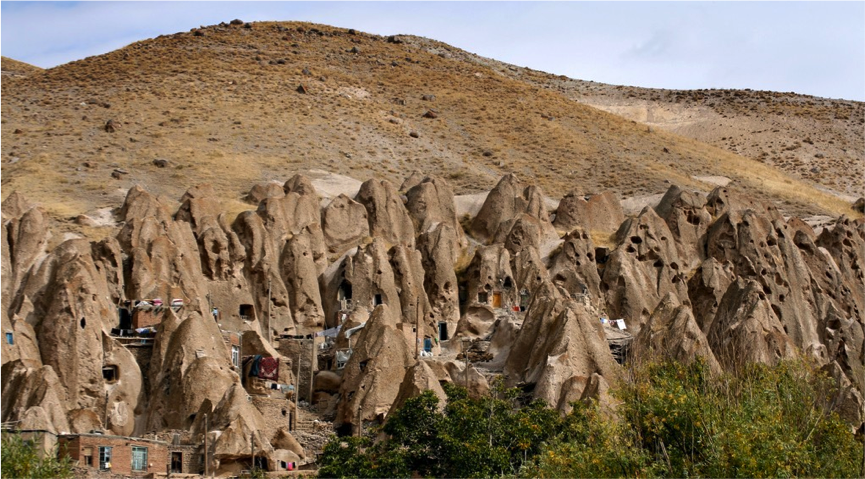 This is the Iranian troglodyte village of Kandovan, featuring a maze of what looks like giant termite mounds. These are in fact hollowed out natural volcanic formations that are homes to some of the locals. Many of the caves have been fully customised, sometimes over four storeys, and are some of the most energy efficient buildings in the world, thanks to their insulating volcanic rock walls.
by Joe Baylis