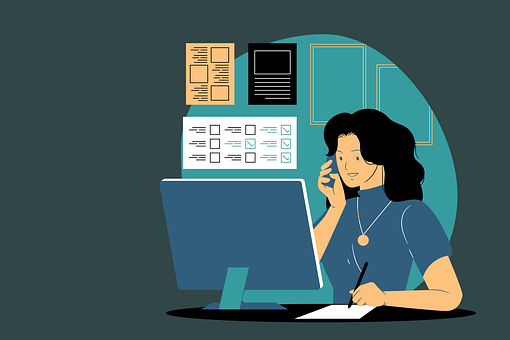 A virtual office is an excellent solution for businesses that want to have the benefits of a physical office space without having to pay for the overhead costs. With a virtual office, you can take advantage of many different technologies that allow you to work from anywhere in the world.
You'll have to think about several things when deciding if a virtual office is suitable for your business. It would help if you considered whether or not you will be able to manage well without being face-to-face with your employees every day, how many employees will be working from home and to what extent they'll need to work collaboratively.
The Importance Of Having An Office
For many businesses, the lack of an actual office or workspace can be a significant roadblock in their growth. When people see that you don't have an office, they might assume that your business isn't legitimate and won't take it seriously. Virtual offices are a great way to present a more professional appearance for these businesses.
When you opt for virtual offices, you'll also have the ability to hire employees who live in places where it is difficult or impossible to commute into an office every day. If you have a virtual office in London, you can easily employ talent from the other side of the planet. This reduces your overhead costs because you won't need as much space and will hire people from anywhere.
Privacy
Using virtual offices can also help keep your business private and secure. When people know that they won't see your employees around town, they might assume that your company isn't very large or established and won't consider them a threat if their businesses overlap somehow. A lack of physical presence can be a great way to maintain privacy and security for these reasons.
Lower Costs
Instead of paying for an expensive brick-and-mortar office space, you can use many different technologies to work from anywhere in the world. If you have a virtual assistant who lives in a country where your business does not operate, this is an excellent way for them to communicate with your employees without being seen or heard by outsiders.
Virtual offices also allow you to manage your growth more quickly and efficiently than if you had a physical office. You'll be able to add real estate as needed while saving money on unnecessary overhead costs that would have been associated with being located in a high-rent area or building that lacked sufficient room for all of your equipment and staff members.
Minimal Downsides
Of course, there are some capabilities that you give up when opting for virtual offices – for example, it can be difficult to lead by example if you are not sharing the office space. You'll have to find alternative ways to motivate your employees when they are working from home and make sure that communication is effective without being face-to-face.
But for many businesses, these potential downsides are minimal compared with the benefits of having a virtual office. When you consider all of the factors that come into play when deciding between physical and virtual offices, it may be best for your business to go virtual.
No Commute
No commute can be a big plus for employees who live far away from their place of work. They will also feel more comfortable working in a space that they consider to be private and secure. Virtual offices are the best way for many businesses to maintain this kind of privacy and security and give themselves room to grow.
And these benefits beat having to commute every day! When you have so many different advantages associated with virtual offices, it's easy for you to see why virtual offices are the best option for so many businesses.
Saving Money On Expensive Tech
A virtual office is an excellent way of saving money on technology that would have been necessary for your office space. A small amount of money you invest into technology upfront can save you thousands of dollars long-term. The downside of having a physical office is that you have to pay for the overhead costs such as electricity, rent, and equipment. But with a virtual office, you can reap all the benefits of having an office space without paying those extra costs. A virtual office allows your company to use cutting-edge technologies that enable employees to work from anywhere in the world at any time.  You can communicate via email, chat, video conferencing, and use project management software without having to leave the comfort of your home. With a virtual office, employees will work in a distraction-free environment to focus on the tasks at hand.
Bigger Talent Pool
The other benefit of a virtual office is that it can tap into the global talent pool. You can hire employees from other countries who might not be able to relocate simply because of language and cultural barriers. Regardless of where your employees are located, they will still be able to collaborate and work as if they're all in the same office. A virtual office is not just limited to working from home, but it also opens up new possibilities for employees looking to work while travelling or those who have families that need full-time care at home.
Avoiding Long-Term Commitments
With a virtual office, you only need access to the Internet to work. You can also take advantage of per-minute rates with cloud-based telecom carriers to keep your costs low. Virtual services such as these also allow you to avoid long-term commitment and high cancellation fees, which are not just limited to office space rental but can apply for services such as telephone and Internet access.
Virtual offices are the perfect way to cut costs without sacrificing quality. With a virtual office, you can still enjoy all of the benefits of having an office space with less overhead cost and more flexibility for employees who want or need to work from home. There is also no need for sound isolation, which means that your team will be able to collaborate as if they're in the same room even when they're working remotely. Virtual services such as these allow you to avoid long-term commitments by offering per-minute rates instead.
Ref: THSI-2637 / ZD.23658