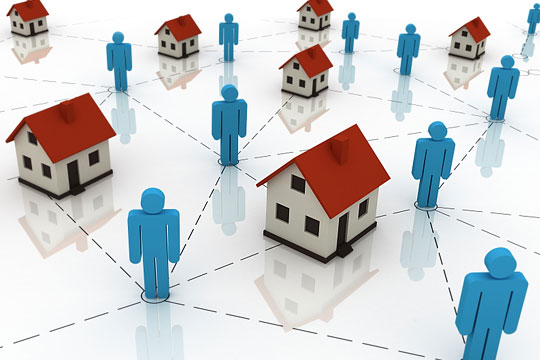 The House Shop director Nick Marr introduces the concept of selling your home using social media websites such as Facebook and Twitter.
Social Media Sell Your Home

I would like to introduce you to the concept of selling a property by using the power of social media websites.The power of social media networking is until now been greatly underestimated and they present superb opportunities to help sell your property. Most big businesses have a social media strategy and I would recommend anyone selling a property on-line to also employ a social media plan.

About Social Media
Social media has modernized the business community. Businesses are now able to reach consumers in a new way; through the Internet. Social media has become appealing to big business as they know they can reach millions of people for the price of an article. Credible brands are utilizing social media to reach old customers, gain new ones and build or maintain credibility and reputation among consumers. Social media can take many different forms, including Internet forums, weblogs, social blogs, microblogging, wikis, podcasts, pictures, video, rating and social bookmarking. 

The House Shop has taken important steps to leverage the powerful social media sites all to our private home sellers advantage. We have a presence on all major powerhouses like Facebook, Twitter, LinkedIn, Myspace and Youtube to name but a few. 
Social Media Video Presentation
Our clients videos are distributed to video sharing websites and our news and blogs are sent to social media networks. We recognise the importance of gaining as much exposure with social media sites and I recommend that you do the same.
More on property video adverts 

Selling Property Privately & Social Media websites

Proactive house sellers will always consider what else they can do to get their property in front of as many people at the lowers possible price. I believe the answer is here right now it's Social Media networking.
When you undertake the marketing of your own home it is fare to say that you are indeed now part of a competition. The competition ends when you find a buyer for your home. Like all great competition you must be better than the competition. Once you have created a listing on The House Shop you are on your way to some great exposure .Increasing this by your own activity with social media sites will further increase the audience of potential buyers.

Extreme House Selling

Promoting your property with social; media fits into the concept og Extreme House Selling
Selling a home using Social Media

Promoting your property on a social media website means that you are being proactive .Selling a home this way goes beyond what most Estate Agents and Home Sellers normally do to sell their homes.
Consider what else you can do to get your house in front of as many people as possible whilst offering added value. Pricing is still one of the most important factors and you must make sure you are beating the competition with your proposal"

Nick Marr expertise has grown from years of experience in assisting others to market real estate to a global audience and the need for constant innovation and creativity for his business. He advises international property developers and real estate agents in the best way to approach online marketing. He has worked with some of the biggest property developers in Dubai, Brazil and the UK. He works to achieve maximum coverage with minimum outlay on behalf of a large client base.  
Nick Marr is behind some of the most successful property websites in the UK these include over 20 country specific property websites and one of the UK's leading privates sales website at The House Shop