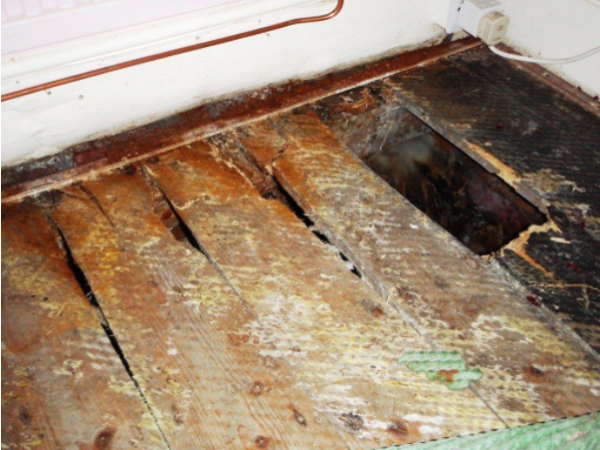 These are two questions we are frequently asked by clients who are worried they may have a problem with the dreaded dry-rot timber decay at their property. And worried they should be, because dry-rot is the most insidious and destructive type of decay that can affect both domestic and commercial buildings, of any age. The majority of the fungal attack is often hidden, as it spreads under timber floor voids, behind panelling, joinery timbers and wall plaster. Given the right conditions, it can grow very rapidly and cause thousands of pounds' worth of structural damage in a very short time, destroying all untreated wood on its way in search of wood. To add to the problem, the remedial work is also disruptive, and complex so it should only be carried out by experts who are qualified and specialise in dry-rot eradication.
What causes dry-rot?
Like all wood destroying fungal attacks, dry-rot needs moisture to germinate and grow. Usually, the moisture has been brought about by a building fault or plumbing leak, which has made the concealed timbers wet, creating the perfect conditions, especially if the ventilation is also limited. Dry-rot spores can't germinate on timber with a moisture content less than 20%, so it is very important to ensure your property isn't damp because a dry property is a safe property.
How can I recognise dry-rot?
Like most serious problems, you often don't have to be an expert to know that something is not right. The first sign of a problem is maybe noticing something unusual happening, such as your furniture constantly being covered by a fine rust/red dust or a constant smell of mushrooms. Alternatively, you may have noticed that your floor is bouncing or the skirting boards have cracked. Occasionally a fleshy white and red mushroom type fungus called a fruiting body will appear, if it does, it's a clear indication that the attack is virulent and advanced.
Can I treat dry-rot myself?
Dry-rot is far too serious a problem to try and eradicate yourself and should only ever be dealt with by a qualified dry-rot company. Because the mycelium is capable of growing through masonry in search of its food source, timber, it needs to be carefully traced to find the full extent of the attack. Plaster will have to be removed, and the complete exposed areas then need to be thoroughly treated with a fungicidal masonry solution. The unaffected timbers have to be treated, using a high-performance preservative, before replacing the affected timbers with pre-treated timber. The walls are then re-plastered using a specialist re-plastering system.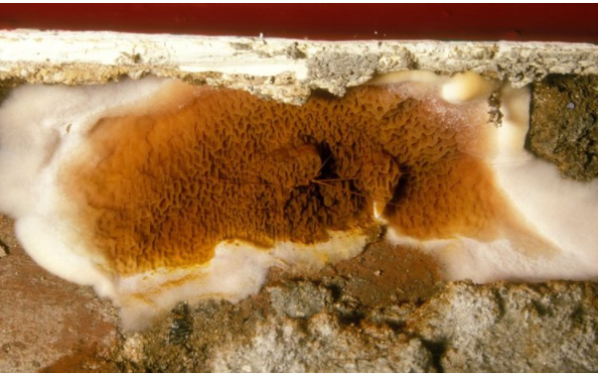 What is a dry-rot expert?
An expert is a company or an individual who is a qualified and fully trained dry-rot specialist. First, you will need to choose a company or individual, who is established, reputable and are members of the Property Care Association (PCA) and Trust Mark (Government Endorsed Standards). The PCA is your assurance that the company complies with the high standards and code of practice, set by them and will act as a mediator should you not be happy with them. Initially, your property will need to be surveyed by the companies qualified damp and timber surveyor, who will produce a detailed report on the extent and cause of the attack and what remedial work is required to eradicate it.
Is dry-rot expensive to eradicate?
How long is a piece of string? The cost of eradicating dry-rot will depend on the extent of the attack and what timbers and masonry it has destroyed. There are no 'minor' attacks but some are much worse than others so the sooner you start eradicating it, the better and less expensive it will be.
Can you guarantee dry-rot won't come back
Yes, providing the remedial work is carried out professionally and the cause of the moisture ingress has been rectified there is no reason why it should reappear. Most reputable companies guarantee their work for 20-years, which can be insured by Guarantee Protection Insurance (GPI). Tapco HomeDry has been established since 1971 and is recognised as one of the UK's most established and reputable dry-rot specialists and an appointed Which? Trusted Trader.
What areas does Tapco HomeDry cover?
Based in Thames Ditton and Esher in Surrey and are perfectly located to cover all areas of London, Kent, Essex, Berkshire, Hertfordshire, Oxfordshire, Buckinghamshire, Middlesex, Surrey, Sussex and Hampshire.
Find Properties for Sale in London and the Surrounding Area: