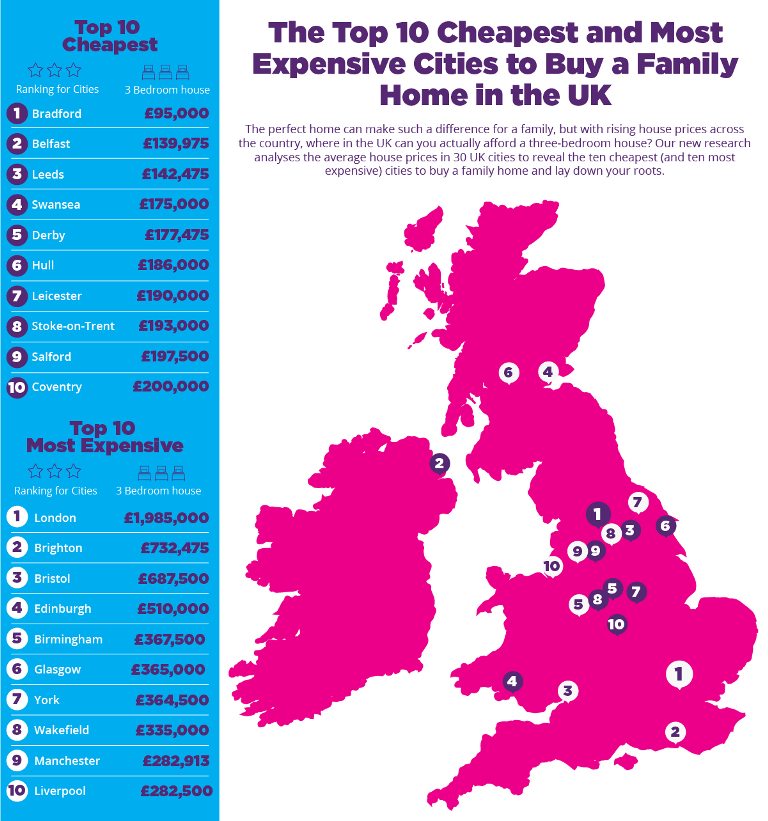 Selling a £2 million three bedroom home in London could buy you 20 similar properties in the heart of Bradford. That's according to a new infographic from moneysupermarket.com that takes a look at 30 major cities across the UK to find the cheapest and most expensive places to set up home.
There's no doubt that families looking to move to a new city will have one big thing on their minds and that's the price of housing and whether they can afford it. While locations like London have always been expensive for those looking to set up home, the last couple of decades have seen dramatic increases in house prices all across the UK.
According to the new infographic, the south and cities like Edinburgh in Scotland are generally the most expensive while certain areas of the north west and north east have relatively low housing prices, at least in comparison. Moneysupermarket.com compared the cost of 3 bedroom homes in 30 cities from Glasgow down to Bradford and London and Bristol in the south.
So, which is the cheapest place to set up home? According to the infographic, you can find a three bedroom property for under £100,000 in Bradford in the heart of Yorkshire. Second on the cheapest list is Belfast with an average price of £139,975, closely followed by Leeds at just over £142,000.
Top Five Cheapest Cities:
Bradford: £95,000
Belfast: £139,975
Leeds: £142,475</li>
Swansea: £175,000
Derby: £177,475
When it comes to the most expensive properties in the UK, no one will be surprised to learn that London comes top of the list. You can pick up a three bedroom property for just under £2 million while a similar property in Brighton, second on the list, will set you back over £700,000.
Major cities are some of the most costly to set up home in. Manchester and Liverpool will set you back a quarter of million for a thren>e bedroom property. Both Edinburgh and Glasgow have high house prices at close to half a million for each. If you head to Birmingham, expect to pay around £367,000 for your house.
Top Five Most Expensive Cities:
London: £1,985,000
Brighton: £732,475
Bristol: £687,500
Edinburgh: £510,000
Birmingham: £367,500
You can find the complete list of the cheapest and most expensive three bedroom homes in the UK at moneysupermarket.com.
Find Properties for Sale in London and the Surrounding Area: