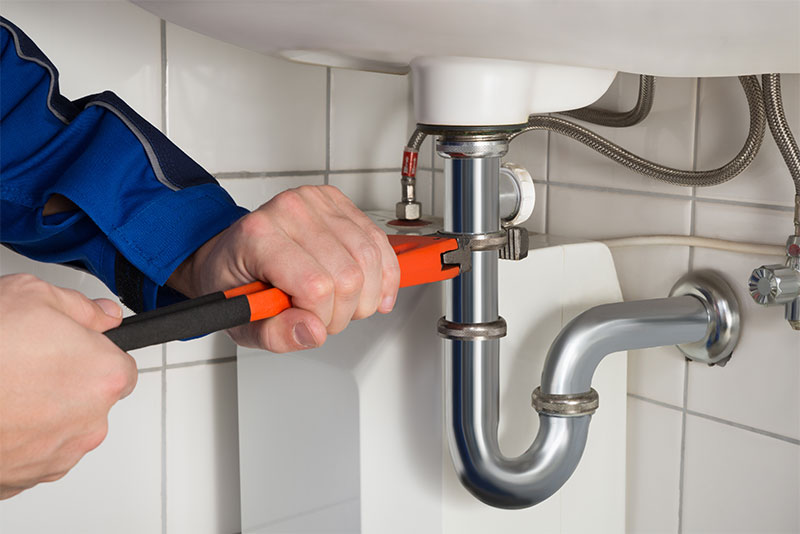 "We don't see things the way they are. We see things the way we are." – The Holly Talmud
So, you've had a long workday, you get home and all you want to do is to take a hot shower and have dinner. After that, you throw your clothes in the washing machine and you put the dishes into the dishwasher. You naturally expect that all these modern life conveniences are there for you and work flawlessly.
But what if they did not?
What if there was no hot water in the shower or the water pressure is low? And a water leak under your washing machine indicates that there's something seriously wrong going on.
Something has to be done immediately to have these problems fixed.
You call a plumber and when they give you their quote, you asked yourself: "That much? For what?"

Consider The Training Necessary to Become a Great Plumber
People usually don't realise that becoming a plumber takes a lot of time, specialised training and education. Hands-on experience and classroom training are both required to successfully complete a plumbers' certification course. This kind of training is usually provided by a technical/vocational school or an apprenticeship program.
"One more option is an apprenticeship program with a master plumber that usually lasts between four to five years." commented the plumbing professional Shem Bruce, a tradesman specialising in the wide range of plumber jobs, such as plumbing repairs, fixing leaky pipes, shower and bathroom fitting and more. "There is a long list of skills and knowledge that have to be acquired during the training period. Some of them are more technical like installing, testing and repairing water systems, blueprint reading, fabrication, proper tool usage and troubleshooting. Others include safety procedures and standards as well as business skills." he adds.
This said, do you think that all this training should come for nothing?
Doesn't this much-needed occupation deserve a fair wage?
What Certification And Licensing Are Required To Work As A Plumber?
The ability to work independently comes with a price, too. Just because a plumber has finished their training doesn't mean they can practice the trade on their own. According to the current legal requirements in the UK, plumbers must gather a few years of experience to be able to apply for a certification exam.  
Ultimately, certification and licensing are proof of the highest level of professionalism and expertise a plumber can provide. It shouldn't be surprising that this level of expertise comes with a pricey tag compared to local or semi-qualified tradesmen.
Recognise The Professionalism
As you already know, becoming a professional plumber is a result of a long-term career path that requires devotion and effort. And if fewer young people find the motivation to join the group of professional tradesmen, the harder it will become to find a truly qualified professional.
After all, you need an expert to do the job and that's something worthy paying for.
Appreciate The Responsibility
Do you have a water heater in your home? Do you use a gas boiler?
Then your life depends on the skills and knowledge of your plumber. Literally. And your personal safety and health are beyond any price. When you have this in mind, you'll know that the job that a plumber is doing for you is unquestionably worth every penny.

Emergency Services
A burst pipe? A toilet that won't flush? A boiler that's not heating the water up properly?
How long can you wait to have this type of problem fixed?
Having an emergency at hand will always come with a premium price tag and that's not something related only to plumbers. So the next time you make an emergency call for a plumbing expert, try not to focus on what you pay. Instead, focus on what you save by means of personal discomfort, inability to do your daily activities and the much larger damage that could be done to your property if there is no qualified plumber near you and ready to help.
Enjoy The Luxury Of Not Working In Unpleasant Conditions
Let's face it – more often than not plumbers are doing the dirty work we don't want to or can't do ourselves. Crawling in narrow, cramped spaces dealing with human waste products is surely far from a pleasant experience.
So, instead of cursing the bill for the service, we should be grateful for having someone to keep our hands and houses clean.
Save Your Budget From Buying Expensive Tools And Equipment
Okay, maybe you have some skills and knowledge. But do you have the right equipment to get things done?
A starting plumber can invest up to £8,000 for tools and equipment only. As some of these tools have to be replaced throughout the time the yearly cost of tools can go as high as £2200. Being a professional plumber is not a cheap deal and that's why neither the price should be.

Surveys
The plumber has to visit your home or office in order to do his job, obviously.
This means that there are additional time and transportation costs on his side. Traffic jams, gas expenses, maintenance of a commercial vehicle, parking fees, and etc. – it all adds up. All these costs that a plumber has to cover are a necessity that clients rarely think of.
Do you think a hairdresser or a doctor would charge you the same if they visit you at home? Probably not.
How Much Is "So Much"?
On average a plumber in the UK makes an average of £32,500 with the lowest paid is at £27,000. And for a newly qualified plumber, the number could be as low as £16,500.
Keep in mind that these numbers will vary depending on years of experience, area of service, certification, number of clients, number of plumbers in that area, etc. This also means there is no guaranteed salary the plumber will get at the end of the month.
By the time you've read this article, the job of the plumber didn't change much, neither did his salary. But there is something that has changed and that is your perception of a plumber's job and the cost of his service.
And, hopefully, that changes everything.
Ref number: THSI-2411