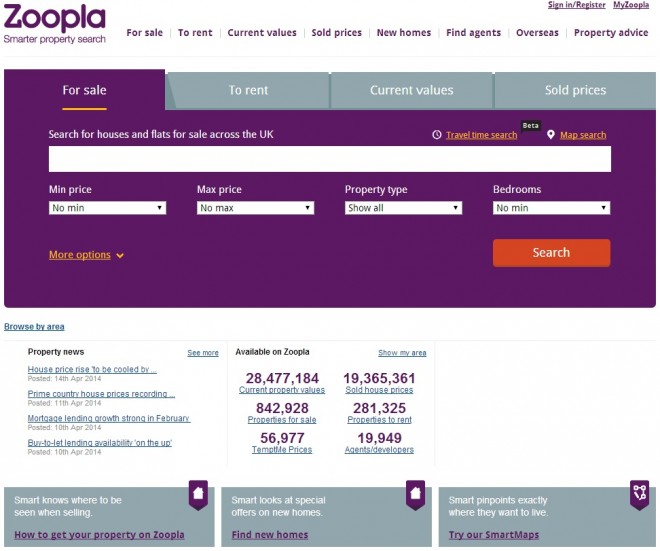 LSL Property Services has confirmed it intends to sell a proportion of its shares in Zoopla Property Group's with an initial public offering. Zoopla has also made a surprise move to woo estate agents by offering 20% discount on its shares.
The move could be seen as an attempt diminish the threat posed by a new portal called Agents Mutual launching in January 2015
Agents' Mutual was founded by estate and lettings agents in the UK to create a new property portal which is due to launch in January 2015. The Company will be owned 100% by the agent firms which list on its portal and each such agent firm will become a member of the company thereby having an equal shared interest in it. One firm = one member = one vote, irrespective of firm size.
Zoopla is the UK's second largest property website after Rightmove. It says it has an average of 40 million users per month and advertises 90% of residential property listings .
The seven-year-old homes portal is set to float with a valuation of around £1bn, according to reports, following the recent £1bn-plus listings of fellow technology companies AO World and Just Eat.
Alex Chesterman, founder & CEO of ZPG, said: "We are delighted to be able to offer our members the opportunity to become shareholders in our business by participating in our IPO at a significant discount.
"This is a great way of thanking our members for their loyalty and support and with almost 20,000 members, the offer equates to a £20m discount to our loyal agent and developer members."
The 20% discount is, said Zoopla, "designed to reward past and future customer loyalty and will allow each current member to purchase shares now and next year at the discount per branch.
Each will be able to buy up to £2,500 shares per branch or per development.
Zoopla like Rightmove will not allow listings from those homeowners that want to undertake a private house sale. For Sale By Owner services such as those at The House Shop are restricted from promoting owners properties on both portals.
Despite the restriction the private sale sector is growing as more and more people seek peer to peer methods to sell property. The savings of a DIY home sale are on average 2% of the property sale price . Recent announcements that estate agents will now start to charge buyers who engage in bidding
Author :Nick Marr