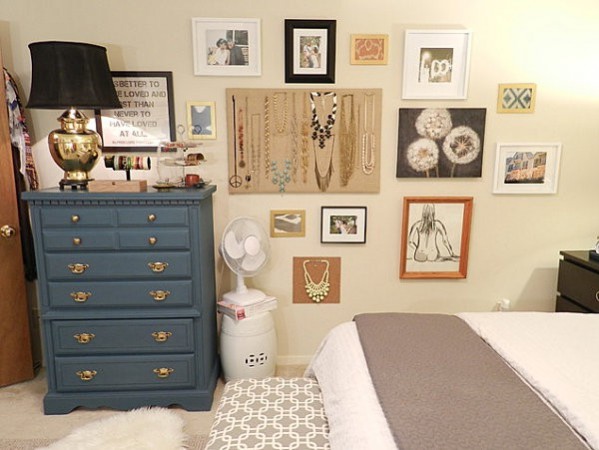 Jewellery is one of the most annoying things to store. I always end up losing my rings and my necklaces always tangle together. This has become such a nightmare that I actually don't wear jewellery very much since it's too much hassle (and the fact I am always late so never seem to have time!). However, I have been thinking that if my jewellery was stored in a more effective way, it would enable me to wear the items I love without the fuss.
This is why I have been searching for some of the best ways to store jewellery and have compiled a list below. I love how most of the ideas are so easy and can be done with little materials so you wont be breaking the bank.
1) Wire Jewellery Holder
Source: Brit.co
This look gives a shabby chic way to display your jewellery and it's so simple! The great thing about it is that you can change the frame to a size that works best in your room and add details such as spray paint to the frame and wire to give a different look. Find out how to recreate this here.
2) Hinged Boards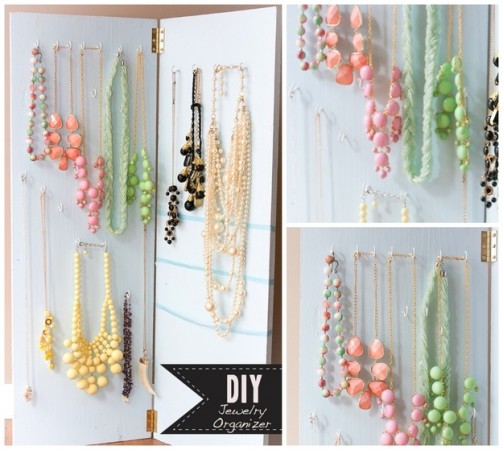 Source: EyesofStyle
One of my favourite things about this idea is its simplicity. I also love how it is portable and would be easy to transfer between rooms making it versatile. The boards can also be painted or a pattern can be added to match the style of your home. Find out how to create this organiser here.
3) Vintage Lace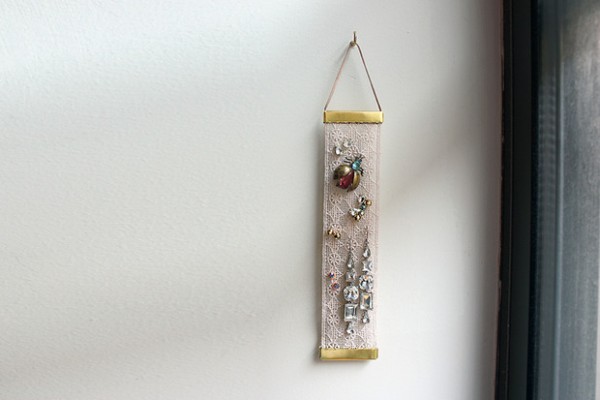 Source: Forthemakers
This idea is for the more vintage style lovers out there by using lace to hold items such as earrings and broaches. The lace gives a pretty look and different sizes can be used depending on the amount of jewellery you have. I also like how it is easy to pick up (since it is so light) and move if you fancy a change. Check out the method here.
4) Giraffe Ring Dish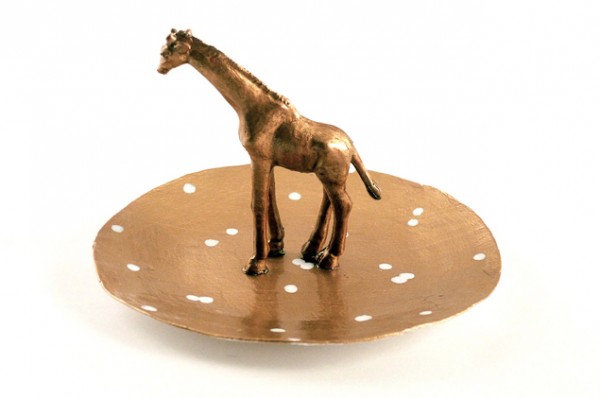 Source: DelightfullyDIY
This is such a cute idea! I love the giraffe style and also the gold colour that has been used. This idea can be altered using different colours, patterns and different animals. You can even create a host of animal dishes to and have your very own safari. Find out how to create this here.
5) Clothes Hanger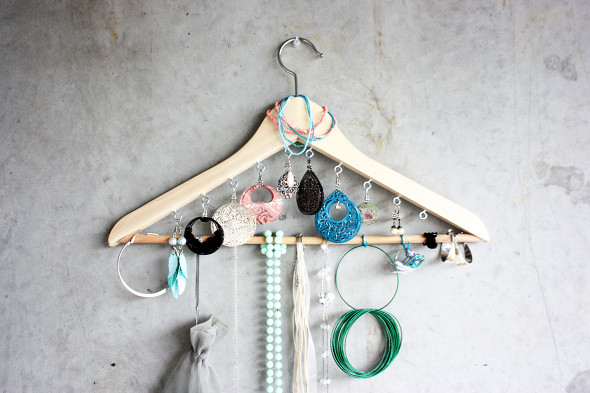 Source: MorningCreativity
This is probably one of the simplest ways to display your jewellery as it uses something everyone has in their closet! You can add as many hooks as you want and use the base of the hanger to store longer necklaces and scarfs. One of the benefits of this is it can be stored out of the way in your wardrobe or displayed on the wall as shown above. Find out how to recreate this easy style here.
6) Picture Frame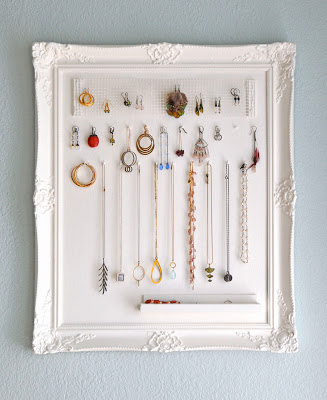 Source: Monaluna
This is another method that uses items you are likely to already own by making use of an old picture frame. This method allows you to display your most loved pieces of jewellery as a work of art on your wall! Not only does it look great but it means you can see all of your jewellery easily when deciding what to wear. Check out how to make this here.
7) Animal Hangers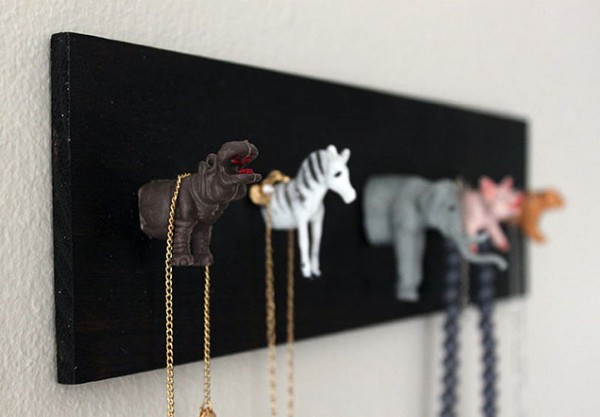 Source: Whydontyoumakeme
This is another animal inspired design that I absolutely love. This gives a fun and edgy vibe to a room whilst still holding your jewellery in place. Another option for this idea would be to spray paint all of the animals the same colour e.g. gold or silver, to give a more uniformed and elegant look. See how to make this cute jewellery hanger here.
8) Palette and Pipe Holder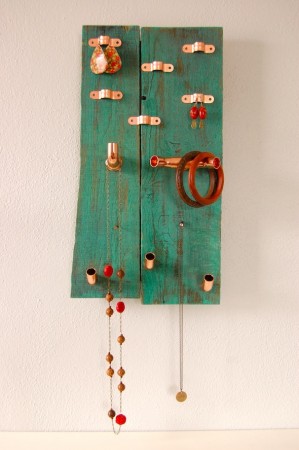 Source: Thecreativityjar
If you have any old palettes or piping lying around in your garage then this is the perfect option for you. It involves painting wood from palettes and pipes and sticking them together; it's as simple as that really! You can get creative with the colours here and find an option to suit your decor. Find out how to make this design here.
9) Wire Frame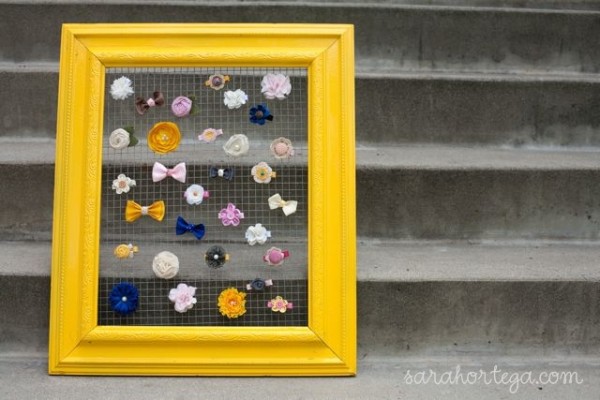 Source: Sarahortega
This look reminds me of an updated version of the earring holders I used to buy from Claire's Accessories back in the day! However, this version is a lot nicer and probably a cheaper option too! The wire allows you to store items such as hair clips and hanging earrings. Find the method here.
10) Wooden Tray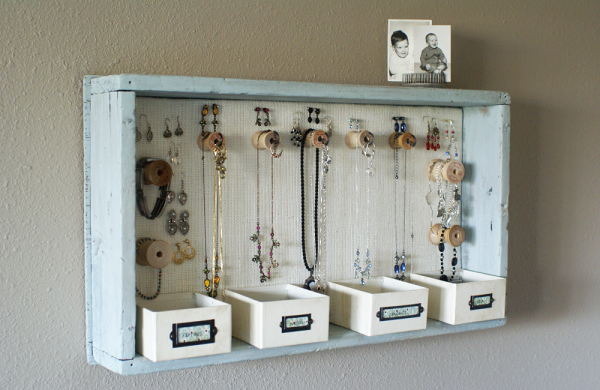 Source: Atimeforeverything
This DIY method uses an old serving tray to create a place you can store your jewellery. The great thing about this idea is that it gives you room to hang your earrings and necklaces but also space for boxes at the bottom. This allows for items such as bracelets or hair accessories to be stored; all in one place. It is also good if you have multiple people using the same storage as you can have a box per person. Recreate the look by following the steps found here.
That was my run down of some of the best jewellery storage solutions. Most of these ideas show the jewellery off as art and creates a focal point for the room which I love. These ideas are simple and easy to reproduce so can be added to any home! So, ditch the old jewellery pot or bag and opt for these ideas to stylishly store your jewellery and never tangle a necklace again!