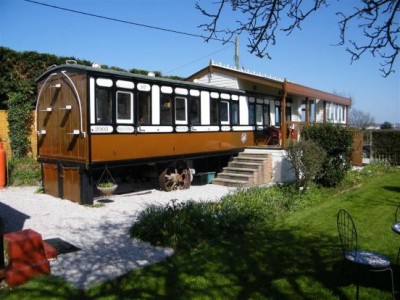 Houses are becoming more and more creative these days, with people converting some straaaange places into luxurious and comfortable abodes. Below I'll take you through four of the most amazing examples.
Be warned though, you may feel a sight pang of jealousy towards the end, but I can guarantee that you'll be inspired.
1. Is it a bird? Is it a plan? No it's a house!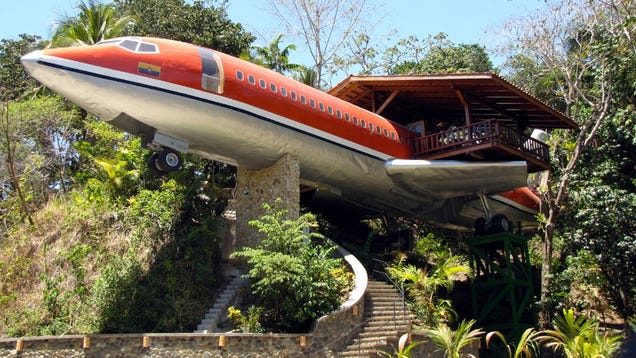 Ok, so technically this is a hotel, but the principal is the same. The pictured 1965 Boeing 727 was transported from San Jose, California to Costa Rica and transformed into two beautiful rooms as part of the Hotel Costa Verde complex in the jungle. Wonderfully kitsch, slap bang in the middle of a tropical forest, the aircraft might seem a little bit out of place, but if you ever get bored it's a great opportunity to pretend you're in Lost!
For a more modern offering, check out this hotel suite in the Netherlands, set in an old metal bird known as an Ilyusin Il-18.
2. All Aboard!
From Costa Rica to the home of all things eccentric and trendy – Portland, Oregon – the train carriage above stands motionless in a siding near the state Museum of Science and Industry. It may not be much to look at from the outside, but the interior is rather charming, very spacious and definitely shows originality. Plus, the rent is only $150 per month with no real estate taxes bolted on. Looks like a perfect choo-choo-choice to me (poorly ripped off from the Simpsons – sorry Mr Groening!).
3. H2Ower
There are several examples of converted water towers around the world, but few are as stunningly beautiful as this. It has been wonderfully transformed from a crumbling old disused tower that was apparently home to two thousand unfortunate dead pigeons, to a masterpiece that merges both the modern and the traditional. Nine storeys high, this tower comes complete with a gym, an elevator, a roof-top terrace and some of the largest sliding doors in the country, allowing a stunning 360 degree view of London.
But my favourite thing about a tall thin building like this? It's got to be the opportunity for spiral staircases, which I feel never fail to add character. The below example comes from another water tower house, this time from Belgium.
4. Little House on The Prairie
The topic of sustainability is getting more and more prominent when it comes to housing, and there is one method in particular gaining momentum. Old grain silos are large, durable and easy to maintain but often neglected and torn down without consideration. There are many interesting things that can be done to convert them into an energy-efficient and relatively luxury house for cheap, helping to ease the property crisis that is currently gathering pace. Many residents even say that there is something soothing and inspiring about living in a round space.
But it's not just grain silos on US prairie farms that are given this treatment. Anything from missile silos to sewage storage buildings have been given the once over.
Aptly named the Gemini Residence, these two adjacent cylinders on Copenhagen's waterfront were designed by Dutch architects MVRDV. The geniuses over there in Holland and Denmark have added a layer of flats to the outside of the previous structure, with the inside being converted into a modern artist's paradise as a common area for residents.
I don't know about you, but I would jump at the chance of living in any one of these fantastically original offerings!
by Joe Baylis
Find Property for Sale in London and the Surrounding Area: