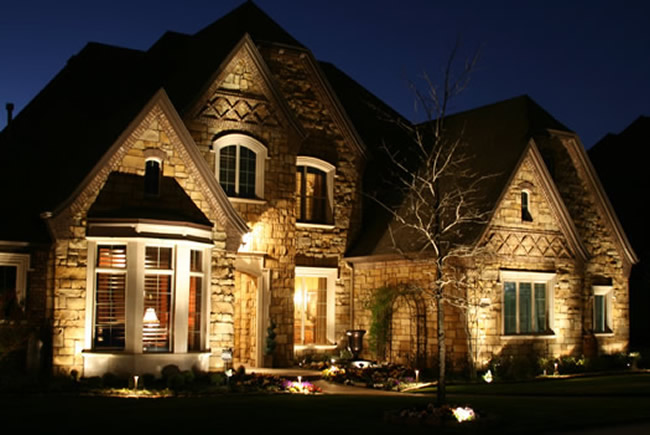 Does your home have plenty of kerb appeal? Is it an attractive building with a well-maintained exterior? As a proud house owner, you may have landscaped the exterior to provide a path leading up to the front door and a driveway for your car. Perhaps you've designed the front garden to complement the house, with a lawn flanked by lush greenery and pretty blooms to frame the vista. It would seem that you've created the perfect first impression.
Are you going to move into a landscaped house? Hiring a local moving company that knows all your requirements and will simplify your relocation is a great idea. Undoubtedly, you will be able to do everything yourself. However, professionals in their field will transport your boxes and price possession to your new home and not give you any extra trouble.
But what happens when the sun goes down? Suddenly, your home becomes invisible, save for a forlorn streetlight and maybe some security lighting to deter would-be burglars. However, if you put the same amount of energy and a little thought into installing the proper outdoor lighting, your house could come alive at night and look just as fantastic as it does in the daytime.
Illuminating the front of your house should be aiming to achieve 4 key aims:
Direct your visitors to the front door
Accent the features of your front garden
Highlight the architecture of your house
Provide effective home security
Here are 5 outdoor lighting techniques to help you show off your house when it's dark outside.
Front door illumination
Many homeowners don't pay enough attention to lighting the front door. Use outdoor lights to make a focal point out of your main entrance – it's your guests' first impression of your home, and surely you want them to feel warmly welcome. Moreover, proper front door lighting increases your home security, particularly when you answer the door at night to unexpected visitors.
Wall sconces, hanging porch lights, or outdoor lanterns can be the primary light source around the front door area and don't forget to highlight the house number too so that people can find you quickly during the hours of darkness. However, in the summer, all sorts of insects and pests fly into the light, so do not forget to hang a mosquito and flea trap near the entrance just in case.
From pavement to the front entrance
Make sure you illuminate every step, or at least every other step, of your garden path to minimise trip and slip accidents in the dark. Anything unusual in your garden design – different walkway levels, low walls, ponds or architectural quirks – should have additional lighting to ensure that your visitors are provided with a 'roadmap' to get them safely from the road to the door.
Choose recessed ground lights, wall lighting or outdoor column lighting to punctuate your front garden. Here's a nice range of post lights, bollard lights and lanterns that would be perfect for this purpose.
Spotlight on garden plants
Create some drama and nighttime interest in your garden simply by using your existing plants as a base. Look for structured, architectural plants that can easily be transformed into a visual spectacle with up lighters inserted at the base of the plant. Yucca, agave plants, and Italian cypresses are great examples. Use soft lighting to show off garden foliage, create an inviting atmosphere and provide just enough illumination to see where you're going.
Consider using the trees in your garden as 'stage rigging' by attaching lights high up in the tree to highlight beautiful flower beds or interesting architectural features below. If the lights are positioned to shine down through the tree's leaves and branches, they create exciting contrasts between light and dark.
Exterior garage lighting
Illuminating the front of your garage is not merely a question of style and aesthetics; it's also a matter of personal safety. Wouldn't you prefer to be able to walk from your house to your garage (or vice versa) at night, aided by proper lighting rather than in pitch darkness?
Whether you choose bright fittings with a high lumen output or a floodlight with a PIR sensor activated by movement, place one above the garage door (or on either side). This also works well as a burglar deterrent.
Security lighting
It's a well-known fact that well-lit houses make it more difficult for any thief to gain access undetected. Burglars love shadows, dark nooks, and crannies where they can hide – don't make it easy! Install a wide variety of exterior lights around the house and garden, including some with motion sensors, and you're sure to make any opportunist criminal feel most unwelcome.
Security lights don't have to be utilitarian. Most lighting suppliers will have a wide range of styles and designs available that combine appealing looks with high-security features, so you're bound to find something that complements the style of your home.
Ref number: THSI-2056
THSI-2633 / ZD. 23674

THSI-2700 / ZD. 24119
THSI-2873 | ZD.25358
THSI-2954 |

ZD. 26072