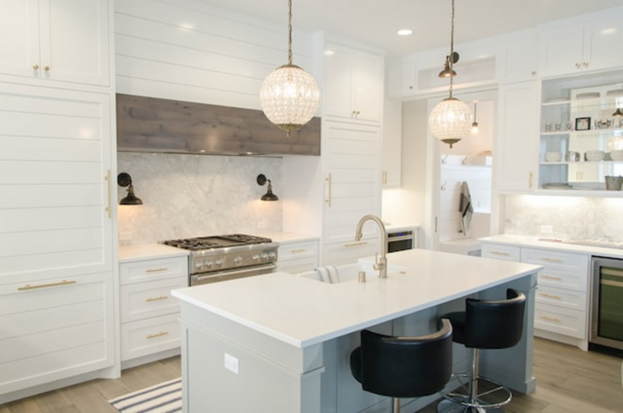 When selling your property, there are endless opinions about essential home upgrades. The projects can pile up, leaving you needing clarification about what to implement. However, you can complete only some homes upgrade projects on your to-do list. Instead, determine the projects with the highest value for money depending on the real estate market conditions. The following home improvement tips will help you make your property stand out in the market and sell faster.
1.      Create a Practical Home Office Space
The remote and hybrid work models are popular across different demographics, but the trend is highest among the younger generations. Creating a home office is essential to ensure your property is versatile enough to accommodate remote work features.
With more than 36 million Americans working from home, a home office is essential in the modern world. However, it can be small since homeowners want a decent space for a quick conference call or complete extra work.
The upgrade can be relatively easy, depending on your home design. For instance, you can transform small spaces like the extra bedroom or the nook into a home office. While it may seem like a small upgrade, it will appeal to buyers who want a dedicated working space.
2.      Smart Tech and Energy Efficient Appliances
The real estate industry is moving towards smart home technology, especially with increased connectivity in the digital world. Most potential buyers appreciate the effort and would choose a home with smart home tech over one that doesn't have any.
You can choose various appliances, including smart doorbells, smart thermostats, or other devices controlled by a smartphone. Always think about connectivity and versatility before installing a smart home device.
However, most people prefer tech solutions that can be functional without monthly subscriptions. Most new smart home solutions that don't have additional costs can appeal to more customers.
Energy efficiency is a hot selling point for most home buyers because they want to reduce their carbon footprint and keep home maintenance costs low. For instance, non-toxic paint and LED bulbs are more desirable than conventional solutions.
3.      Outdoor Living Space
Besides refreshing the interiors, ensuring the backyard or porch looks like a seamless extension of the home's living space is vital. This feature can help attract buyers willing to pay extra for the amenities.
Modern homeowners like personalising their property; a practical yard offers the perfect opportunity. Typically, spaces dedicated to socialising with friends or enough space for pets can be appealing. Ensuring the outdoor living space requires little maintenance is vital, as this can scare potential customers. Custom landscaping is among millennial home buyers' top desirable home upgrade projects. Having a neat and professional landscaped yard can help your home sell faster.
4.      Create a Spacious Impression
Helping potential buyers visualise how your home will blend with their lifestyle can quickly improve the chances of closing a sale. Clutter can cloud the buyer's perception and misrepresent the attractive features of your home. Removing anything that makes the space feel crowded or too personalised is critical. While undesirable items like furniture and hardware may need removal, smaller items like keepsakes, photos, and custom ornaments can break the deal.
Typically, old and bulky furniture can make the living space crammed and discourage potential buyers. You can recycle, sell, or donate the items you no longer use and pack the items you want to keep. If you don't have enough space, you can look for a removal firm and get temporary storage before moving the rest of your items to your new home.
Similarly, your home should be clean and fresh to be ready for viewing quickly. You should eliminate unattractive odours and open the windows to aerate the rooms. Most importantly, keep the floor clean, and ensure the bathrooms and kitchen are spotless. Make sure to clean discoloured grout and limescale before allowing visitors in the house. While this means you'll need to keep the home neat and attractive, the results are worth your effort.
5.      Refresh the Interiors
Repainting the interiors with fresh paint is a simple but effective home improvement project. A neutral shade can transform your interiors and quicken the selling process. Even the fresh smell of paint can make your home feel new even when it's older.
However, choosing the wrong colour or texture can devalue your home if a potential buyer doesn't like it. For instance, bright colours may be inappropriate for buyers who want to customise their walls later. If you have a reasonable upgrade budget, focus on the kitchen and bathrooms to ensure they match the contemporary style.
Endnote
Investing in valuable home upgrades gives you more bargaining power when selling your house. A beautiful house attracts more customers, increasing the chances of fetching a higher price. And since your home competes with other properties on the market, making some strategic upgrades is vital.
 Ref: 3234.28048