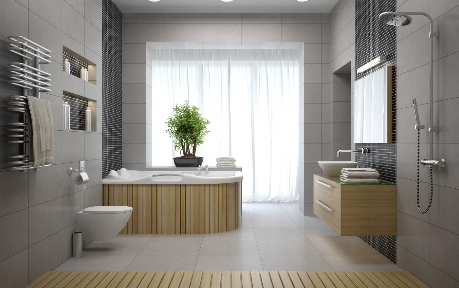 So, you are thinking about renovating your home, and you are excited about the possibility of getting a new bathroom. Bathrooms tend to be one of the areas of the home that do not always get the attention that they deserve, but that could become the best and most loved room in the home when done right. Today's bathrooms have a lot of options, and there are many styles from which you can choose. Let's look at some of the best bathroom renovation options that you might want to consider when it is time for the next upgrade.
Natural Style Bathrooms
Have you thought about the potential to have a natural style bathroom in your home? You can find different types of tile and flooring materials, such as slate, that could help to facilitate this. You can find rainfall showers, and a host of other options that could help to bring some of the outdoors inside. Along with the right color scheme and décor, this could be a big hit.
Rustic Style Bathrooms
A similar option might be to consider going with a renovation that embraces the rustic. These "country" style bathrooms are not truly a natural style, as they will often utilize different types of materials. They might still have some natural tones to them, but they may also have rural type décor and even some reclaimed wood or antiques that help to give them a rustic vibe. Combined with high quality tubs and showers, this could be a good option.
Traditional Style Bathrooms
Another option that you might want to consider is to go with a traditional bathroom. These are the types of bathrooms that you will see just about, well, everywhere. They might even be the type that you had when you were growing up, and there is certainly nothing wrong with that.
Modern Style Bathrooms
Going toward the opposite end of the spectrum, you might want to consider looking into options that are available for some of the modern styles. There are modern and sleek designs to tubs, fixtures, vanities, and more. Typically, those that have more of a modern design will also have modern color schemes, but you can always choose to be a little more eclectic with your style if you would like.
Minimalist Style Bathrooms
What about the concept that less is more? You might find that going with a sleek and minimalistic option for your bathroom design works well for your aesthetic style. One of the other advantages of this is that it tends to mean that you will have a bathroom that is easier to clean because there will be fewer elements that you have to worry about. There are some great simple, sleek fixtures and other options that might work quite well for those who want to embrace the minimalistic look.
True Luxury Style Bathrooms
At the opposite end of the spectrum are those bathrooms that are posh and luxurious from top to bottom. You might want to have your own spa tub in your bathroom, for example. Everything from the look of these bathrooms to the fixtures, the color scheme, and all of the amenities that you put into it will go into the luxury features that could make your bathroom the most luxurious room in the entire house.
Romantic Style Bathrooms
Along the same lines, you might want to create a bathroom that has a perpetual element of romance to it. Again, adding a spa tub can be a great fit here, as can adding a nice vanity that is perfect for two. To really "sell" the idea of a modern bathroom, you will want to have the right color scheme, the right amenities, and the right scents, of course.
Great Reasons to Renovate Your Bathroom
When you remodel your bathroom, it has the potential to boost the value significantly. It can also simply be a good feeling to have a beautiful new bathroom to enjoy at your home. Those who are interested in bathroom renovations should always make sure that they take the time to find and choose the very best tubs, showers, fixtures, and more.