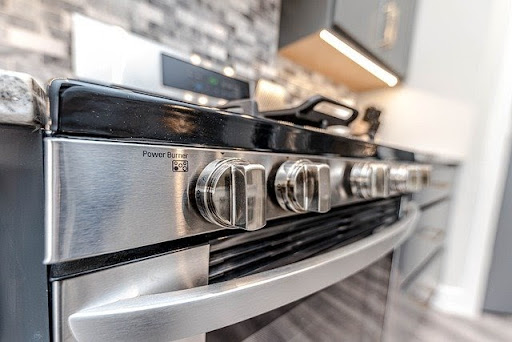 Any professional with a hands-on job, whether cutting wood or writing code, is only as good as the tools they have at their disposal. Even if you just want to make a simple breakfast, having the proper kitchen setup will help make that task that much more accessible and that much more fun to do. If you are building a new kitchen or renovating an existing one, these are 8 things you don't want to forget.
Flooring
This part of the kitchen gets the least attention, but it's one of the most extensively used parts of the kitchen. The flooring you choose for your kitchen should be resistant to both oil and water; it should have a non-slip surface, be beautiful, and have a comfortable texture if at all possible. You aren't going to get all these things in a single package. It would be better to go for practicality rather than aesthetics in the kitchen since it is a space where there is much activity of a potentially hazardous nature, and the risks of slipping and falling are genuine.
Ventilation
One of the most significant investments in commercial kitchens is the ventilation system. It's the first thing that any professional chef will look at, especially if it's a place where they cook things on an open flame or there is a lot of high-temperature cooking. For a home kitchen, it would be sufficient to have a hood over the cooktop, but it's also a good idea to have some windows or a door that opens up to an open space just in case. These will help the kitchen stay cooler and stop the smell of food from escaping into other home parts.
Furniture
The only furniture you'll see in a commercial kitchen would be a stool for the dishwasher or a ladder to get things from tall cabinets. In a home kitchen, furniture is just as important as cooking accessories. If you want something that will stand out and make the kitchen your favourite dining spot, then connect with a reputable Luxury kitchen furniture manufacturer to get something custom-made for your kitchen. Premade solutions can be great, but you might not find something that precisely suits your kitchen. You can get it tailored precisely how you want it with a custom-built solution.
Storage
Modern kitchens are about minimalist design and integrated appliances, making storage even more critical. You are storing pots and pans and dry ingredients, but you also need space where you can hide the dishwasher or the microwave oven and other appliances. Rather than making everything fit in the kitchen, consider moving the larger appliances into the pantry or outside the kitchen and integrating the smaller appliances into the woodwork. You can get many premade solutions that have smart storage spaces built-in. The trick is to find something that will fit snugly into your kitchen.
Sanitizing products 
They help you kill bacteria and germs on surfaces or in the air. "This will help you keep the kitchen clean and prevent the spread of illness," says Rebecca Gunter from Hand Stations. "Sanitizing products come in many different forms, including wipes, sprays, and gels, and can be used on various surfaces, such as countertops, appliances, and utensils," she says.  
Knives
A good knife is a chef's best friend. Investing in a good-quality knife will save you from the hassle of sharpening knives before every use and cut down the total number of knives you need in your kitchen.
A high-quality knife will last you years, if not decades, and you will look forward to each slice; a good-quality blade will stay with you if properly used and maintained. Just as a craftsman appreciates the reliability and precision of their tools, a chef understands the unparalleled importance of having a dependable knife in the kitchen.
Any professional with a hands-on job, whether 

cutting wood

or writing code, is only as good as the tools they have at their disposal. Even if you want to make a simple breakfast, having the proper kitchen setup will help make that task that much more accessible and that much more fun to do.
Cutting Boards
This is yet another accessory that doesn't get the credit it deserves. While stylish cutting boards are essential, you want something that is food-grade and will be safe to use with both hot and cold items. Consider investing in at least 3 different cutting boards. One for raw meat, another for vegetables, and the third for cooked items, for instance, that cheese sandwich you may want to slice.
Cooking Accessories
Pots, pans, steamers, coffee makers, cast iron pans, smokers, baking trays, etc. It depends on what you like to make and what is most beneficial to you. You want an 8-inch and a 10-in pan and a couple of milk pots at a bare minimum. A wok and a couple of larger pots will also be good additions. If you enjoy rice, definitely invest in a high-quality rice cooker. This will serve as a pot, eliminate burnt rice, and save time.
Oven
Not everyone uses an oven daily, but it is one of those things that you would rather have and not use rather than need to use and not have. Either electric or gas is fine, but make sure it has a broiler. Ovens come in handy when you want to keep things warm before serving.
Conclusion
Kitchens are rarely completed when they are first built. Like a sound library, a good kitchen is always a work in progress, and it grows in the same direction that your interests grow. It's all about getting things that will help you make cooking a more enjoyable experience and help you make better, safer, healthier food for yourself, your friends, and your family.
Ref: THSI-2764 / ZD. 24599