Cohabitating with your loved one doesn't mean you have to live with a steep 30-year mortgage and this couple's tiny home is a perfectly affordable solution.
What do you think you need in order for you and your partner to feel content? Do you need a 2-story home with four bedrooms, 2.5 bathrooms, a spacious kitchen and a picket fence? Do you need to have a huge backyard with tons of grass and friendly neighbors you can chat with while getting your newspaper? 
There are some people who do feel as though in order to live the "American Dream" they are going to have to buy that huge McMansion, have 2.5 kids, and a mountain of debt that comes along with all of it. However, if you're like many who've grown tired of the materialistic, bigger-is-better ideas that we're made to believe is the epitome of success, then you're going to want to keep reading!
Meet Andrew and Gabriella Morrison
The catalyst that started the Morrison's tiny home living came when they realized that, although they were living the so-called American Dream came when they realized they felt as though they were trapped and were slaves to the never-ending "Keeping Up with the Joneses" mentality. 
After giving up 90% of their material possessions, they bought a pop-up trailer and reassessed what a home meant to them. After learning more about the tiny home movement, they and their 11-year old daughter moved to a 5-acre plot of land and began to create their vision of the perfectly sustainable, off-the-grid living situation. 
Andrew and Gabriella Morrison has taught 2,500 people how to build their own tiny homes since 2004 and encourages anyone who has the desire to live a more sustainable, unencumbered lifestyle to do the same. 
Living the Tiny Home Life
Tiny homes can range between 100- to 400-square feet and they can be on wheels or they can be set on a foundation like a typical home. The Morrison's 207-square foot home is on wheels so that they can pick up and travel whenever they so choose. Although their home is nearly a 10th of the average home, their home isn't as cramped as one would think.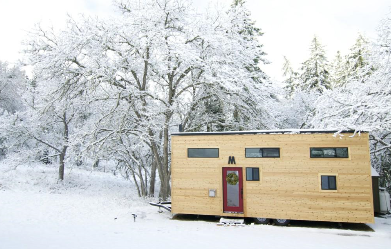 The home features a dining area, a window seat for lounging, two lofts, kitchen area and bathroom. Although the home features several cozy nooks that provide the couple with space to have some privacy, there is a certain level of closeness and intimacy that you don't really get in larger dwellings. After all, when you're sharing a 200-square foot home with someone, you're going to see a lot of each other.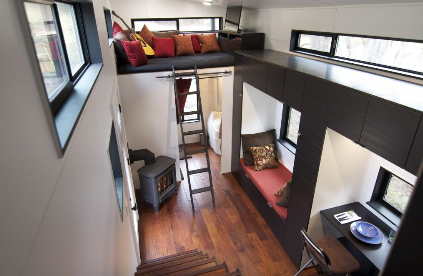 With modern touches like stainless steel appliances, modern cabinetry, sleek organization solutions and a rich wood flooring, you wouldn't think that you were in a tiny home and not a small loft apartment in New York City.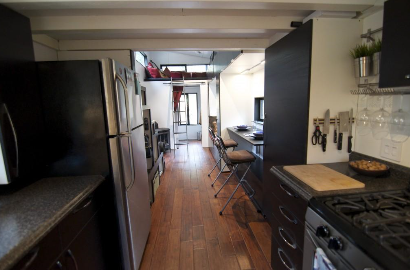 To get to the loft, they have a stair case that doubles as additional storage for things like their shoes, jackets, and other odds and ends one would find in a typical mud-room. The loft opposing the staircase can be accessed by using the library-esque ladders that fit close to the wall and even adds additional visual interest. 
Because there is a loft at either end of the tiny home, each person can have their own space when they need some time to themselves without completely alienating themselves from their partner.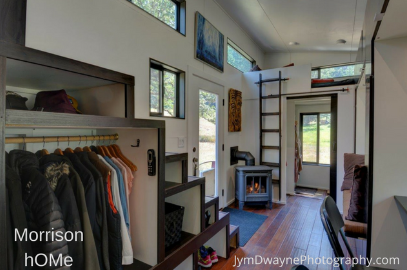 As you can see, their home has numerous windows throughout so that there's plenty of natural lighting so the space feels bright and airy. All of these windows (especially in the loft areas) makes viewing nature, the sunrise/sunset, and the stars easy and can set the mood if they want a romantic date night at home. Let's not forget how romantic the date nights are when you're cuddled up with each other in front of the fireplace!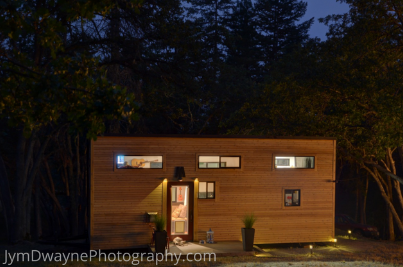 Why Tiny Living? 
Choosing the tiny living lifestyle is something that shouldn't be taken lightly. For a lot of us, we can't fathom getting rid of the things we worked so hard for. We spent long hours at the office so that we can live in a nice house with the latest appliances and tricked out with the best home theater system. We think we need to have enough clothes to wear a different outfit each day and we often think our worth and level of success is dependent on how many things we have. 
Yet, many of us living by the "normal" life standards feel as though we're in a never ending race to have the latest cell phones, the nicest cars and whatnot. It can be pretty damn exhausting!
Couples that have been married for a while, and even those who are still searching for partner on the dating sites like flirt.com , are realizing that their relationships are based on more than material possessions and tiny living will help them grow closer to each other while working to become debt-free and enjoy everything life can offer. 
Tiny living also gives couples who are still dating and are considering taking the next big step in their relationship a chance to really see how well they get along. Cooking in a regular sized kitchen can be difficult for some couples because they may have different cooking styles, so preparing meals in a tiny kitchen will really test a couples ability to work together without much discord. 
Final Thoughts on Tiny Homes
Don't get us wrong, living in a tiny home isn't going to be for everyone and there are some downsides to it as well, such as feeling cramped and unable to get some alone time. However, if you and your partner are interested in trying the tiny lifestyle, you can find places that offer tiny home rentals so you can see whether or not you two are cut out for it before you sell a large portion of your possessions and actually buying or building your own.