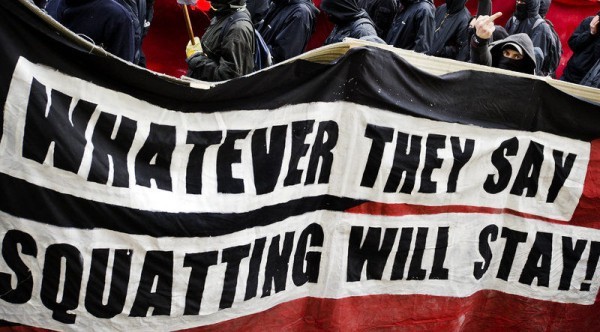 Squatting is the act of occupying a property that does not rightfully belong to you, with the goal of living in it, preserving it or using the building for other reasons, without permission from the owner. Squatting has been around for hundreds of years and is often tied in with political movement rather than out of necessity, with groups around the world banding together for the cause.
The law on Squatting changed only 5 years ago, with penalties including 6 months in prison, a £5,000 fine, or both. However, squatting in a commercial property is not classified as a criminal offence, unless the squatters damage the property or illegal activity is suspected on the property. Squatters must then be ordered out by a court, which can be an expensive and long process for the property owner. As a business expense this can be quite costly, with smaller businesses really feeling the pinch.
Although cases of squatting in the UK are still relatively low, the number of squatters is on the rise and there are even organised, formal groups such as the Cardiff Squatters Network which has active members searching for empty business properties across Southern Wales. Squatting is very prevalent in other parts of the world. In Mumbai for example, almost half of the city's 12 million inhabitants have constructed or occupied dwellings on private or government owned land, with some families into their 2nd and 3rd generation. European countries like Italy and Spain also have squatter groups who will sometimes use empty or abandoned buildings as community centres or shelter for those in need.
The law on squatter's rights used to permit ownership of a building change. After a 10 year period of occupation, or 12 years if the property is on the land registry, squatters used to be able to claim the property as their own without permission from the owner. A North East London builder gained access to a £400,000 home after the owner had died and proceeded to renovate and live in the property, with a judge ruling in his favour even though he had committed criminal trespass. The case raises further questions and issues, as this took place after the change in the law in 2012. This lack of clarity does confuse the legal situation.
If you find that squatters have gained access to your empty residential property or you wish to prevent people from gaining entry in the first place, there are some simple actions that can be taken before things get out of hand. If you already have people in your empty property, then an Interim possession order (IPO) can be obtained 28 days after you have found out that your property has been occupied by squatters. Once the IPO has been served, squatters must leave within 24 hours and not return to the property within 12 months. A preventative measure is to ensure that you have strong, secure locks and maybe even an alarm system. While damage in unoccupied buildings is practically impossible to avoid, there are types of insurance that are designed specifically for this situation. It's still objectively better to have a plan to mitigate the effect of any damage though.
Even though squatting is now heavily regulated with the laws generally in favour of the property owner, there are still arguments for the use of squatting to alleviate the housing crisis. With 635,000 empty homes in England alone, often with either deceased owners or a lack of will to live in or sell on the property, these empty homes could be the answer for millions searching for somewhere to live. With plenty of people willing to improve, renovate and live in these empty houses, the real question is whether the government will look at this as a viable option and relax laws on squatting back to the levels prior to 2012.
Find Properties for Sale in London and the Surrounding Area: