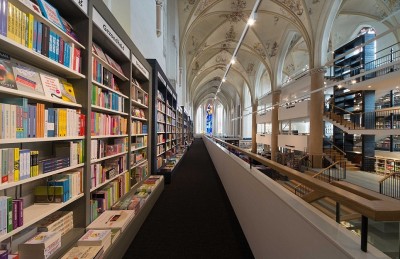 Some of the best places to visit, in England, are pre-loved buildings. People have converted everything from churches to public restrooms into bars and homes.
In London, there is a bar called O'Neills pub which was originally a church. As you can see from the picture, the ceilings are high and the windows are grand. Churches are an architects dream; everything from the great space to the floors, there is so much to play around with! Whether you are a religious person, or not, churches seem to hold a warm and inviting vibe, and this bar certainly looks like the perfect place to spend an afternoon.
This café/restaurant is called 'The Yard' which is in Alderly Edge, Cheshire. It was converted from a family garage, and now sells super healthy foods and juices. There is also a quaint shop and deli attached to it. Inside, it's very rustic and once you know it was once a garage, you can still see it! The décor is simple, with white walls, hanging lights and wooden accessories, which completely works with the rustic and rural theme. It also compliments the incredibly nutritious menu, and what is more impressive than matching your décor to your food?
Formally a public restroom, 'Temple' is an underground bar in Manchester. It is a small space, and this is obviously due to its previous life. However, no one can deny it is a quaint and cosy area. What's great about this bar is, because it is underground, you can escape the busy and loud streets of the city and within seconds you are in a whole different world; almost as though you have stepped back in time.
If you think it's odd that people have converted public restrooms into bars, some people are living in them! A lady has completely revamped this old public restroom into a home, and it looks amazing. Considering it is a small space, she has definitely made the most of it, without it looking cluttered. By having bright colours against white, it adds light to the room, which instantly opens it up and can make it appear bigger.
When it comes to homes, some of the most beautiful country living spaces come from barn conversions. It is almost guaranteed that they will have huge rooms with high ceilings, plenty of land surrounding it and they can overlook some of Britain's finest countryside views. This particular barn is located in Cumbria and has a beautiful balance of modern and contemporary, with the newly fitted large windows, and traditional stone-brick cottage style that is so quintessentially British.
by Bethany Gaskell
Find Properties for Sale in London and the Surrounding Area: