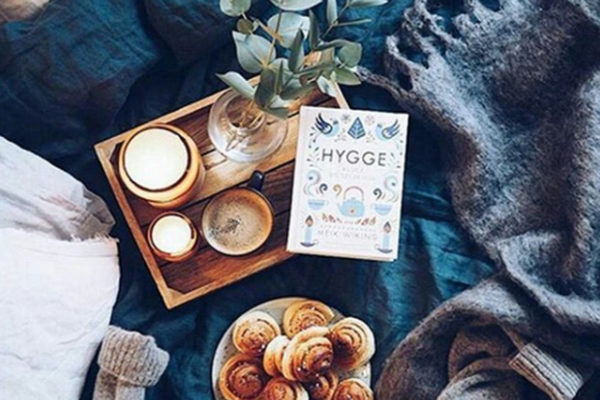 [vc_row][vc_column][vc_column_text]
Hygge is a Danish concept that cannot be directly translated into English. Pronounced 'hoo-ga', this Danish word encapsulates everything it is to be cosy, comforted and happy. The word describes a moment that, if you have ever sat on a rainy day, cuddled up in a blanket with a good book, you have definitely experienced.
Meik Wiking, the CEO of the Happiness Research Institute in Copenhagen describes Hygge as
There are many ways that you can embrace hygge into your home but here are a few simple tips to live a little danishly:
Candles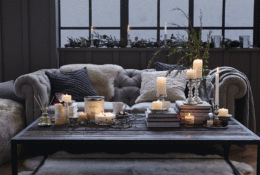 Candles are a really simple way to add a little ambience to your room and encourage hygge.  They offer a lovely glow to your home,  helping to relax you as it takes over from the false blue lights of your TV or computer screen. A scented candle can take you away to a different place or a different time. You can get candles in almost any scent, from natural floral scents, to food and even times of the year. A scented candle will relax you and transform your house. They are a must-have for any Dane, creating a soft atmosphere that lights your way to hygge.
Mint Velvet sell a hygge candle with the scents of lavender and geranium. The natural scents leave you feeling relaxed and comforted, encouraging the concept of hygge.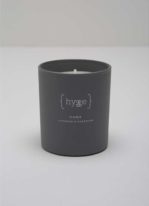 Read more about creating hygge with scented candles here.
Blankets, Cushions and Rugs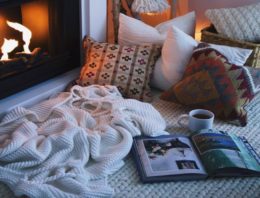 Wrap yourself up in some cosy, knitted blankets, lay back on some soft pillows and warm your feet on a fluffy rug. Settle down in the candlelight with absolute comfort, and warmth as you let hygge envelope you.
A scattering of cushions and rugs will make your home really inviting. By hiding those sharp edges you create a soft environment that will ooze hygge.
Made.com sell some fantastic soft furnishings which will make you feel as snug as a bug in a rug!
Check out this gorgeous knitted blanket, available in 4 colours.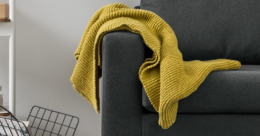 NotOnTheHighStreet offers loads of gorgeous hygge inspired home ides, check them out!
Switch Off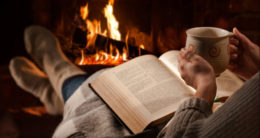 Turn off your laptop, phone and TV for an afternoon! Remove yourself from those bright square screens and lose yourself in a good book, or challenge your friends to a game of Cluedo or Chess.

Taking yourself away from technology, even if only for a little while, will help you relax and appreciate the things and people around you.
"Hygge is the absence of anything annoying or emotionally overwhelming"
If you need a book to read here is a good one all about hygge.
Flowers and Plants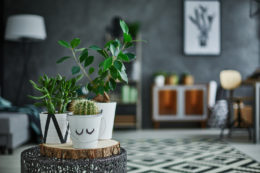 Introduce some nature into your home. The simple presence of a few plants can really help to brighten up a room by adding some natural colour.
Plants will also help to improve the air quality in your home! Breathing better and feeling cleaner in your environment will help you to reach find that feeling of hygge.
A splash of green will help you reconnect with nature, whilst staying indoors, warm and comfortable. It is the best of both worlds!!
Find out the 10 best houseplants to de-stress your home and purify your air.
Share it with your friends and family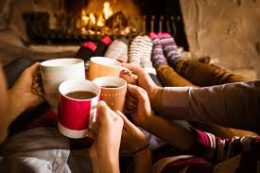 Invite people over! After all, hygge is about sharing the moment with others, being with the people you love and enjoying their company. Snuggle up and talk about the good things in life, play some games or enjoy a warm drink.
Hygge will encompass you all.
The Danes are the second happiest people in the world. By embracing hygge into your home and life, you can start to live a little more danishly and hopefully be as happy as they are.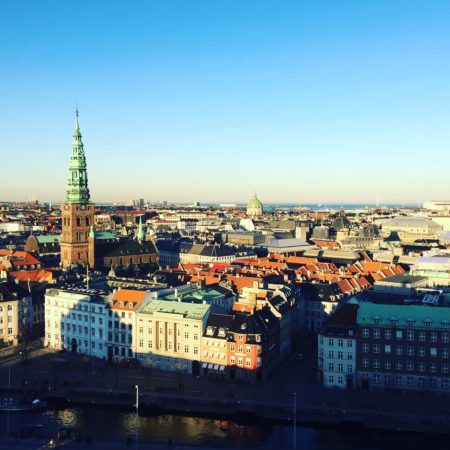 [/vc_column_text][/vc_column][/vc_row]