As a Tenant
When leaving a rented property, leaving things the same way as the day they arrived is often a concern for tenants. It's normal that a well lived-in space received damage, either through accidents or 'wear and tear'.
You can look after a house to the best of your ability, but when it comes down to it, everyday wear and tear can leave surfaces looking less than new. If, in your contract, your landlord requests that you leave the house as you found it, you may be worried about getting your full deposit back.
As a Landlord
Sometimes when a tenant has been in a leased property for any substantial period of time, the inevitable happens. Surfaces are damaged through everyday 'wear and tear' and this isn't always the tenants fault. Old, already worn surfaces can suffer further damage, but still, in many tenancy agreements, the expectation is that tenants  preserve the property in its original state and any furniture that comes with it.
However this isnt always the case, and sometimes the landlord is inevitably forced to keep part of a tenants deposit to repair damages.
Here are some of the things you can do, as a Landlord or Tenant, to save costs when maintaining your property: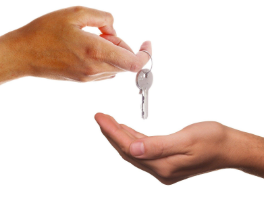 The solutions
As a tenant you can prevent losing your deposit by asking a local surface repair company to fix any scratches or dents in surfaces of furniture that are covered under your tenancy agreement.
Or, as a landlord ( if your tenants have left surfaces in a less that usable state), you can use the deposit left by the tenants, to cover the cost of getting surfaces restored, as this would be a fraction of the cost of replacing furniture or countertops etc.
Bathroom damage in leased properties
If a bathroom has incurred damage through wear and tear, there are big savings to be found when compared to costly replacements, through using a local surface restoration expert.
Tile repair – The average cost of retiling a bathroom is between £500 and £800. Employing a surface restoration expert to repair cracked or chipped tiles will cost a fraction of the price of re-tiling, or even replacing damaged tiles. 
Suite resurfacing – if your shower tray, basin or bath has sustained scratches from everyday use or substantial damage from accidents, you can ask local surface restoration tradesmen to restore your bathroom suite to its former condition. As a tenant looking to keep your deposit, or as a landlord preparing a safe environment for future tenants, it is important that damages in bathrooms are repaired quickly. Surface restoration offers a quick and cheap alternative to replacing items in your bathroom suite.
Stain removal – We have all been there, when life happens and you haven't taken as good  care of your bathroom as maybe you should have. Stains occur when cleaning does not take place often, this can be the case with houses that have been left empty for a long period of time. Most bathroom stains can be removed with off-the-shelf products, but every so often you may need a professional to use specialist products to remove stubborn stains. These products require training and protective equipment in order to use them safely. If a stain in your bathroom doesn't come out with DIY cleaning products, you should consult a professional instead of attempting to use more dangerous products by yourself. 
Furniture damage
Often furnished houses are rented to tenants, meaning that the furniture in the house belongs to the landlord. While this isn't a problem, it's important to remember that daily use of furniture can create small amounts of damage. When you leave a rented property you should make sure that all the furniture that came with the property is left in a respectable condition. Often by no fault of the  tenants accidents and daily use can leave furniture damaged. Instead of risking your deposit as a tenant, you can consider furniture restoration services that could save your deposit if there is any noticeable damage. Or as a landlord you can repair furniture at a fraction of a cost of replacing it, helping you keep expenses down when preparing for new tenants. 
Kitchen Damage restoration 
Kitchens are the heart of any home, and the consistent daily use can take its toll on surfaces throughout these high-traffic environments. 
Tiles – Tiles used on either backsplashes on the floor of kitchens are susceptible to damage and staining. Replacing tiles can be complicated and time consuming, whilst re-tiling is stressful and costly. Restoring damaged or stained tiles is a less stressful and more cost-effective way of renewing a kitchen.
Countertops – Quite possibly the most used space within a kitchen, countertops, whatever they are made of, can receive a battering through daily use. Burnt or stained surfaces can stand out in an otherwise well-kept area. Instead of replacing your countertop or countertop covering, surface restorers can colour match and seamlessly patch blemished or damaged countertops, whatever they are made of.
Laminated other kitchen flooring – It is often the decision of landlords to choose kitchen surfaces that are easy to clean, like tiles or laminate. However, with high foot traffic through a kitchen area, the flooring can become tarnished with scratches and stains. As with countertops and backsplashes, tiles and laminates can be restored using colour matched materials, so you won't even be able to tell the difference. More often than not, restoration work is cheaper than replacing or re-styling a space. So as either a landlord or a tenant, restoration is well worth considering.