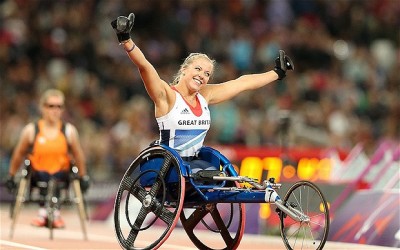 Finding a new home is difficult enough at the best of times, and finding a property that meets all your personal needs can be a painstaking and frustrating task for anyone and everyone. But as a disabled person trying to find a home that allows them to live independently, this task becomes nigh on impossible.Accessible and adapted property have been severely overlooked in the housing market, and given that 10% of the population identify themselves as disabled, it is quite frankly shocking that more mainstream solutions for disabled home-hunters are not available.
GB Paralympics golden girl, Hannah Cockroft, has spoken out about her personal experience finding properties that allow her to live independently, and the compromises she has had to make.
Do you currently live in an accessible or adapted property? If so, what are the most important adaptations that make a difference to your day-to-day life?
I recently moved back in with my parents, after living away at University for the past two years. My current property is a converted bungalow, which my family moved in to when I was 5, as I struggled before that to get up the stairs to the bathroom. I have my bedroom, my parents bedroom, a bathroom, the living room and the kitchen all on the ground floor, whilst my brothers bedrooms are upstairs. I sometimes have to wear splints on my feet at night, which are difficult to walk in, so we needed to be somewhere all on one level, so the bathroom was quick to get to at all times, but especially in the situation of me wearing the splits and my parents needed to be close by to help, when I was younger.
We also have a walk in shower, as I struggle to lift my legs over the side of a bath, and as silly as it sounds, carpet in most rooms, as I struggle to walk on laminate or wooden flooring as I find it slippery. Another thing that has become more apparent as I've grown up and learnt to drive is the importance of a driveway. I need my car close to if I am carrying things from the house, or if the weather is bad, I don't have to go far to reach my car.
How did you find your current home?
My current home is ideal for me. It's somewhere my parents moved to ensure that it always would be suited to myself and my accessibility needs. If I ever become fully wheelchair bound, a lot of changes would need to be made to the property, but currently, it gives me the independence I need.
Have you struggled to find suitable housing in the past?
Whilst living at University, especially in my second year, I had to live in accommodation that was far from perfect. For the first year, I lived in University halls, and a specially adapted room, which meant it, was a bigger room, so I could fit my wheelchair in. It also had a wet room so there was no danger of falling or tripping in the bathroom. Being disabled also entitled me to the only parking space in my halls. So I was well suited to the property.
In second year though, I had to find somewhere with friends and it was a massive struggle. I still ended up paying the earth to live somewhere that was far from suitable. Although we found a house, where my bedroom, kitchen and bathroom could all be on one floor and a place where there was a ramp up to the house, there was a step at the end of the ramp. A common problem that seems to occur a lot with ramps! There were also 5 stairs after the ramp, to get into the house, and no handrail. I slipped and fell so many times; it was amazing I never injured myself!
Getting my wheelchair up and down it was also a nightmare, and it came to a point when I started to just leave things in my car. Not the safest of moves, but safer than me trying to lift it back up the stairs. There was also no car parking outside the house, so I had to park across the road and down a hill. Every day, it was a marathon just to get inside my house, and it saw me avoiding going outside unless I really had to because it was such hard work! But, it was the closest we could find to something suitable, in the area we went to University.
Now, I am trying to find a house, close to my training base in Loughborough, but it is once again proving difficult. The problem always seems to come with the parking, as no houses seem to have driveways any more! Also, I've been to visit houses that have claimed to be ground floor, but then had 3 or 4 steps up to the front door. If I am investing in a house, I want to make sure it is absolutely perfect for my needs now and any unknown needs in the future. So, the struggle has seen me lose my independence and have to move back in with my parents because there is simply nothing suitable in the housing stock for me right now.
What would be your advice to any young disabled people who are looking to move out on their own and live independently?
Be prepared to give it time. I've been looking for a home for seven months now, and only found one property that would have been suitable, which I was unfortunately too late to put an offer on. It is not a quick process for anyone, but it is certainly even slower for a disabled person. Also, be prepared to be asked 1000 times if 'you really need that'. Many estate agents and property retailers think you're just being fussy when you have a list of specific things you want or need in your house. I can walk; so many times I've been asked if my demands are really necessary. But stick to your guns, what is the point in buying a house that isn't perfect? Your needs are there for a reason.
In your opinion, what more could be done to help disabled home-hunters?
For starters, don't tell me that I'm fussy! I need a house, with everything on the ground floor, with car parking, carpets and a shower, not a bath. It's not fussiness; it's independence, and ensuring that I will always have it. I think maybe retailers and agents need to be better trained in helping disabled house hunters too. So many times, I have been given viewings to houses that, if I was having a bad day and having to use my wheelchair, I wouldn't even be able to access, so why is this being recommended to me? Sympathy isn't needed, but often a little thought, is.
Hannah is an avid supporter of sports programmes and initiatives for the disabled community. One cause that is particularly close to her heart is the fundraising campaign to raise money for the maintenance and repair of racing wheelchairs.
To learn more about the campaign, or to make a donation, follow this link.