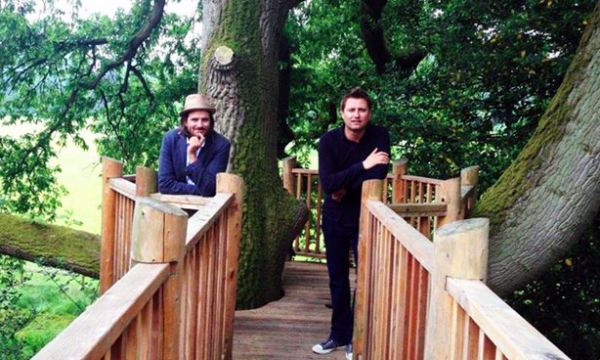 Channel 4's George Clarke's Amazing Spaces, Series Six  
Crazy caravans, tremendous tree-houses and fabulous floating homes- these are all things that we dreamed would become a reality when we were kids, when we were inspired by the glorious tales of Roald Dahl, and when life was just so much simpler. But, thankfully, George Clarke and the Amazing Spaces team are back on our screens, showcasing some of the world's most spectacular small builds, proving that architecture should not always be serious and most of all, making our childhood dreams become an actual reality.
Episode One 
I don't know about you, but when I was a kid I always wanted to run away from home, take my dog and live in amongst the wilderness in the most amazing tree-house you could imagine. In reality, I would think about doing this, start off on my adventure and then turn back around before I missed dinner. However, the sixth series of Amazing Spaces kicks off with George Clarke and William Hardie taking us around their favourite tree-houses around the world, from Scotland and Wales to Sweden and Tuscany, showing us how to build the ultimate tree-top hang out; turns out there is still time for me to escape grown-up life, take my labrador and live in a tree. Let's face it, that is probably the most realistic plan that young people, like me, have on offer! Seeing as house prices haven risen so high that we barely stand a chance of living anywhere else!
The tree-house tour shows viewers a range of builds, from the practical, to the absurd, to the romantic; apparently, there is a tree-house for everyone and every need. Starting off in the grounds of 18th Century country house, Harptree Court, we see a very sophisticated tree-house. Elevated twelve feet off of the ground with 275 square feet of space, and costing over £200,000 to complete, the build has everything you need to call home– a quaint kitchen, lovely log burner, bedroom and even a beautiful brass bath. Swish.
While this is certainly a stunning retreat, some people may see it as a bit too sensible. Tree-top houses should be imaginative, and extraordinary, right? Well, in Norrbotten County, Sweden, resides some of the best tree-houses you could possibly imagine. The most spectacular being 'The Mirrorcube" – with mirrors decorating the exterior of the elevated cube, it effortlessly disappears into the forest, making the trees seem to go on for infinity when you look at it. This is truly the stuff that childhood dreams are made of- somewhere you can run away to, and the outside world could never find you (or at least until you got hungry enough to leave… or I suppose you could try and catch a squirrel or two…).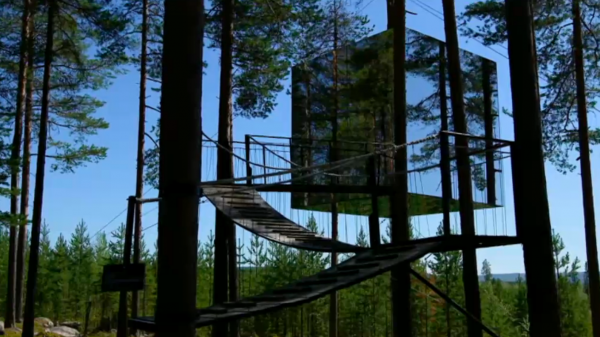 Also, it turns out that some tree-top retreats don't always look like homes. The Norrbotten County also has an extra-terrestrial tree-house, suspended from the trees to look like a UFO. The pad even has a staircase that appears out of the bottom, just like that famous scene from E.T. Pretty cool, huh? And the absolute best part of this selection of tree houses is that you can rent them out, and even bring your dog! To find out more, go here.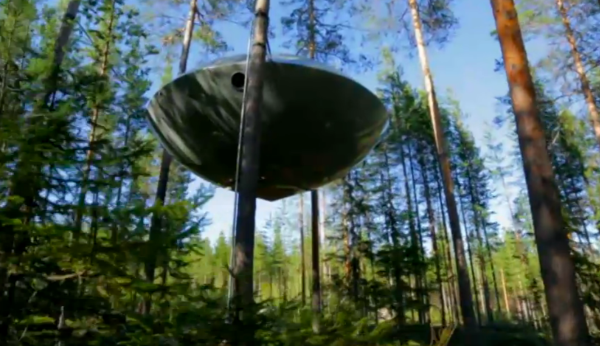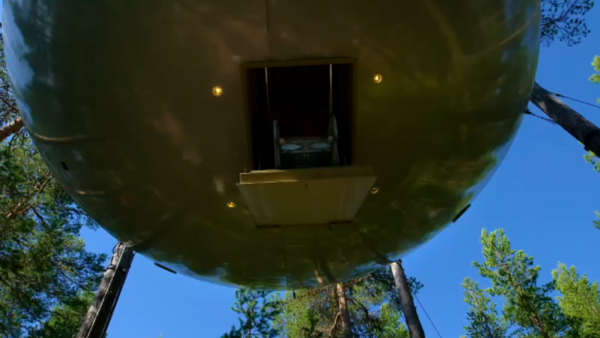 Now, if you were planning an escape into the wilderness, hoping to never encounter the hustle and bustle of the outside world again, you would probably need your tree-house to be sustainable. And that is exactly what these tree-top homes have done in Dumfries, Scotland and Machynlleth, Wales. In Dumfries, the elevated home looks less like a tree-house, and more like a giant 80's style TV. Whilst it may not be the most attractive of structures, once you're actually inside the giant box, the outside aesthetic could almost be forgiven. With small windows dotted around, the view looks like it has been perfectly framed as small wall hangings. Insulated with sheep's wool and with solar panels providing energy, the home is certainly ecological.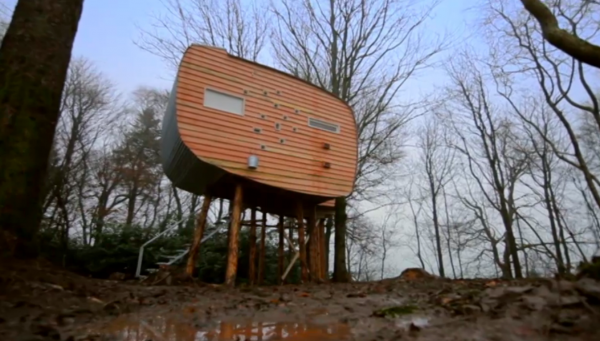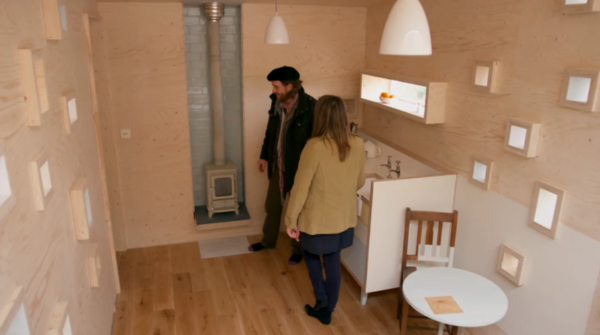 The tree-house in Machynlleth, however, is much easier on the eye, and is also more sustainable. Made to look like a giant tree itself, the structure effortlessly fits into it's woodside surroundings, which makes it look like something out of a fairytale. But, this home is more than just fantastical to look at. With no foundations or drainage, a composting toilet, water coming in from a nearby spring, which is then heated by the included wood burning stove – this home is also simple, ecological and perfect for escaping reality and living in your very own fairytale.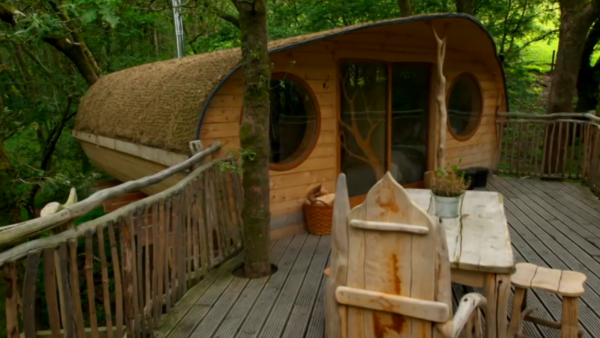 There is something romantic about tree-houses. They enable you to escape ordinary life with your chosen partner. They also give you pretty awesome vistas, that you would never be able to see from ground floor living. This is what this tree-house in sunny Tuscany has managed to master. With plenty of big, glass windows installed on each side, and even a glass balcony, this home is not only modern but also allows the resident to have the most insanely sublime views across the Italian landscape. And with a flashy, stylish interior to match, I'm pretty sure that this makes the Tuscan tree-house a hot spot for couples all over. I'm just hoping they would let me bring my dog, too.
After all of this intense research, it is finally time for George and William to build their very own tree-house. In Northumberland lies Kielder Water and Forest Park. The trust that owns this land have been generous enough to give a section of it to the architects, for them to build a tree-house to be used as accommodation for whole families, which must also be accessible for everyone.
Clearly, Mr Clarke feels just as excited about tree-houses as any eight year old boy, and gets wholeheartedly stuck in with the task of creating his childhood dream. Composed of a rectangle, triangle and circle, the structure is extremely simple- but despite this simplicity, it is also magical in it's own right. The interior living is designed with secret pull-out beds and tables, which add an eccentric feel to the tree-hotel. You even have to build your own furniture out of the walls! But the most fantastic part, it that the triangular roof opens up to let you look out across the whole forest and even sleep under the stars (providing it's not raining). All in all, its pretty spectacular.
To catch up on George Clarke's Amazing Spaces, go here.