Channel 4 TV Amazing Spaces presented by the cool Sunderland lad George Clarke is firing my imagination with how I could make the most from a small space. I am looking at my old garage and like many thinking is this really necessary these days? It could be turned into an amazing space like the ones seen on the telly with George admiring the genius of ordinary people.
Property TV shows have had the same format for years with presenters looking over projects that looked doom for failure. Amazing money projects that make me ask,  wow what do they do for a living to afford that! I remember one Sarah Beeney show where a couple where about a £100K over budget how they laughed and chuckled at their extravagance. I would be in shock and thinking what the hell have I done!
Amazing Spaces is thankfully a lot different with ordinary people giving it a go with mini budgets. The imagination that goes into these projects that can result in a great little place to seek sanctuary is brilliant.
Here are some of my favourites so far from the programme
The Majestic Bus
This is lovingly converted Bedford Panorama bus that actually a revenue making space available to hire.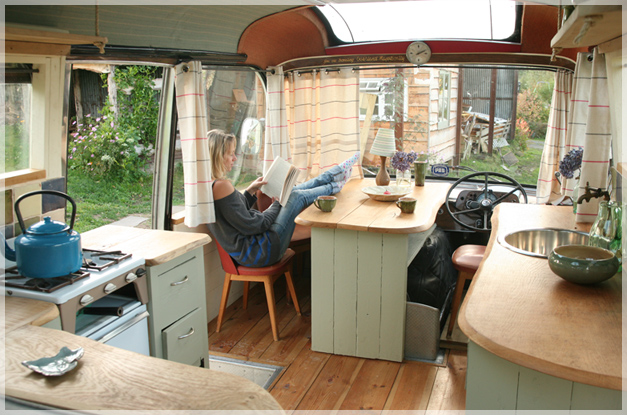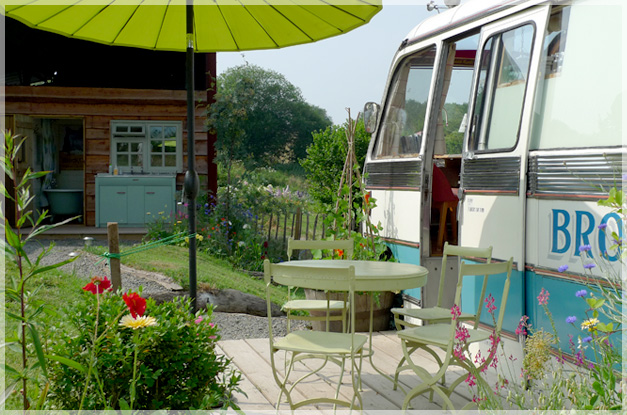 The bus has a beautiful wooden floor, painted pine boarding and a well thought-out dining/kitchen area with hand-built units, oak worktops,a gas cooker and a fridge. At the back is a cozy double bed and a wood-burningstove placed on an old flagstone. An L-shaped sofa seat folds into a further double bed. Solar panels on the roof power the lights and a socket to charge phones, laptops etc.
Check out their website at majesticbus.co.uk
The Balancing Barn England
Wow how does that work and is it safe ! This fascinating Suffolk  property is an award winning design consisting of a 30-metre-long barn covered in silver tiles,which appears to balance on a hill. Inside there are four bedrooms with ensuite bathrooms and large windows throughout, offering incredible views of the nearby wildlife nature reserve and a lake beneath.
more at http://www.living-architecture.co.uk/
The container
The availability of shipping containers, and their inherent strength, made them the perfect choice for prefab buildings. They are the perfect size for an office and (despite their apparent simplicity)are highly engineered. The corrugation makes them exceptionally strong and has been turned into a home office!
Lean how to create your own container office with advice from http://www.containerteam.co.uk/

1970s Caravan
Cool and the word 'caravan' don't normally go hand in hand but check this retro feel caravan that has been turned into something desirable.
Mirror Tree House
Found in Harads, about 50 kilometres outside of the city ofLulea in northern Sweden, Treehotel is a hotel composed of five individually designed treerooms, each of which was created in collaboration with leading Scandinavian architects.
I wonder what your best amazing space is from the show?
George Clark
More on George Clark :
The Darker Side To George Clarke
author :
Nick Marr