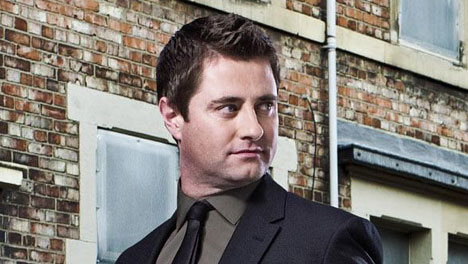 George Clarke the cool Sunderland born architect, writer and lecturer has the ability to make females both young and old positively swoon each time he shows his skills at restoration. I am drawn to the show as his home improvements are not made just for the show but for real people  who pay real money to employ George.
I am also intrigued by the amounts of money people raise to make huge improvements and the blind faith they put into George Clarke's work. His home transformations can be stunning, however there must be a darker side to the squeaky clean George that we don't know about?
George is probably  one of the most successful property TV presenters on UK television.  After making three successful series of Build A New Life for Five from 2003 to 2006, George became the face of architecture at Channel 4 with the launch of The Home Show in 2008,,  Restoration Man in 2009, and the forthcoming new campaign series The Empty Homes Show due to be transmitted on Channel 4 in December 2011.
George Clarke Property TV Career
2004 Property Dreams – 6 x 60 min programmes for Five following people who release equity from their homes either to renovate their existing home, buy a second home in the UK or to buy a home abroad.
2005 Dream Home Abroad – 10 x 60 min programmes for Five following families who leave the UK to renovate beautiful old homes throughout Europe.
2005-2007 Build A New Life in the Country – 32 x 60 min programmes for Five. George follows families who transform their quality of life by moving from the city to the country to renovate some of the most stunning and unusual old buildings in Britain.? Build A New Life is one of the most successful programmes ever to be shown with over 2.5 million viewers. Series 1 was transmitted in 2005, Series 2 in 2006 and Series 3 in 2007.
2008 The Home Show – Series 1 : 6 x 60 min programmes for Channel 4. With over 3 million viewers.
2009 The Home Show – Series 2 : 8 x 60 min prime time programmes for Channel 4.
2010 Restoration Man – Series 1 : A groundbreaking series where George saves some of the most beautiful old buildings in Britain by converting them into unique homes. 6×60 min prime time programmes for Channel 4.
2011 Restoration Man – George is currently making series 2 and 3 of Restoration Man, due for transmission in February 2012 and September 2012 respectively for Channel 4.
2011 The Empty Homes Show – A groundbreaking campaign series, which investigates the British property crisis and the scandal of empty homes across Britain. The Empty Homes Show will be transmitted on Channel 4 in December 2011. Souce : http://georgeclarke.com/
2012 George Clarke Amazing Spaces – George Clarke explores the extraordinary world of small builds, where people turn tiny spaces into the most incredible places to live, work and play. He even tries making a few of his own.
A love Affair
Have you noticed how George has a love affair with white paint? it is used before a project begins to show the size and scale of a room it is also used in the finished product. In a Telegraph piece at My Space George says"'I am a big fan of contemporary art. The walls of my house are white and simple, a blank canvas for my things. We call these photoprints 'The Girls'.
Is George Clarke Married or Gay?
When conducting a little research (Sept 2011) Google suggests the following terms on Mr Clarke's name "
george clarke architect married
george clarke home show gay
This suggests to me that these are burning questions from Google users. Wiki Answers and Yahoo both have the gay question in their databases. George has done a number of interviews online to clear these questions up.
Another Side To George Clarke
Most people don't see another side of George and it was refreshing for me to see outtakes and cock ups made by George in the show. I found myself pointing out to others to watch these videos as to say "see he is not so perfect". However this seemed to make him even more attractive!
The Mirror revealed the following
Question: Any naughty housewives trying their luck with you in the midnight hour?
GC: Do you know what, I never thought of that. I wish you hadn't sewn that seed in my mind! That's quite worrying. I'll sleep in a chastity belt from now on. I wouldn't be surprised if some of the husbands are like, 'I'm locking you in here tonight, darling. You're not going near George.' Brilliant. source Celebrity Mirror

George Clarke on Video
These videos show another great side to George Clarke
Apart from helping homewoners save money buying and selling homes online without an agent TheHouseShop has some more George Clarke articles here:
George Clarke Resotoration Man
More about George Clarke
Want to find out how much your home is worth? Why not use our quick and easy free valuation tool and find out!