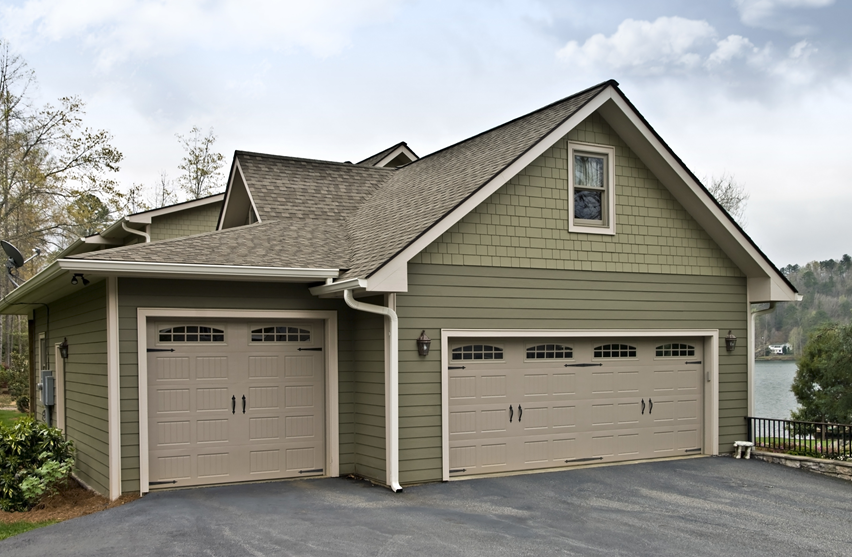 There are few external features in a home that can increase its value significantly, and one of them is the garage door. Although a lot of people only consider it as a minor detail, a garage door can improve your home's curb appeal and boost its value. Remember that the impression that buyers get from just looking at a house matters. 
When your garage has a high-quality door, it becomes easy to convince potential buyers to consider buying the house. When preparing your house for a quick sale, installing a new garage door is one of the best ways to give your house the kind of appeal that could easily attract potential buyers.
Your abode's garage door may seem like a really tiny detail at first thought, but its role in the valuation of the property is too important to be ignored. Having said that, here are four ways a garage door can affect the price of your house:
Having a premium quality garage door proves to buyers that the house is secure. When you think about it, an old, run-down garage door poses a security threat, especially because burglars prefer to use garage doors as their entry points. Installing a new garage door before you sell your house makes it safer and secure. 
To enable you to fetch a higher price in the real estate market, consider installing a modern door that comes with extra functionalities, like auto-reverse and safety sensors. These features reduce the risk of kids, vehicles, and even pets getting trapped in the garage during door closure. 
Aesthetic Value
Your garage door is a major part of your home's visual aspect, giving buyers up to a third of how your house looks like from a distance. Installing a garage door that has a great design, decorative accessories, and a color that rhymes well with the exteriors of your home makes the house stylish, thereby increasing its aesthetic value. 
Before you place your house on the market, get a credible garage door dealer, like Mydoorpro.com, to add a touch of sophistication to your garage door and make it fit in with your home's external environment. This will add significant value to the house, making it easier to fetch a higher price in the market. If you need your garage replaced, see site for details. 
On the other hand, an old, poorly maintained garage door is an eyesore to anyone looking at the exterior part of your house. This means that, naturally, people will be turned off by the appearance of the home even before they look inside. This makes it challenging to negotiate for a higher selling price.
Energy Consumption Levels
Energy efficiency is one of the elements that home buyers pay attention to when they are purchasing a property. Installing a high-quality garage door that is well-insulated and energy-efficient enables you to significantly reduce energy consumption in your home. This also makes the garage space much more comfortable. 
On the other hand, a worn-out garage door causes plenty of heat to leak into the atmosphere. While this may be challenging to detect, it severely affects your energy bills because more energy is used to heat the space. When there is energy wastage, the valuation of your home will drop. The opposite is also true–energy efficiency increases the valuation of your home. 
Convenience
A lot of people want to buy stuff that offers convenience to them. When you are trying to sell a house that has an old garage door, which scrapes and rattles when you are opening or closing it, the value of your home will be affected negatively. 
When pricing homes, valuers check how the various installations in houses work. This means a garage door that does not work well will lower the valuation of your home. Replacing an old, rattling garage door with one that works efficiently offers potential buyers convenience, thereby increasing the value of your house. 
How to Choose the Best Garage Door Services for You
If you want to increase your property value, you have to start with an appealing and functioning garage door. Hiring a professional to install and repair your garage door makes a big difference when it comes to its longevity. 

Discount Garage Door explains that a good garage door company should offer a wide array of services, including installing high-quality garage doors in different styles, colors, and material options at affordable prices. So, what are the important things to consider when choosing garage door repair services?
Check out these tips when choosing a garage door company:
Check the Garage Door Company Website:

Visit the garage door company's profile and services, such as repairing broken garage door cables, rollers, springs, hinges, sensors, and weather seals. Also, check if the company adjusts hardware, like springs and tracking for smooth operation.
Make a Comparison:

If you already have some prospective garage door companies in mind, make sure to compare their products and services to find out what suits your needs. To ensure you're getting a good deal, compare their services and prices.
Ask for the Company's Portfolio:

The garage door's looks will significantly affect your home's curb appeal and potential sale value. So, it's a wise idea to inquire about the previous works of the garage door company, such as a photo gallery or album. It'll help you determine the best garage door style that matches your home. 
Check the Company's Credentials:

Ask the garage door company if they have insurance and are bonded. Does the company offer workers' compensation benefits to its garage technicians? You don't want to end up paying out of your pocket for an injured worker's hospitalization because of an accident while repairing your broken door track.
Bottom Line
There is no doubt that having a garage door that functions well in a house that you want to sell is important. This is because the garage door is one of the first areas that buyers see when they look at your house. However, there are several other things you can do to boost the valuation of your home, and these include installing a well-insulated door in the garage to reduce energy consumption and noise. Having the garage door designed well, with aesthetics that fit well with your home's exteriors, can go a long way in giving your house the appeal that buyers look for.