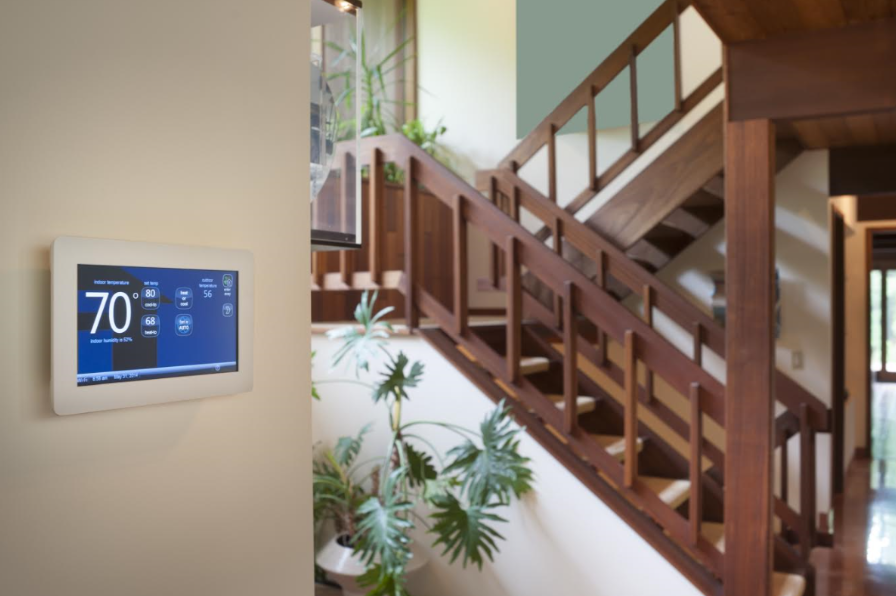 It may not be apparent, but we are now living in the future. The same gadgets and gizmos that we only used to see on TV and daydream about are now integrated everywhere we go. From bulky televisions to ultra-slim plasma TVs, corded telephones to smartphones, even key-reliant automobiles to push-button ones, we are indeed living in the golden age of technology.
Just like in any other commercial establishment or public place, adding smart devices in your home can boost its curb appeal and increase its value. Because of its security benefits and increase in functionality, hotel owners charge their customers at a much higher price if the technology that a room is equipped with is integrated with the others. If your house is up for resale or if you're in the real estate industry, installing smart devices in the home can considerably add to the value of it.
But how exactly can the addition of smart devices be beneficial to you as a homeowner, seller, and reseller? Here are a few advantages to having it:
1. Added Security
You would think that you're the last person susceptible to theft and home invasions, but sadly, it can happen to anyone. We may not know what exactly goes through a home intruder's mind—albeit countless incarcerated thieves were already interviewed about this—and how they choose the houses they break into, but one simple yet significant way to prevent it is by adding security and surveillance features.
Even if you're working, taking a vacation, or simply need to run some errands, you can integrate your security cameras with your smartphone. Modern surveillance cameras can be paired with your cellphone so you can still monitor your home and have a high-definition view of your indoor and outdoor surroundings even when no one's around. This adds to your home's resale value as those who have children or are in possession of valuable items can prevent intruders from entering the house.
2. Increased Functionality
After enduring the traffic on a hot summer's day, the first thing you would want to come home to is a house with cool air. Unfortunately, cranking up the thermostat of your air conditioner to its maximum setting still won't make it cooler any faster—it takes time.
Pairing a smart device with your appliances allows you to control them even when you're away. If you just finished shopping for some groceries and are in a rush to cook dinner, you can also set your oven to preheat minutes before you get home. Furthermore, you can also monitor any room through the use of your device to check whether or not you locked the doors, schedule your pets' feeding time, check if you turned off your appliances and fixtures, and many more. Naturally, a home with increased functionality will always have more value than one that can't provide these perks. 
3. Added Flexibility
Having a smart device allows you to easily upgrade to newer types of technology in the future. If your home is already equipped with a state-of-the-art device from companies like Wired Smart, installing updated appliances can be done effortlessly. Upgraded and improved models of appliances are constantly sold in the market, so if you or future homeowners want to add more features in the home, you can conveniently do so.
4. Saves Energy
Owning a number of devices and appliances can dramatically affect your electricity bill. Unless you can live without a heater or are highly capable of adapting to a dimly-lit environment, there's no way you can eliminate those fixtures in your home—they are, after all, a prerequisite in every house.
Having a smart device to control your fixtures can help you save up on your utility bill as you have full control of your lights or motorized shades—it's for you to schedule when you want them turned on or off, and when you want their hue to be warmer or cooler. Your heater can also be adjusted depending on when you want it cooler or hotter. If you have a habit of falling asleep while watching TV, you can also have your smart device turn it off at a certain hour.
5. Improved Efficiency
If multitasking were easy, it wouldn't be exhausting. Fortunately, having a smart device in your home lets you multitask with ease. Gone are the days when you would have to closely monitor your children's TV shows while making sure that you don't overcook your family dinner. No need to check on them anymore if they're actually sleeping or sneaking their way into the media room to watch television programs you don't approve of. 
Having a smart device allows you to control your kids' TV shows. You can restrict certain channels and let them watch only kid-friendly programs; you can even also schedule the number of screen time hours you want for them. A smart device can also help give your home better lighting by automatically turning off the lights and opening your motorized shades instead. And, yes, having one also means your morning coffee will be hot and ready as soon as you get up.
Conclusion
Smart devices are everywhere these days and they come with a variety of features—some may even be exclusive and unique compared to the others. While most smart devices pass an extensive process of quality control, make sure that you only get the most recommended device that will not only be reliable to you, but a device with features that you can also maximize.