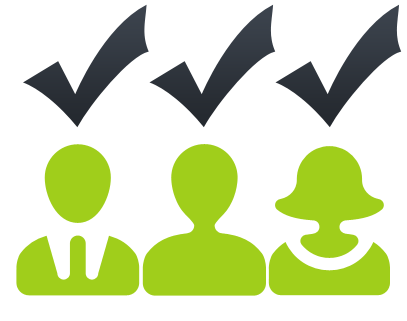 What is the tenant referencing process?
Private landlords and letting agents want to be sure that their prospective tenants are not only able to pay their rent but are also suitable to live at their property. They do this by requesting a tenant reference from their prospective tenants, which is similar to submitting references when applying for a new job and shouldn't be a cause of concern for the potential tenant.
The tenant referencing process is a series of checks into the tenants' background, requested by either the landlord or letting agent, which is usually done by a tenant referencing agency. These checks will involve the tenant providing some of their personal information, such as bank details, proof of address and identity, their current employer's details and a reference from their previous landlord.,
Submitting a tenant reference with a private landlord
All professional private landlords should request a tenant reference when renting out their properties to new tenants. By carrying out tenant checks, the private landlord shows that they are interested in maintaining their property and have a professional approach to managing their tenants.
 Submitting a tenant reference with a letting agent
Often letting agents will arrange for tenant referencing on behalf of the landlord. This can be done by contacting the tenants employer and previous landlord directly or using an external tenant referencing company, which is the common method used by letting agents.
Since the 1st June 2019, the Tenant Fees Ban has come into force, meaning that tenants will no longer have to pay for 'administrative' fees when renting. This means that tenant references will now be financially covered by either the letting agent or the landlord.
However, it is worth noting that since letting agents can no longer place this charge at the door of the tenant, it will consequently be passed on landlords. In response it is highly likely that landlords will raise rents to accommodate this new cost. This has already happened in Scotland where tenant fees were banned a few years ago.
What does tenant referencing involve?
Typically the tenant checking or tenant referencing process will include a credit check, previous landlord's reference, bank and employment details.
For further details as to what tenant referencing involves read click here.
What happens if I fail tenant referencing?
It is best to be honest when filling out the details of your tenant reference, as the letting agent or private landlord will not agree to let out their property to you if they feel you are untrustworthy.
To find out how you can avoid failing your tenant reference click here.
If for whatever reason you fail one or more of the above checks, then you do have the option to submit a guarantor to enable you to continue with the process of renting a new home. The guarantor will be legally and financially liable to keep your contract with the landlord, should you fail to pay the rent at any time during your tenancy.
If you still cannot pass the referencing checks for a specific property, even with a guarantor to support your application, it is a good idea to cut your losses and move on. There are plenty of rental properties available on the market, and you can use websites like our own to easily search for similar properties to rent in your area in a matter of minutes. You may find that if you target private landlord properties, the landlord may be willing to negotiate with you and forgo traditional referencing checks in favour of an up-front payment, so you will still have other options even if you fail a reference check.
To find out more about guarantors click here.
Now you know how tenant referencing works, reference your tenants today!

Not ready to start referencing your tenants just yet? Check out our comprehensive guide:
Who Pays for Tenant Referencing? | Can Landlords do Credit Checks?