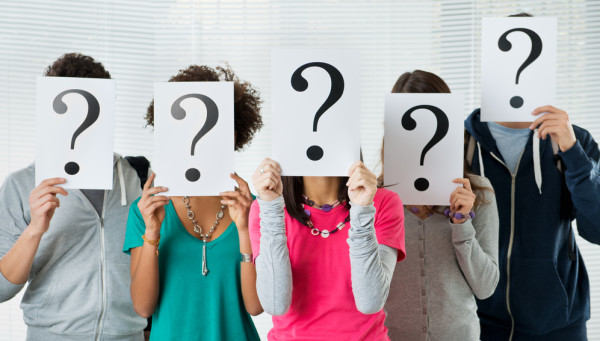 If you're a landlord, a tenant or a letting agent, it's almost guaranteed that you've had to deal with tenant referencing checks. Tenant referencing is a crucial part of the rental process and can give a landlord or letting agent a good indication of whether a potential applicant will be a good, reliable tenant and take care of their property.
For many tenants, tenant referencing can seem like a bit of a black box and they often feel that they don't fully understand the process. Some landlords also share this problem as they are not always aware of what a reference check actually involves and how the result is reached.
That's why we've created this comprehensive guide to tenant referencing checks to help landlords and renters get to grips with the process and hopefully answer any questions you may have about referencing in general.
What is Tenant Referencing?
Tenant referencing is a broad term that encompasses a number of checks and references that can help to verify a tenants' suitability for a property. The vast majority of landlords and letting agents will conduct at least a basic reference check on potential applicants, and this will usually involve a credit check.
While a basic reference will usually just include a credit check, there are also more comprehensive reference reports available. These more detailed checks will normally include verbal or written references from the tenants' previous landlord and current employer, affordability calculations, ID verification and a variety of other checks and searches.
Most letting agents will employ a professional referencing provider to conduct the checks for them, but some DIY private landlords prefer to conduct the checks themselves. Letting agent references will usually involve automated digital checks, like a credit check, while old-school DIY landlords may be happy to simply speak with the tenants' previous landlord and get verbal character references.
Why is Tenant Referencing Important?
As a landlord, your rental property is a hugely valuable asset that provides regular income for you and your family. When you are looking for new tenants to live in your property, you will want to make sure that they are the best possible renters for your tenancy. Conducting a thorough tenant referencing check is the best way to weed out bad applicants and ensure that any potential new tenant can realistically afford to pay the rent each month and will take good care of your property.
Unpaid rent and property damage costs landlords billions of pounds each year – so don't rush to fill your property without conducting a proper reference check first.
Ready to start referencing your tenants?
Get fast results with our Basic Reference for just £9.99 per tenant, or get a more detailed overview of your tenant's suitability with our Comprehensive Full Reference for just £24.99 per tenant.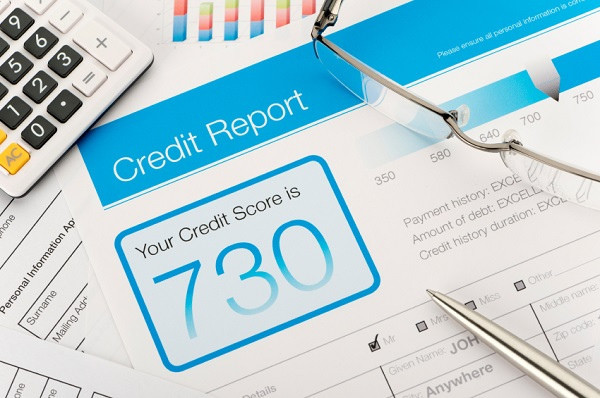 How Does Tenant Referencing Work?
The exact workings of a tenant reference will vary depending on whether you are employing a professional company to carry out the checks or doing it yourself, and how detailed you want the resulting reference report to be.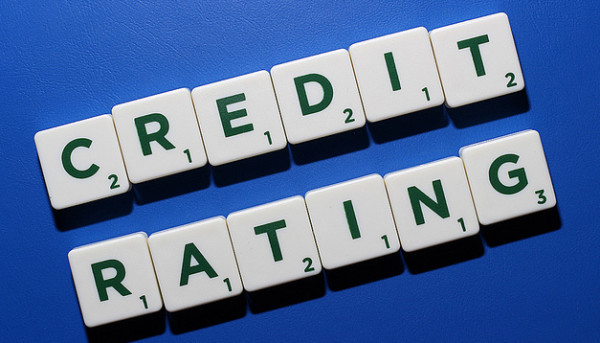 How Does a Tenant Credit Check Work?
The most basic reference check available is usually a simple credit check. To conduct a credit check on a potential tenant the landlord or letting agent will first have to contact the tenant and get their permission to perform a credit search. This will usually be done via email or by using a printable form that the tenant will sign and return.

Once the tenant has given their consent, the landlord, letting agent or referencing company will request a credit check from one of the leading credit agencies. Experian is a popular choice among many in the industry. Once the credit agency has received the tenants' details - such as their name, current address and date of birth - they will run an automated check that will bring up the tenants' credit file and generate a short report that will be sent to the landlord or agent.

The credit check itself is usually instant, but the total time taken for the reference will depend on how quickly the tenant gives their consent and how long it takes the landlord or letting agent to pass on their details to the credit agency.
How Does a Full Tenant Reference Work?
If the landlord or agent is conducting a more thorough reference check, they will need to collect more information from the tenant and take extra time to verify the tenants' suitability. A comprehensive reference check will usually require the tenant to provide their personal information, contact details, previous landlord details, salary and employment information, as well as their employer's contact details, and any other specifics needed for the checks.

The tenant will provide this information by filling it out on an online dashboard, or by downloading a reference application form and returning the completed form to the landlord or agent.

Once the tenant has provided all the necessary details, the landlord or letting agent will usually pass this to their chosen referencing provider, and they will then begin the variety of checks, searches and references to generate the final report. In comparison to a basic credit check, a comprehensive reference will usually involve verbal and/or written references from the tenant's previous landlord and current employer. The referencing agency will contact both parties by phone and in writing to confirm that the details the tenant has provided are genuine and ask for any further information that could help determine if the tenant will be a good fit for the property.

Once all the checks are complete, the referencing company will generate a detailed report, including a "pass" or "fail" result, that is sent to the landlord or letting agent. In most cases, the tenant will also receive some kind of communication to let them know whether they have passed or failed their reference.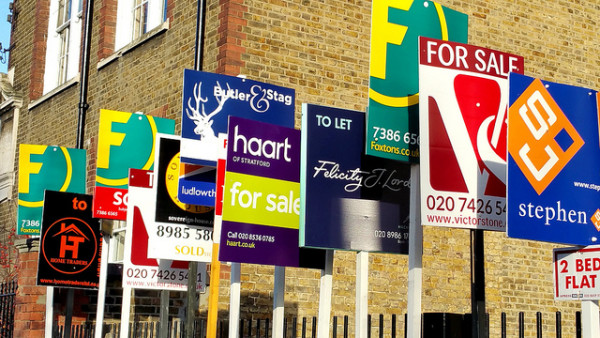 Why Do Letting Agents and Landlords Run Reference Checks?
While they won't be able to weed out every single bad tenant from the bunch, a thorough tenant referencing check is the best way available for landlords and agents to establish whether an applicant will be a suitable and reliable tenant.
Preventing Rent Arrears
Landlords want to know that whoever they choose to live in their property will be able to reliably pay the rent, on time, each and every month. Whether or not the potential tenant can realistically afford the rent for the property is a hugely important factor for most landlords. A large number of rental properties in the UK are owned by Buy To Let landlords who will be using the rental income from their tenants to cover their mortgage payments. This means that if a tenant falls into arrears and fails to pay their rent, the landlord may be unable to keep up with their mortgage payments and could quickly find themselves in a very tricky situation.
Preventing Property Damage
Another significant factor for many landlords and agents is whether the tenant will take good care of the property during the tenancy. Especially for accidental landlords who have ended up letting out their own property after getting married, or renting out a relative's property after they pass away – knowing that the renters living in the property will be respectful, tidy and responsible is incredibly important.
Irresponsible tenants who cause damage to the property and leave a mess when they move out can also create huge repairs and cleaning bills for the landlord. Many landlords are working with tight margins, and an unexpected expense like fixing broken windows or paying for a professional deep clean of the property, can wipe out their profit for a given month.
A professional reference check should always include an affordability calculation and credit check, alongside a reference from the tenants' previous landlord. Both of these crucial elements of a tenant reference will help a landlord or agent determine whether the tenant can meet the requirements laid out above.
Improving Accountability When Issues Arise
Another reason why letting agents and landlords conduct tenant referencing checks is that it gives them some accountability should something go wrong further down the line. Most Buy To Let mortgage providers will demand that all tenants living in the property undergo a thorough reference check as part of the landlord's loan agreement. Therefore, any Buy To Let landlord will need to conduct proper reference checks to avoid breaching their mortgage agreement.
Similarly, most rental guarantee insurance schemes will only be available to landlords where the tenants living in the property have passed a professional reference check.
You can find out more about how letting agents and landlords check their tenants in this useful article from Shelter: How Landlords and Letting Agents Check Tenants – Shelter.org.uk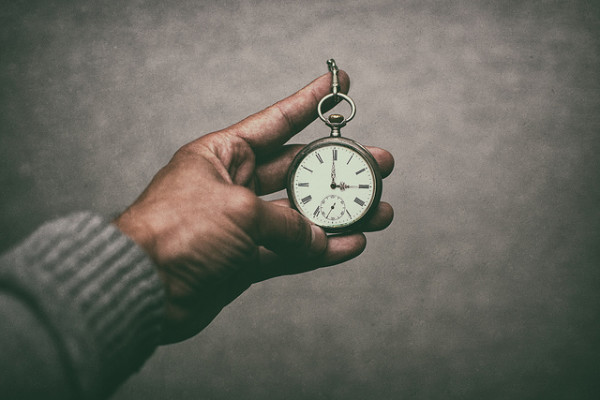 How Long Does Tenant Referencing Take?
The exact amount of time it takes to complete a tenant reference will vary depending on what type of reference is being carried out and how quickly the parties involved provide the necessary information. Broadly speaking, a tenant reference can take anywhere from a few hours, to a few days. Most referencing companies will return a result within 2 working days.
If you are ordering a tenant reference from a professional referencing company, they will usually give an estimated time frame for each of their referencing products. At TheHouseShop, we offer 2 levels of tenant referencing: a basic check and a comprehensive reference check. The Basic Reference involves a simple credit check that will return an instant result – so once we receive permission from the tenant, you could have the result in minutes.
In comparison, our Full Reference product involves a variety of more detailed, manual checks that require our referencing agents to contact the tenant's previous landlord and employer to verify their details and their identity. The time it takes to return the completed reference report will depend on how quickly the referencing agents can get hold of the tenants' referees, but most checks will be completed within 48 hours of receiving the tenant's consent.
Find out more here: How long does tenant referencing take?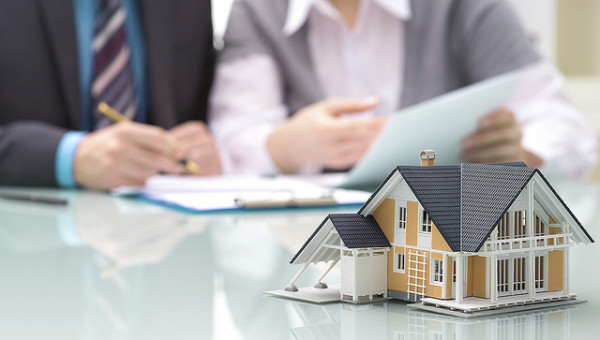 What Does Tenant Referencing Involve?
Depending on the level of referencing you choose, the exact details and checks involved will vary. Below we have included a list of all the various checks and references that are included in our Full Tenant Reference:
The vast majority of tenant references will include a basic credit check that will use data from the tenants' credit report from one of the leading credit ratings agencies.
Automated search to determine if the tenant has declared bankruptcy in the past and how long ago.
Residency and Address Confirmation
Searches to verify that the tenants current and previous addresses are genuine.
Checks to verify if the tenant is registered on the electoral roll and which address they are currently registered with.
This will identify any alternative names used by the tenant and could reveal hidden information about their financial and legal history.
This will verify that the employment details provided by the tenant are genuine and that they do indeed work for the company that they have listed on their application form.
This will involve contacting the tenants' employer, either by phone or in writing, to confirm their salary and income. If your tenant is self-employed, this process can be more difficult and the referencing agency may ask your tenant to provide several months of bank statements or tax returns to prove their income.
Depending on how detailed your chosen reference is, this could involve a simple online automated search, or your tenant could be asked to provide copies of official ID documents which will then be checked, copied and kept for your records.
Previous Landlord References
This will involve contacting the tenants' previous landlord and asking them to verify the tenant's details and provide a short overview of how the tenant behaved during their time at the property.
Affordability Calculation
This calculation will examine the tenant's income and out-goings against the rent for the property and determine whether they can realistically afford the monthly rent.
This search will check the Register of Judgements for any County Court Judgements or High Court Judgements made against the tenant in the past 6 years.
Right To Rent Confirmation
Since the introduction of Right To Rent legislation in February 2016, landlords and letting agents have been made responsible for checking that potential tenants have the legal right to live in the UK. This check will verify the tenant's immigration status and make sure they are compliant with Right To Rent rules.
Want to try out our comprehensive reference for yourself? Find out more here: TheHouseShop Tenant Referencing
Or, find out more about what tenant referencing involves here: What Does Tenant Referencing Involve?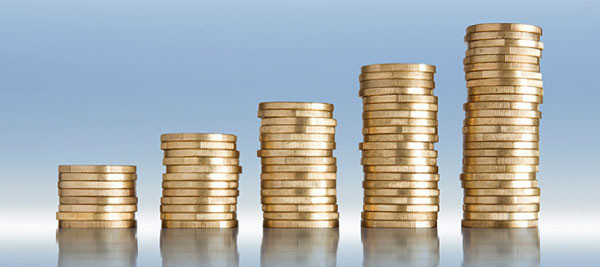 In June 2019, the Tenant Fee's Act was enacted which prevents most letting fees and caps tenancy deposits paid by tenants in the private rented sector in England.
Who Pays for Referencing when Renting from a Letting Agent?
Since June 1st 2019, letting agents cannot charge a tenant for the reference checks they carry out before renting a property. The new Tenant Fee's Act has now put a stop to the 'admin fees' previously charged to tenants, which would include the charge for a reference check. This change also covers the cost of guarantor references, the tenant or guarantor cannot be charged for these checks.
As this is a loss of income for letting agents, it is likely that the landlord will be charged to cover the costs of referencing checks themselves.
Who Pays for Reference Checks when Renting from a Private Landlord?
If the tenant is applying for a private landlord's property (i.e. a DIY landlord who manages the property themselves without the help of a letting agent), then it is the landlord who has to cover the cost of any reference checks they wish to perform.
At TheHouseShop.com, we give landlords a choice of two different types of checks; a quick Basic Tenant Reference for £9.99 or a fully comprehensive Full Tenant Reference for £24.99.
Find out more about how tenant reference costs are paid for here: Who Pays for Tenant Referencing?
What is a Rental Guarantor?
If a tenant cannot pass a tenant referencing check on their own merit, they may need the help of a rental guarantor. A guarantor is someone who agrees to co-sign the tenant's rental contract and accepts that they will cover the rent and any damages should the tenant fail to pay.
Who Can be a Rental Guarantor?
In theory, anyone can be a rental guarantor, as long as they are happy to co-sign the tenants' rental contract and they have sufficient earnings to pass a tenant referencing check.

As well as individuals acting as a guarantor, there are also a number of companies that offer a guarantor service for tenants in the UK. TheHouseShop has its own 'Find a Guarantor' service where UK professional renters and students can pay a small fee to secure a UK-based guarantor that can be put forward during the tenant referencing application.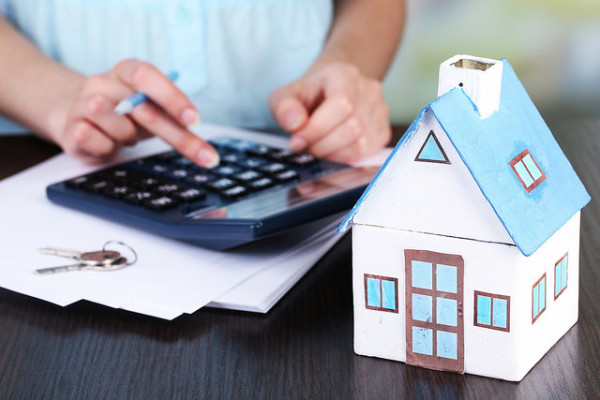 How Much Does a Guarantor Need to Earn?
A guarantor will need to be able to prove that they are financially capable of covering the rental costs for the property should the tenant fail to pay for any reason.

While there is no specific figure for how much a guarantor will need to earn to be accepted for a tenancy, they will need to be financially stable and be able to prove regular income. Some referencing companies only require the guarantor to be able to afford the difference between the full rental amount and what the tenant can afford on their own. But other companies will require the guarantor to prove that they can afford the entire rental amount.
If your potential guarantor earns a significant amount of money but is self-employed, you may struggle to get them accepted for the tenancy – so keep this in mind and try to make life as easy as possible for the referencing company by having all your guarantor's details ready to go as soon as you start the referencing process.
If you want to use a guarantor for student accommodation, you can find more information in this useful article from Citizens Advice: Student Housing – using a guarantor.
Should I Accept a Tenant Using a Rental Guarantor?
If your tenant fails to pass a tenant referencing check on their own merit, they may ask if they can put forward a guarantor. Most referencing companies will run an additional reference check on the guarantor and the tenant will usually be asked to cover the cost of the additional reference fee.
A guarantor can actually be incredibly reassuring for a landlord, as you have an added level of security should your tenant fall ill, suddenly lose their job, or find themselves in a situation where they are unable to pay their rent for whatever reason. Some landlords will ask their tenant to put forward a guarantor even if the tenant can pass a reference check on their own! So, if your tenant puts forward a guarantor for the tenancy, this is not necessarily a bad thing and could actually safeguard your rental income in the long-run.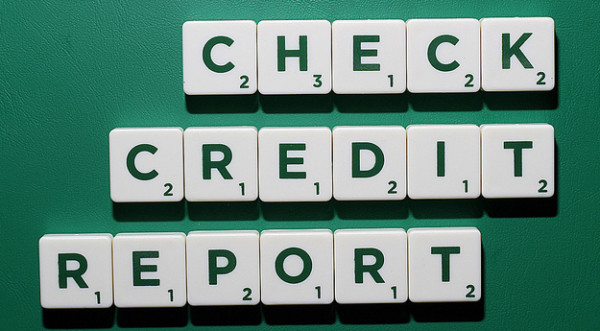 Can Landlords do Credit Checks on their Tenants?
While it is always advisable to conduct a proper, detailed reference check on your potential new tenants, some landlords are happy to run a simple credit check on new tenants.

Private landlords can indeed run a credit check on their tenants directly by using one of the UK's leading credit ratings agencies, such as Experian. However, you will need to obtain the tenant's permission before you can legally run a check on their credit report.
What Happens if My Tenant Fails a Reference Check?
If your tenant fails to pass their reference check, there are normally 2 potential outcomes:
Needs a Guarantor – If your tenant fails to pass on your own merit, your referencing provider may contact you to let you know that the tenant could still be able to pass with the help of a guarantor. If you are happy to accept a guarantor, then the tenant will need to provide their guarantors details and run an additional reference check to confirm that they have passed with the help of their guarantor.
Outright Fail – In this case, the referencing company will determine that your tenant will be unable to pass the referencing check for your property – even with the help of a guarantor.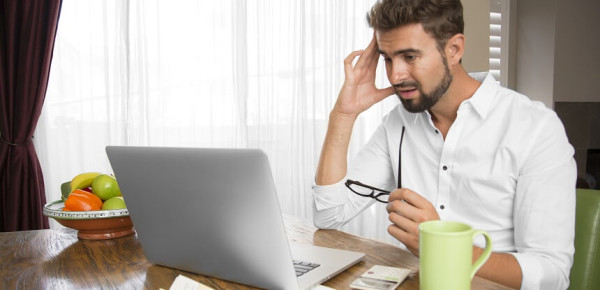 Can I still Accept a Tenant Even if They Fail a Reference Check?
While it is not advisable to accept a tenant who has failed a reference check, this decision is totally up to you. If your tenant has put forward a convincing explanation for why they have failed their reference, and you believe that they will be a responsible and trustworthy tenant, then it is totally within your rights to let the property to them anyway.
HOWEVER, If you own a Buy To Let property with a BTL mortgage, you may find that your mortgage agreement states that all tenants living in the property must have passed a professional reference and background check. So, if you plan to accept a tenant who has failed a reference, make sure you check your mortgage agreement first to ensure you are not in breach of your loan agreement by doing so.
Who Are the Best Tenant Referencing Providers?
There are a large number of tenant referencing providers available for both private landlords and letting agents. When choosing a tenant referencing company, the factors you should take into account are: pricing, how long the reference takes, what checks the reference will include, reviews of the company from previous customers and how helpful their customer service or support agents will be if any issues arise.

TheHouseShop have already helped thousands of landlords reference their tenants through our easy to use online referencing dashboard. But if you want to compare different providers, here are some of the main referencing companies in the UK right now:

Can I Reference My Tenants Myself?
If you don't want to use a professional referencing company to conduct your tenant referencing for you, then it is indeed possible to carry out your own references. While it is always a good idea to use a specialist company that has access to certain checks and databases that members of the public cannot use, you can still run your own DIY background checks on potential tenants.
If you are conducting your own references, you will need to collect all the relevant information from your tenants, including:
Full name
Current and previous addresses
Employment details
Current monthly income
Contact details for both their previous landlord and their current employer
Copies of official ID documents
You can then conduct your own checks by contacting the tenants employer and previous landlord to confirm that the details they have provided are correct. You will also need to obtain a copy of an official ID document and check it is genuine before making a copy to keep for your records.
This guide from the Property Investment Project provides really useful and detailed advice on how you can conduct your own reference checks: Tenant Referencing Guide for Landlords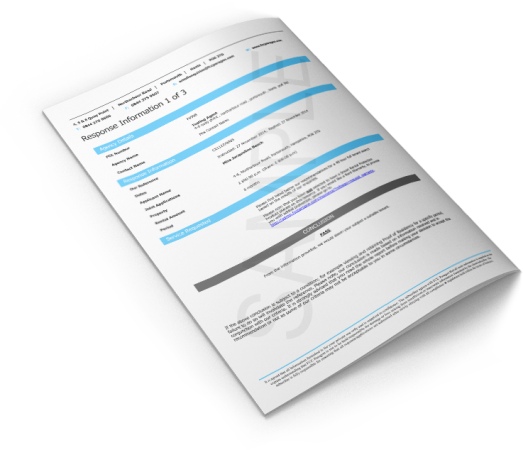 Yes, of course you can! Above is an image to give you a rough idea of what your report will look like.
But if you would like to get a more detailed overview of what to expect, you can download a copy of the sample reports below:

What is Right To Rent?
Right To Rent legislation was introduced by the Government in February 2016 and has made landlords and letting agents legally responsible for confirming that they tenants have the right to live in the UK – effectively acting as immigration officers in the property world!
Will a Tenant Reference Include Right To Rent Checks?
If you want your tenant reference to cover you against Right To Rent penalties, you will need to make sure that the specific reference product you choose includes Right To Rent checks.
How do I Check My Tenant's Right To Rent?
Either yourself, your letting agent, or your referencing provider will need to obtain original ID documents from every tenant that prove their right to live in the UK. You will then need to check the tenant's documents to verify their authenticity and make copies to keep for your records.
We've created this handy infographic and short video to help you get to grips with the steps you need to take when conducting a Right To Rent check!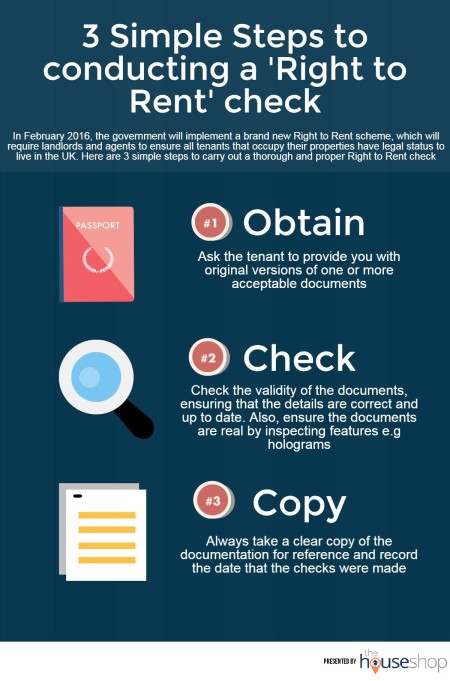 You can find a list of the approved ID documents for Right To Rent in the Government's useful guide here: Right to Rent Document Checks: A User Guide
For more information on Right to Rent checks in general, visit the Government's advice and resource section here: Check Your Tenant's Right to Rent – Gov.uk
Which Type of Tenant Reference is Best?
Most referencing providers will offer at least 2 different levels of service for their tenant referencing products – a simple or basic option, and a more detailed, comprehensive option. A basic reference will usually be the fastest option available, as most of the time this will just contain a simple credit check on the potential tenant. With TheHouseShop's Basic Reference, we have had multiple landlords receive their reference results within 20 minutes of placing an order!
A more detailed reference will give you a much better idea of your tenant's suitability but will usually take a couple of days – so if you are in a hurry, you will probably want to opt for an instant check.
Below is a comparison table showing the 2 different referencing products that we offer at TheHouseShop and the key points for each product:
| Basic Reference | Full Reference |
| --- | --- |
| Instant Results | 2 Working Days |
| Credit Check | Credit Check |
| Bankruptcy data | Bankruptcy data |
| Residency & address confirmation | Residency & address confirmation |
| Electoral Roll checks | Electoral Roll checks |
| Alias name search | Alias name search |
| Previous addresses linked | Previous addresses linked |
| x | Employment verification |
| x | Income references |
| x | ID verification |
| x | Previous landlord reference |
| x | Affordability calculation |
| x | CCJ search |
| x | Right To Rent confirmation |
Think You've Found The Right Tenants?
Don't Leave it to Chance!
Comprehensive Reference Checks from just £9.99
So there you have it – Our comprehensive guide covering absolutely EVERYTHING you need to know about tenant referencing!
Got a question that we haven't answered in our guide? Have a suggestions for another section that you think landlords or tenants may find useful? Why not get in touch with us on Twitter by tweeting @TheHouseShopUK to let us know!