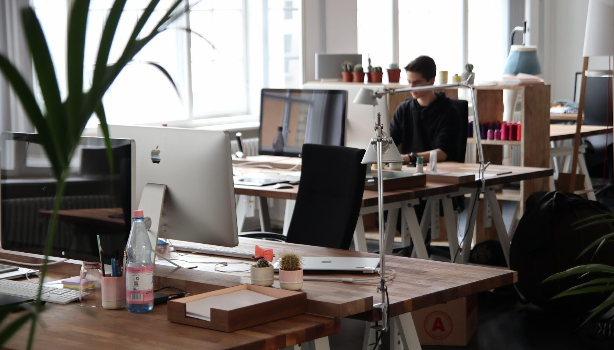 Every business owner wants to step up their game when it comes to productivity in the workplace. Before we go into planning how to implement a system for your employees to focus their attention on the job, we need to think of designing your office correctly. Studies show that the vibe of your office is a significant factor when it comes to your employees' work output. 
1. Higher ceilings are always better. 
Research shows that employees prefer ceilings that are at least 10 feet high, allowing them to be more productive and think more imaginatively. If you already have an office space with lower ceilings, it never hurts to revitalize it with some uplifted ceilings, giving the whole office a new look. 
You don't need an open office space. 
Surprisingly, open office spaces are actually directly related to lowered levels of employee happiness, work rate, and increased levels of anxiety and tension. Instead, try to come up with design ideas that go along with the endeavors and projects that your employees will complete. Design areas where your team can work on their projects together, areas where they can socialize, and solitary areas where they can be on their own for some thinking space. 
3. Lots of noise can bring work to a halt. 
The louder the noise levels are in your workplace, the higher the stress levels will be in your employees. High-stress levels like this can even lead to employee illnesses in extreme cases. The best thing to do here would be to invest in a sound blocking system so your employees won't be continuously and regularly distracted by annoying sounds.
4. Paint your walls a different color.
Wall colors impact important aspects related to human emotions that we all have: excitement, passion, warmth, inspiration, and sentiment. According to studies, white walls negatively affect the workplace environment for your employees, and red, green, or blue walls are highly suggested. You can paint each area a different color to accentuate what those specific areas are meant for. This can spark the imagination and talent of your team members. 
5. Reduce the clutter.
Clear out unwanted items. This applies to business owners with office items that are no longer being used or will be used later. It is suggested to seek the professional help of a warehouse inventory company. GAM Inventory Management, located minutes from New York City, provides a great pick-up and storage structure for all of those unwanted items. GAM scans, stores, and looks after all of your office equipment & supplies and you can track the entire process. The best way to enforce a whole new type of workplace environment and leave room for the new is to get help clearing out and storing what you don't currently need.