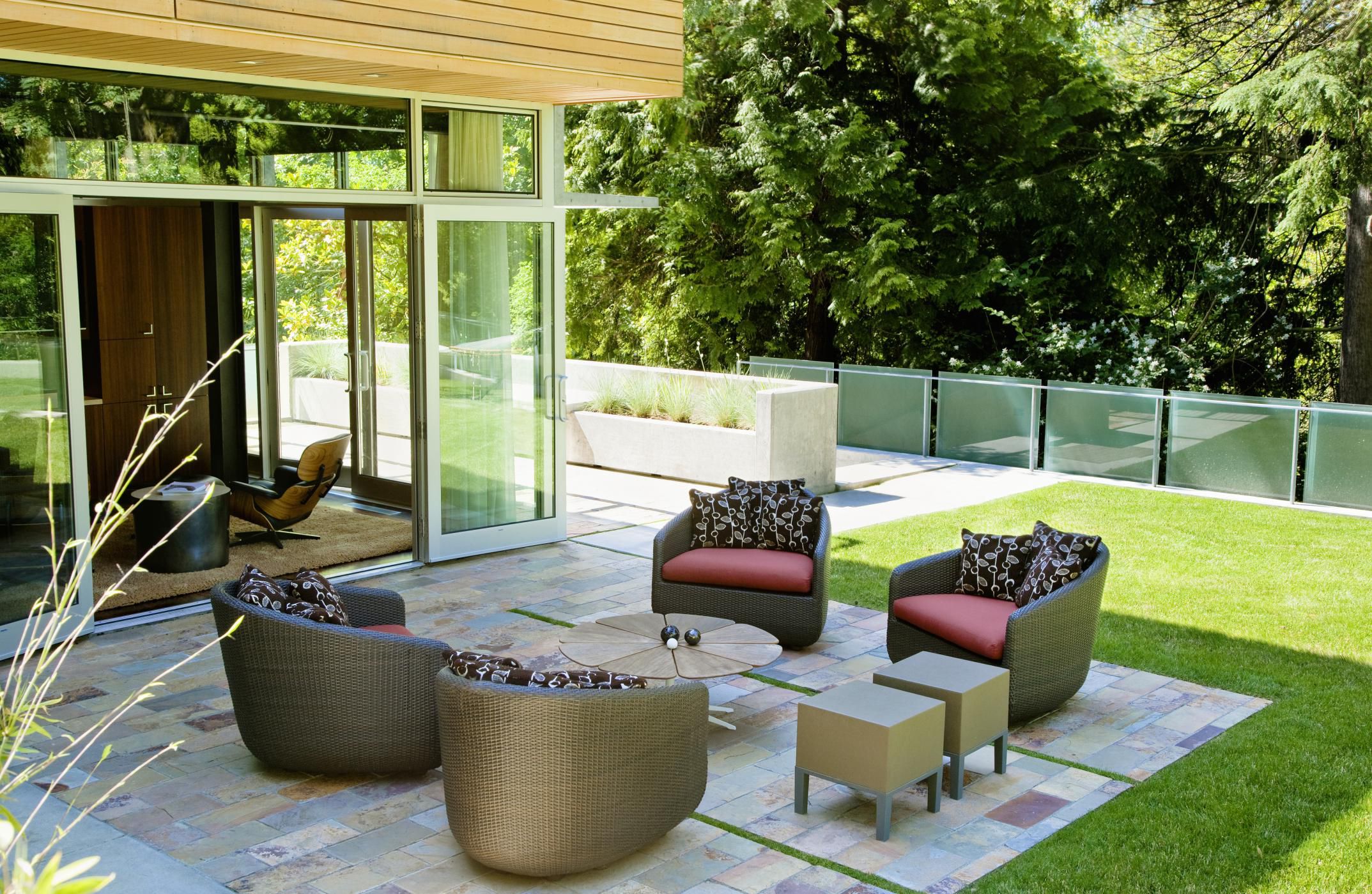 In some parts of the country, winter weather can be extremely harsh, with deep snow, high winds, and bitterly cold temperatures. If you live in an area with severe winter weather, it is important to take steps to get your patio ready for the season. It doesn't take a lot of effort to winterize your outdoor space. By doing so, you can not only protect your outdoor furniture but you can also make the space more usable during the winter months.
Even though the thought of spending time outside during the winter may seem impossible, there are plenty of ways that you can enjoy your patio during the winter. With a little bit of effort, you can create a space that you can enjoy even after colder temperatures arrive.
Put Away Your Outdoor Furniture
As the autumn season begins to transition into winter, it is the ideal time to start putting your patio furniture away suggest Patio Productions. Store any items like chairs, tables, and planters in an area that is protected from the weather. If necessary, hose the furniture off and allow it to dry completely before putting it into storage. To winterize a patio umbrella, start by folding it up. Then, wipe it down with a clean cloth to get rid of any debris that has accumulated on the surface. Cover each piece of furniture with a furniture cover or a garbage bag before putting it into storage so that it will be clean and ready to go when spring rolls around.
Deep-Clean Your Barbecue
After an entire season of grilling outdoors, your barbecue could definitely use a deep cleaning. Scrub it down thoroughly before putting it away for the winter. Even though it is a dirty job, it is definitely worth doing. Pulling your barbecue back out again in the spring is much more enjoyable when it is sparkling clean and ready for grilling.
Remove any stuck-on grease or food by using an oven cleaner or degreasing product. After scrubbing away all of the grime, use a garden hose to rinse the barbecue off. For gas grills, make sure that the gas is turned off and that the lines have been properly disconnected. Store any leftover propane in a safe area where it will stay dry and where it won't get too hot. The manufacturing company for your grill should provide detailed information on how to properly store unused fuel.
Clean Up The Area
Before the snow starts to fly, make sure that your patio is free from fallen leaves and other types of debris. Hosing down your patio with a pressure washer or a nozzle on your hose is an effective way to clear away debris. By cleaning off your patio before it snows, you don't have to worry about facing a major mess in the spring.
Creating A Space That You Can Enjoy During The Winter
Invest In Weatherproof Seating
Just because the weather is cold doesn't mean that you should stop spending time outside. Purchase some lightweight benches that are designed to withstand the weather. Typically, plastic benches that are constructed from recycled materials are a good choice.
Alternatively, you can invest in weatherproof covers for your patio chairs. These covers will allow you to leave a couple of chairs out on your patio during the winter. Adding lighting to your outdoor space can also make it much more attractive and comfortable – especially since the days are a lot shorter during the winter.
Consider Investing in a Fire Pit
Building a fire on your patio is a fun way to spend time outdoors during the winter. You can also hang string lights around your patio to make it feel more inviting even when it is cold outside.
Cover your Hot Tub
If you have a hot tub or a swim spa, then you should prepare for the winter by purchasing a cover for the tub. These covers will keep the spain good condition for the winter and also will help insulate it when you wish to use it during the colder months of the year, it will also keep the swim spa costs down.
Think About Using Patio Shades
Even if the sun is out and the weather is relatively nice, a slight breeze can make wintertime temperatures feel even colder than they really are. One way to eliminate the problem of wind chill is by investing in shades for your patio. Look for shades that run all the way from the ceiling to the floor. This will help block the breeze, making the space feel warmer. You can choose fabric shades or you can opt for shades that are made out of bamboo or other natural materials.
Shades are usually quite affordable and can make a big difference in the appearance and comfort of your patio during the winter. Best of all, the shades that you purchase can be used throughout the year to make your patio more enjoyable. For instance, during the summer, they can be used to block the hot sun, helping to create a cool, comfortable space to relax. As an added bonus, they also provide privacy, helping to protect you from prying eyes when you are spending time outdoors.
Getting your patio ready for winter is a relatively simple process. It is really just a matter of putting away your furniture and cleaning up any debris. These days, many companies manufacture furniture that is durable enough to withstand winter weather. Investing in a couple of weatherproof pieces of furniture is a great way to make your patio more usable during the winter months.
You can also create a warm, cozy look by hanging string lights around your patio or outdoor space. It is a lot more fun to spend time outside during the winter when you are surrounded by festive lights. Investing a little bit of money in weatherproof furniture and beautiful lighting can go a long way toward making your patio usable year-round.