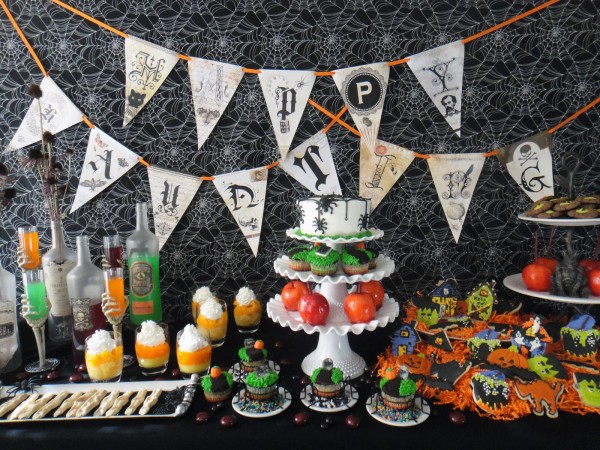 ---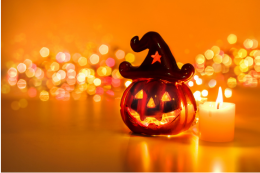 Halloween is around the corner and with it comes another excuse for a party. Whether you opt for a fun and festive Halloween soirée or a ghoulish and ghostly gathering, here are some ideas to make you Halloween party frightfully good!
Decorations
Halloween is the one time which decorations for a party can be REALLY over the top. Whether you go for scary, cute, or elegant, Halloween is all about having fun. Take a look at these ideas for decorations and ensure your party is the talk of the ghost town.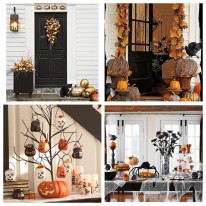 Elegant: Laura U Interior Design
Festive: Have Some Decorum
Fun: Home Decor Model
Chic:Good Housekeeping
Party food
Good food is always a focal point of a good party and Halloween allows for you to get creative. On Halloween, anything goes! From cake brains, to banana ghosts, have some fun making with these frightful foods and give your guests a scare!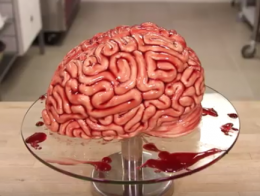 Give your zombie guests the taste for brains with this brains cake from How to cake it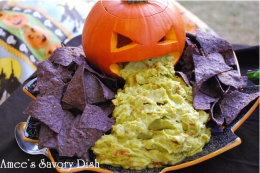 Looks like the pumpkin has had too much Halloween punch! Get this guacamole recipe from Amee's Savory Dish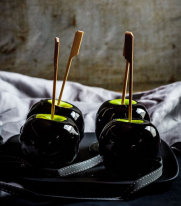 Channel the witch in snow white an serve your guest these poison toffee apples from Simply Delicious Food
Children's food
Children's Halloween parties need to bring the right levels of scary and cute together to prevent anyone being too scared (and potentially scarred for life!). These cute food ideas bring just the right amount of Halloween horror and there is even a healthy fruit option in there too as you don't want to subject children to the real horror in life; the dreaded dentist!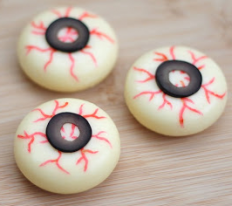 These Babybel eyeballs are so quick and easy to make, they can be made for even the most impromptu of Halloween parties. Find the recipe here Cute food for kids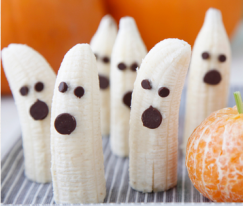 The best way to get children to eat fruit is to make it more fun right? These cute ghostly bananas are so quick and cheap to prepare, you'd be a GHOUL not to make them. Get it? No? Oh forget it, here is the recipe Weelicious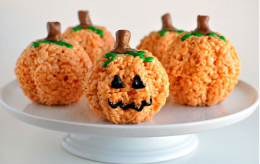 Pumpkins are a quintessential Halloween requirement and these rice krispie pumpkins are sure to be a hit at any Halloween party. Find the recipe at The chickabug blog
Drinks
Every adult Halloween party offers itself to innovative new drinks that can wow your friends. Take a look at these creepy cocktails which will
These brain shooter make the perfect creep cocktails. Don't have too many as the mix of vodka and baileys could give your own head a pounding the next morning: HGTV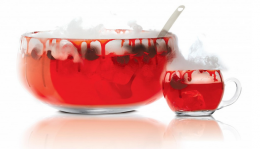 This vampire punch is the perfect low maintenance party drink as you can buy the ingredients and prepare in advance and leave your guests to help themselves: FBWorld
Children's drinks
To give your child's party the overall scare factor, the Halloween theme needs to be carried out throughout everything including drinks. These easy methods will ensure the drinks served will be frightful yet fun.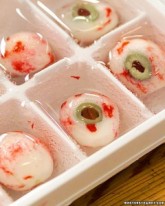 These ghoulish ice cube eyeballs can be added to any drinks to give guests the fright of their life. They would look specially good in a punch bowl! By Martha Stewart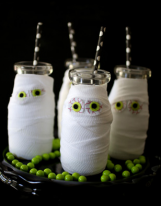 These little ghost bottles are so cute. They will give any children's party the Halloween feel without being too petrifying and causing tears! Cheap bottles can be used and any drink can be put into them: Evite
Tips
To make your party a success, be sure to remember the following;
– if you plan to party into the night, be sure to inform your neighbours to potentially expect noise and ghostly comings and goings, or they may feel like the walking dead in the morning
– grenadine sugar syrup is a Halloween must buy as it can be used to give practically any food or drink a bloody makeover (and it tastes pretty good too!)
– always be careful if using fire e.g. in pumpkins near the door as these could be dangerous. Never leave an open flame unattended but ideally use LED candles such as these for a safer option with the same result that will last all night
– For children's parties, make sure you prepare some ghoulish goody bags. Not only will these give your child's friends a gift from an amazing party, it also means you can give away some of the leftover party food (if there is any left by the end of the evening!)