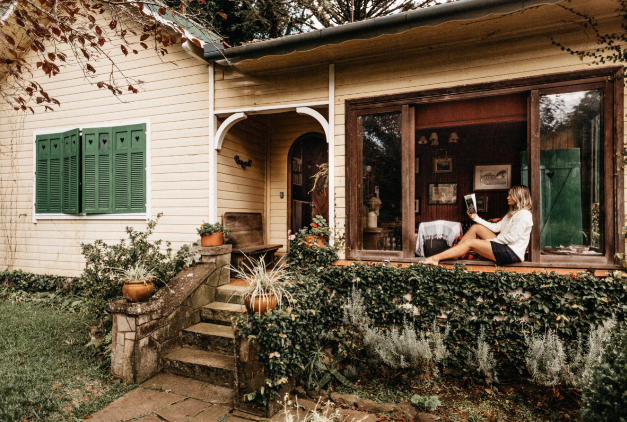 Most people often think of their home's interiors as being the most important part, and that's sometimes true. But then, if you live somewhere where the summers are long and hot, it's also worth investing in your outdoor spaces as you're likely to spend a lot of time there.
Here are a few tips for staging an outdoor patio in a way that will make you never want to go inside, and make your home the entertainment center for all your summer BBQ parties!
Give a little love.
Giving your garden area a little TLC can make an enormous difference. Clean up dead leaves, trim trees and bushes, and make sure there are no smushed bugs hiding in corners for a good start. Then, if you're really feeling it, you can pressure-wash your decking (it's really fun), and repair or replace anything that's starting to look a little past its best. If you're particularly green-fingered, some planting or cultivating flower beds can really brighten up a garden and help you feel comfortable and happy while you're out there.
Keep it simple.
You don't have to spend a huge amount of time and money to make a space amazing. Add a small amount of outdoor furniture that's appropriately sized for your space, and make sure it's still easy for foot traffic to flow through it. If your outside area is bigger, you can even divide the furniture into multiple areas, such as a cooking area, dining area, and lounging area. That way, when you're hanging out outside or have friends or family over, everyone can sit in the area that's most comfortable for them. However, don't go overboard. Too much furniture in a space that's too small to hold it will make the place feel cramped and messy.
Cover it up.
A patio cover is a shade that's usually attached to the back of your home and supported by posts. Getting a patio cover for your backyard is a great idea if your patio might need a bit more protection from the elements. You can choose open or solid covers depending on what you need. Royal patio covers have lots of great options available online.
Learn to love your garden.
Yes, plants look beautiful and can make a garden spectacular, but it's essential to choose the right plants for your garden, climate, and commitment to gardening. If you don't know how to look after your plants, they won't last long, and you'll end up either replacing them or looking out over a garden that's in less than excellent condition.
Add color.
By color, we don't mean toys, or those weird windmill lawn ornaments, or anything like that. We mean accents. Keep all furniture neutral and classic and accent with cushions, colored plant pots, or maybe an outdoor rug if you have space. If your space is a bit smaller, you can add color using something as simple as glasses or refreshment trays. Any color accent will make your space feel 'happier' and make you happier to be in it.