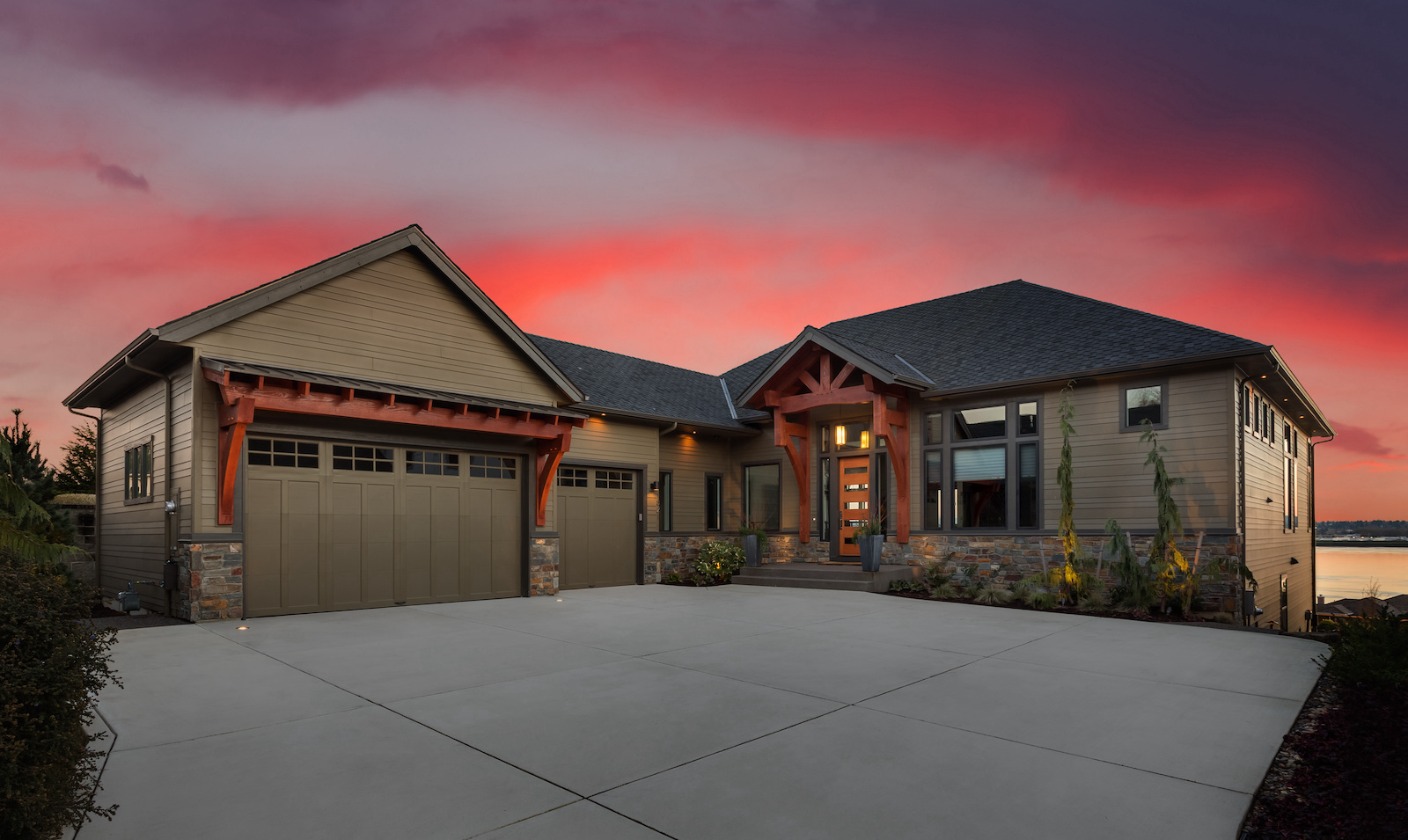 It may be true that your home's interior is a focal point of your property, but it doesn't mean you should ignore the value of improving your exterior's aesthetic appeal. Your home's façade, in particular, is one of the first elements that people see. So, it only makes sense that you also take the time to invest in making it a complementary aspect of your house's overall style.
Picture out your house's façade and try to imagine what you'd usually notice when doing so. Is it the windows? Maybe. What about the roof? Not really. Oh, right, the garage door. That's definitely something that catches quite the attention. A beautiful garage door pleases the eyes in the same sense that an odd-looking one can almost disappoint anyone who pays attention to it.  
Chances are, people won't easily forget your choice of carport façade. With that, if you can't stop thinking about other people's impressions, and you most definitely don't want people thinking you're beginning to lose your stylish flair, keep reading on. 
The styling potential that the garage door holds 
It's typical for homeowners not to instantly recognize the style potential of their garage doors. After all, it's just a door, right? But don't get easily deceived by its simplicity. Just like all kinds of doors, there's more to your overhead garage door than meets the eye. As a start, you can take advantage of its versatility and being out in the open, so you can play with your home's aesthetics and exterior appeal. 
Matching the carport entrance to the architectural design of your property is a good start. Whether it's a farmhouse vibe, modern rustic, minimalist, or the good ole traditional style, there's a garage door trend you can take on and call your own. Consider the door as an empty canvas with endless design possibilities. Once you start seeing it this way, you'll be taken aback by how much you want to begin reinventing your garage and its exterior elements.
First order of business: Choosing the material 
Garage doors come in different materials, colours, and finishes. It's not like you'll just decide on a material and not consider other contributing factors that can affect its overall look. First, be aware of what options are available and how to choose the most suitable one for the material.  
Start by considering your geographic location and the climate you have. Wood can give the garage a naturally rustic yet refined look, but if you live in a humid area, you might want to rethink that option. Wood doesn't perform well in highly damp locations because it tends to swell during such weather. 
However, if you really want a wooden garage door to match your home's aesthetics, go for hard and solid wood, such as cedar and mahogany. Both wood varieties are known for their rigidity and strength as well as their capability to stay straight despite harsh weather conditions. 
Furthermore, there's also fibreglass that's highly recommended if your garage is situated in a spot that receives plenty of direct sunlight. Fibreglass is resistant to sun damage, which can make your door lasts longer compared to regular wood. However, make sure the glass will be adequately insulated and treated. Fibreglass garage doors are often a perfect match for contemporary and mid-century home designs because of their versatility, making the room more open for customization. 
For restoring your home's original charm 
Having an old home can be an advantage if you only try looking at it that way. When you first saw the structure, you fell in love with its original charm, which is expectedly why you decided to make it your own. Although, as the year's pass, its natural allure slowly fades. You might think you can no longer do something to restore it to its once-enchanting charisma. 
If this is the case, how about you try to reinvent the façade first? Old homes tend to diminish exterior value, especially if you're not doing anything to spruce it up. Perhaps you've invested so much in your interior décor that you've somehow forgotten to take a step back and look at the overall form of the property. If so, don't worry because it's never too late to make up for it. You can begin the restoration by simply updating or replacing your garage door. 
If your home has a naturally appealing vintage design, let it be. Let the garage make the necessary adjustments instead of sacrificing your place's exquisiteness. Pick a door that can accentuate the classic allure of your home. Maybe repainting and replacing some other elements will work, and you're good to go. You can also consider updating your windows, porch, and garden, among other outside details that can boost your abode's aesthetics.
Go bold or go home 
If you're one to go with vibrant colours and unique patterns for your home's aesthetics, make sure you match your existing style with the garage door. That said, consider choosing a bold colour that'll compliment your lively and vivid taste. You want your parking space to be anything but boring and typical. In that case, go bold and do your best to incorporate your fun personality and lifestyle into your residence's façade.
If you need a starting point, you can consider matching the garage door with your main front entry. This idea can make the overall ambience look sharper and naturally artistic. You can also play with patterns and colours by using impression fibreglass that effortlessly lends a unique texture. If you like the effect of matching colours and patterns, you can go all out and match your roof shingles for a uniform look.
Getting creative with the opening style 
Most homeowners think that garage doors are only supposed to roll up and down when opening and closing. This may be the most popular opening style, but it doesn't mean you have no other options. There are different styles to choose from regarding how you like the door to open and close.  
For instance, the side-sliding garage doors can be a good choice if your parking space has limited headroom. They're flexible enough and can be easily operated by anyone regardless of their height, which is suitable for women drivers and homeowners. The motor also operates more quietly than the overhead style, so if your garage happens to be located below a bedroom or office, you'll appreciate the smoothness of its operation.
Other styles you can choose from, including the canopy, sectional, and side-hinged. Each has its own uses and advantages, so do your research well before making a decision. Alternatively, you can ask door experts or installers so you can get different perspectives and suggestions.
Be traditional, but add a modern twist 
Sometimes, you can't help but be confused or torn with the many home inspirations and styles you want for your property. If you're finding it hard to decide, maybe it's because you don't have to in the first place. There's no harm in incorporating two or more designs if you feel like it'll reflect your lifestyle and personality better.  
Suppose you have a traditional home that mainly highlights stone and wood. If so, you may add a touch of contemporary flair by choosing a sleek-looking garage door made of aluminium frames and tempered glass panels. The design speaks of a conventional accent but with a hint of modernity. 
You can choose the panels according to your preference. Doing so can also enhance the vibe you want to achieve. There's tinted glass for a bit of mystery and privacy. You can go for the clear variety if you're going to stay on the minimalist side of the frosted one for a homey-yet-classical look. 
Match the door with your landscaping 
When you say home aesthetics, it doesn't exclude your landscape design. If you want to coordinate and match colours, considering natural outdoor elements can be an effective way to do so. Look at your plants, trees, and flowers and try to develop ideas that'll complement those components. You may also use water features as inspiration to come up with an artsy preference.
This suggestion is ideal if you have a vast lawn or garden. You may have a modern or contemporary architectural design, but if your garden somehow exudes a countryside or rustic feel, that might appear contradicting in some ways. So, it may be better to match the garage door with your landscape instead.  
Bottom line 
The garage door may seem like just a fraction of your residence. That may be true in a way, but it doesn't mean that you should forego the idea of sprucing it up to match your home's aesthetics. As mentioned, it's one of the first things that easily get noticed when looking at the facade of any property. You might as well invest in making it a complementary feature rather than just a simple accessory.  
Consider the material that you want for the door. Don't forget to take into account the climate factor, as that can also influence how you'll decide on the material. Choose an opening style that you feel most at ease with. Play with colours, patterns, and textures to highlight your distinct taste. You can also match the garage door with your landscaping if you want.
Ref : 2498.22519 – #4024116-P1 |  3188.

27522