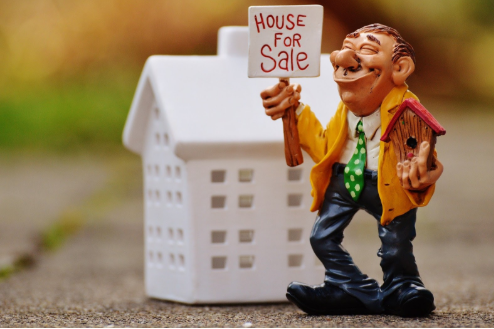 If you want to sell your house quickly, there are methods you can use to ensure that it sells sooner rather than later – and you don't always have to reduce the price.
This article will help you to prepare your house for a quick sale without making any major changes to it. 
One of the first things you should do is declutter your home. This will not only make it easier for you to move house, but it'll make your home look bigger. While you might not think this is possible, there will actually be more room on the shelves, floors and corners of your room, so it will appear like there is more space.
You should also declutter your built-in wardrobes, as potential buyers will want to take a look inside. In addition to this, you should clear your hallways and entrances so they are easy to walk around. Doing this will make your hallways and entrances look bigger and brighter.
Let's imagine you want to look around a home with a view to buying it. If the home is dirty, it's unlikely that you'll want to buy it. This is why it's essential that you do a deep clean. If you make your home look spotless it will be more attractive to anyone who is considering buying it. 
Clean every single room and make sure that all surfaces have been dusted. Hoover all of the floors, clean the windows, and make all the beds. Dust all of your vases, clean the baseboards, and make sure every room is spotless. Not only will you love the way your home looks but it will be more attractive to potential buyers. 
Fix Everything That's Broken
Is the lock on your front door broken? Are some of the stairs in a poor state of repair? Is there a window in one of the doors that is slightly cracked? Before potential buyers look around your home, make sure you fix everything that's broken. You might have to spend a bit of money but it could be well worth it if you get your asking price.
Once everything is fixed, take another look around your home and see if there's anything else that needs repairing. Perhaps some of the door furniture is a little loose? Is there a power outlet that needs tightening up? Ensure all of these little jobs are finished now, so you have less to think about when you're showing someone around your home. 
Make sure you check every room and hallway. Don't forget to check the bathrooms, your garage, and any outbuildings you have. The more attention you give to your home at this stage, the better it will look. 
Make a Good First Impression
One of the best things you can do is make sure the front of your house looks good. When someone comes to view your home, this is the first thing they will see. You, therefore, need to make sure that it looks good. 
Consider repainting your door if it's looking a little worn. A new coat of paint can make the door look fresh and modern. You might also want to consider adding or replacing the door numbers if they are hanging off. If you're painting your door you may as well change the numbers. 
Sweep away any leaves or debris that is laying around, as this can make the front entrance look much cleaner and bigger. You should also remove or tidy up any plant pots you have out there. Be sure to weed the plants and freshly cut any grass so it looks good.
With a little bit of work, you can make a good first impression.
When it comes to showing someone around your home, you should consider removing photos of you and your family. Why? It is hard for potential buyers to imagine themselves living there when they see your photographs. They will automatically think "they live here". 
You want the potential buyer to imagine themselves living in your home. While your home could look quite bare without any photographs it can really help make your home seem less personal to you. 
You might also want to consider taking down any posters on bedroom walls. Again, this is because it could be hard for the potential buyers to imagine themselves living there. While this might make some of the rooms look empty, it really can help with the sale. In addition to this, packing all of these items now means you won't have to do it later. 
Let's imagine you visit a friend's home and there's a bad odor. You're going to be aware of the odor every moment you're in their house. It might also be the first thing that springs to mind when you think of their home. 
Make sure you eliminate bad odors as soon as you discover them. If you're not sure whether there are any bad odors there are a few things you can do. Spend five minutes in your garden filling your nostrils with some fresh air. Now, go back into your home and see if you can smell any bad odors. If you can, deal with them right away. 
If you're not sure whether you can smell anything, simply spray some air freshener around your home. Do this anyway so your home always smells fresh. 
Define The Use Of Each Room
While this might not seem like an important thing to do, you'll be surprised by how much difference it makes. For example, make sure every bedroom looks like a bedroom, make sure every living room looks like a living room. This will help any potential buyers to imagine what they could use each of the rooms or spaces for.
If you have a bedroom that you use as an office, it's ok to keep it as an office, but just make sure it's clear what the purpose of the room or space is so that it doesn't confuse people.
While this can help potential buyers, it can also prove useful to local movers. This is because they'll know which rooms you're referring to when you say "Can you start with the office please?".
While you might really love your floral wallpaper, there is potential for it to affect the sale of your home. Homes that are more likely to sell quickly are those that have white or cream walls. When your walls are those colors, they are less personal. In addition to this they give the potential buyer a chance to consider what they'll do with the room. 
You might be intent on making your house look good but you need to remember the garage. A clean and tidy garage is much more attractive than a messy one. Make sure you put all tools away and your car isn't in the garage. This will make it look much lighter and bigger so potential buyers can think about what they can do with the extra space.
Clean the floor and the walls if you need to. Replace any damaged light fittings or power outlets, clean the windows, and make sure the garage doors work well. 
If you have a cellar, make sure you pay that some much-needed attention too. Declutter your cellar and make it look as light and as clean as possible.
Make Sure Your Back Yard Looks Good
Finally, you need to make sure your back yard looks good. Cut the grass and ensure the pathways are swept and clean. Clean your pond, tidy away the toys and make your yard look as tidy and big as possible. Even small backyards can look bigger once they've been tidied up. 
Keep cutting the grass every week and watering your plants. Your garden does not have to be perfect but it does have to look like it is well maintained. This is because a potential buyer could plan to spend a lot of time in the garden. When your garden looks good they're much more likely to feel positively towards it.
There's no guarantee that your house will sell quickly, but as you can see, a little bit of work can really help. Do what you can to make your whole house look good. You'll feel better about showing people around your home and they'll feel better about it too. The better they feel, the more likely they are to buy your home.