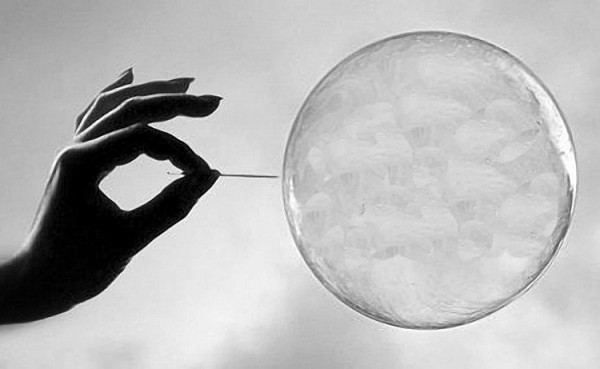 Is London on the brink of a property price bubble? Well, contrasting reports from Kate Faulkner at Designs on Property and Matthias Holzhey at UBS suggest there is both confidence and doubt over the capitals rising property levels.
Faulkner produced a report last week showing that "at least 11 out of 32 London boroughs were now seeing prices rising at a lower rate than their average long term annual rate (6% to 10%)". In simpler terms, this means that house prices have been steadily increasing in the capital. It is no surprise that prices in London have been rising, as an influx of foreign investment coupled with domestic demand and the potential increase of the London living wage to £9.15, all makes London a very attractive prospect.
No particular area of London is experiencing a booming increase in property prices, with Enfield in the north and Sutton in the south both seeing average house prices of a reasonable £300k to £400k. This isn't a far cry from the UK average house price, set approximately at £204k. Faulkner's research ultimately shows that house prices in London are not rapidly increasing as is feared by some publications, instead they are steadily inclining as a result of increasing investment and affordable interest rates.
However, Faulkner's view of a steady and sustainable increase in the capital is not held by everyone. Holzhey at UBS has suggested that the majority of the world's cities are hugely overvalued, with London leading the race as the first city to experience a bubble risk. Hong Kong was beaten by a nose into second, with Sydney, Vancouver and San Francisco following close behind.  His research shows that house prices in London have unreasonably spiralled ever higher, making it less feasible for a prospective buyer to purchase a home at a reasonable price. This, combined with most buyers depending on low interest rates, has caused a shift towards soaring rents and lack of available income to accommodate this change.
London is viewed as vulnerable if rates are to rise, with the potential for more loan defaults and property repossessions. Holzhey also blames the increase of foreign investment as a cause for the property nightmare in the city. As he summarises: 
"Foreign demand and demand deriving from safe-haven seekers largely explain current valuations. Global geopolitical risk and the high property valuations in Asian cities have helped to propel London house prices to new heights. Domestic buyers too have contributed to the appreciation". 
Quite simply, the combination of sustained domestic demand and an influx of foreign investment into the London property market, have helped to push up prices to record highs. 
From two differing perspectives, it's hard to decide whether or not London is entering a house price bubble, but the impending doom of this financial irregularity isn't exactly a new trend. Prophesying about property bubbles has been a favourite pastime of market commentators for years.
Back in April 2014, The New Statesman reported that "it's not difficult to see that London is facing a house price bubble. It's harder to say when it might pop". Pretty frank and to the point it must be said.
Rewind a bit further back to October 2013 and Jon Henley of The Guardian asserted that the then imminent bubble would be the result of "chronic underbuilding" and "low interest rates; reckless lending and borrowing that allow self-certified, 110% and interest free mortgages." 
CNBC even reported as far back as 2012 that London's housing market had become 'distorted and dysfunctional' following research carried out by Future for London, an independent and not-for-profit policy network. Interestingly, they did pick up on the issue of foreign investment, which Holzhey also believes is a contributing factor.  
Arguably, the prospect of a property bubble is very much a reality, but there are so many individual and interconnected factors that could push the market over the edge, that it becomes very difficult to establish exactly when and where a bubble may pop. 
Are you looking to purchase a new property? Why not check out The House Shops listings
Find Properties for Sale in London and the Surrounding Area: